The Mooch Is Reportedly Claiming Ivanka Trump Wants Him Back At The White House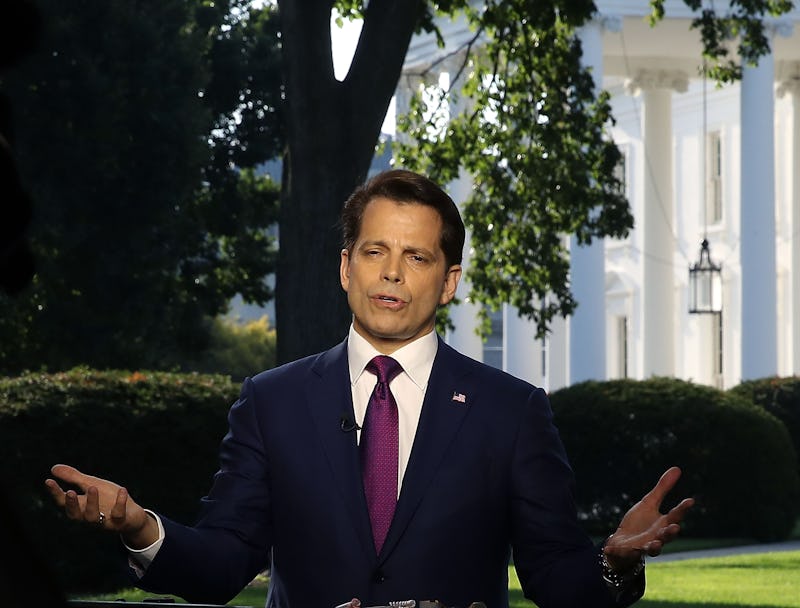 Mark Wilson/Getty Images News/Getty Images
President Trump's first year at 1600 Pennsylvania Avenue entailed a startling rate of staff turnover. Still, no one matched the brief tenure of Anthony Scaramucci, also known as "the Mooch." The former communications director lasted all of 10 headline-fueled days before getting the presidential sack. But now some have reported that Scaramucci has been hinting at a White House gig, round two.
According to unnamed sources, Scaramucci has reportedly told friends and business associates that certain members of Trump's inner circle are interested in his return. Lachlan Markay and Asawin Suebsaeng reported at The Daily Beast that three people close to Scaramucci had separately said he is bragging about an "imminent" reinstatement at the White House, and had in fact planned a trip to meet personally with the president himself over this potential comeback. The story's sources said Scaramucci had named Ivanka Trump specifically as wanting him back.
However, Scaramucci personally denied that he'd discussed any possible rebound position in Trump's administration. Responding to a request for comment, Scaramucci sent a text message that read, in part:
[T]his is absolute nonsense ... Happy new year [and] be well. I have said nothing like that at all ... Don't believe BS.
If Scaramucci were to return to Trump's employ, it would no doubt be a surprise to many.
The lead-up to Scaramucci's departure was near awe-inspiring in its penchant for shock. While Trump's uncensored tweeting and free-wheeling interview style may have already altered previously held notions of White House decorum, Scaramucci's behavior still astounded plenty of observers — including Trump himself.
According to the Daily Beast report, the president was prompted to ask in July if Scaramucci were on drugs, following what appeared to be The Mooch's unintentional on-record rant with The New Yorker. During that brief and job-ending telephone call with the magazine's Ryan Lizza, Scaramucci had some choice — and rather unprintable — things to say about then-chief strategist Steve Bannon and then-chief of staff Reince Priebus. (Recall the afore-mentioned high rate of White House turnover in 2017.)
Scaramucci appeared prescient on the subject of Priebus, who was shortly thereafter let go from the Trump administration. But there wasn't much time for Scaramucci to enjoy a last laugh — with the hiring of retired Gen. John Kelly to replace Preibus as chief of staff, Scaramucci's days in the Oval Office's inner circle came to an abrupt end. It seems that for Kelly, a man who many have credited with a reputation for instilling order to chaos, The Mooch appeared too wild a card to keep around.
Scaramucci struck many as an inexplicable choice for his White House position to begin with. He'd made a name for himself by founding SkyBridge Capital, a "fund of funds" catering to those who had the money but lacked the financial connections to get into the hedge fund investment game. As Matthew Yglesias and Andrew Prokop explain at Vox, this setup would be a "rotten deal" for SkyBridge Capital clients, given that hedge funds' routinely underperform other, less flashy investment opportunities. Couple that lower rate of return with extra fees for management, and putting money with SkyBridge Capital would be a lousy investment.
But Scaramucci made plenty of money — and in 2012, he used his financial influence to help fundraise for Mitt Romney's campaign. Romney's loss didn't alter The Mooch's taste for politics, either. During the 2016 primary, he jumped from Scott Walker's campaign to Jeb Bush's, finally landing with Trump's team after his first two choices were summarily stomped out by the reality TV star's nascent political rise.
When it came to hiring Scaramucci for the role of spokesman, lack of job experience didn't seem to worry Trump much. The Mooch had been a decent surrogate for the president in several TV appearances, and a loyal financial bundler during the election.
There is some evidence to suggest Scaramucci may be trying to smooth over previous riffs with Trump operatives. Despite more than once ripping into Bannon, Scaramucci called him a "force for good" during a Dec. 31 appearance on CNN.
Still, a White House sequel for Scaramucci seems unlikely, given the manner in which he lost his job the first time around. And his own denial that any such comeback is currently in the works makes the possibility of a return of The Mooch even murkier.