Anthony Scaramucci Quoted A Line About Honor From A Guy Who Protected A Pedophile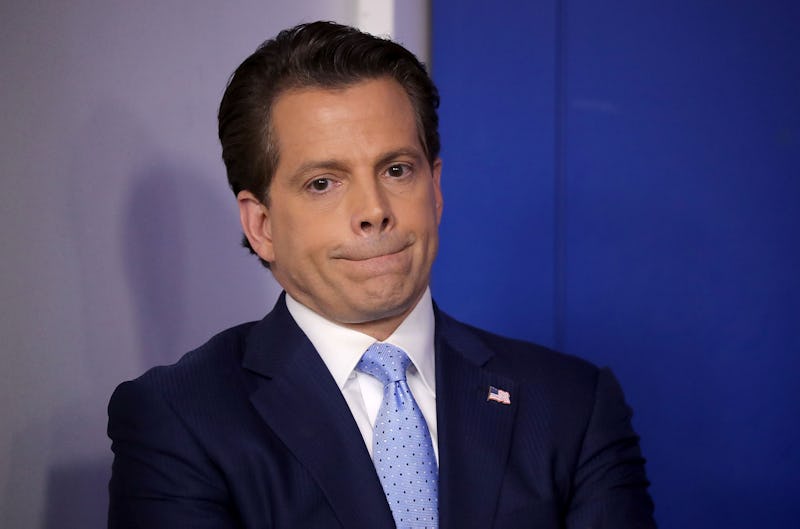 Chip Somodevilla/Getty Images News/Getty Images
In a political climate full of gaffes, some are more cringe-y and damaging than others. On Thursday morning, Anthony Scaramucci quoted Joe Paterno on honor and dignity after calling in to a CNN show, sparking criticism over the White House communications director's decision to uphold the words of a man who protected a rapist and child molester.
While talking about leaks from the White House, Scaramucci said to CNN New Day anchor Chris Cuomo, "Why don't you honor the job? Remember Joe Paterno? What would he say? 'Act like you've been there before.' Act with honor and dignity and respect and hold the confidence of the presidency in his office."
Paterno, who died in 2012, was the winningest college football coach in history while at Penn State, but his legacy was disgraced by his knowledge of the sex abuse scandal of his assistant coach, Jerry Sandusky. In 2012, Sandusky was found guilty of dozens of sex abuse charges. A jury convicted Sandusky of 45 of 48 counts of sexual-abuse related charges. In 2016, unsealed court documents alleged that Paterno was told about Sandusky's conduct, but dismissed the behavior. Several other staffers were also allegedly aware of Sandusky's actions.
Scaramucci has made it a point to discuss potential leaks within President Donald Trump's administration. On Wednesday night, Scaramucci's financial disclosure report surfaced, and although it is on public record, he blamed it on leaks.
After his financial disclosure information was published by Politico Wednesday, Scaramucci tweeted that he would contact the FBI to get to the bottom of the matter because he claimed it was a felony. He tagged White House Chief of Staff Reince Priebus in the tweet. While on New Day, Scaramucci all but came out and said that he believed Priebus talked to Politico and gave them the information.
During the same CNN interview, Scaramucci further discussed leaks particularly the consequences leakers face, saying that the White House leaks were "small potatoes," but other leaks that have to do with Syria, North Korea, or Iraq are "so treasonous that 150 years ago, people would have actually been hung for those types of leaks." However, he didn't discuss what repercussions would await leakers.
This also isn't the first time Scaramucci has talked favorably about Paterno. In 2012, he tweeted about meeting Paterno and called him an "honorable man," saying, "I met Joe Paterno twice ('92 & '96) he was an honorable man. He made the mistake—not understanding evil comes in the form of many faces."
Scaramucci has not held back during his first week as communications director, and we're sure to hear more about leaks from him in the future.