Anthony Weiner To Plead Guilty To Sexting With A Minor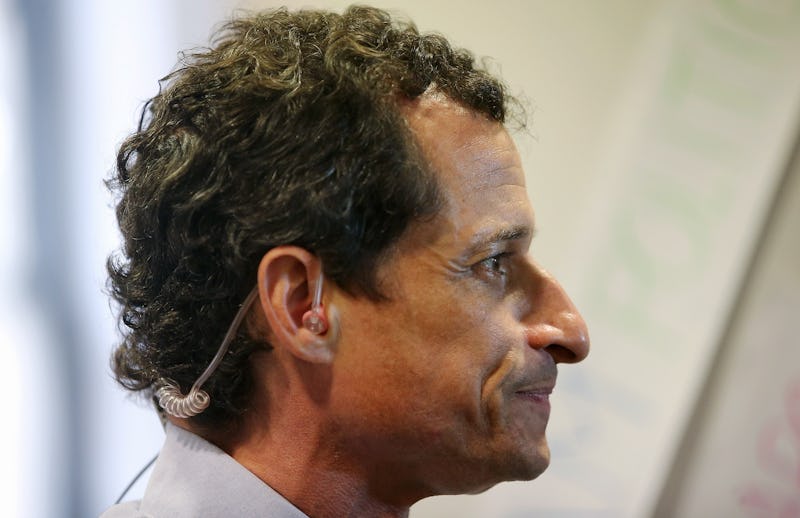 Mario Tama/Getty Images News/Getty Images
The sex scandal that jumped to the forefront of the news right before the election might finally be drawing to a close, as it is expected that Anthony Weiner will plead guilty to sexting with an underaged girl. Weiner, the ex-husband of top Hillary Clinton aide Huma Abedin, was under investigation for allegedly exchanging inappropriate messages with a minor in early 2016. It then turned out that the hard drive in his laptop also contained numerous messages that Clinton had sent to Abedin, which led former FBI Director James Comey to announce that the there may be emails pertinent to the investigation into Clinton's use of a private email server.
Weiner, a former Democratic congressman forced to resign from the House in 2011 because of his lewd behavior, is now likely to see his name on the registered sex offender list. He's also facing a charge of transferring obscene material to a minor, which can come with a prison sentence of up to 10 years, but the plea deal is likely to limit his sentence to ending up on the registered sex offender list. During the 2011 affair, Weiner initially claimed that the illicit pictures were sent after his account had been hacked, before admitting that he had sent them himself.
Whereas Weiner's habit of corresponding with younger women via the internet previously posed a danger to his own political career and marriage — and, of course, the teenage girl he allegedly sexted with — his last scandal set off a ripple effect on American politics. Comey's announcement about the discovery of more Clinton emails on Weiner's laptop is considered by many as one of the chief reasons she lost the election, and Clinton herself points to Comey's public revelation as the part of the reason that she is not president.
Weiner will come before a federal court on Friday to enter a guilty plea, and then the charge will determine if Weiner will avoid prison, and if he'll end up as a registered sex offender. At this point, it is exceedingly unlikely that Weiner will ever be able to revive his political career, even though he was able to do so in 2013 after his first round of scandals came to light. Weiner and Abedin separated in the summer of 2016, after news emerged that he sent a woman a lewd picture that included his toddler son. However the sentencing turns out, it is likely that the conclusion of the scandal will at least keep Weiner out of the public eye for the foreseeable future.