An Anti-LGBT Executive Order Could Be In The Works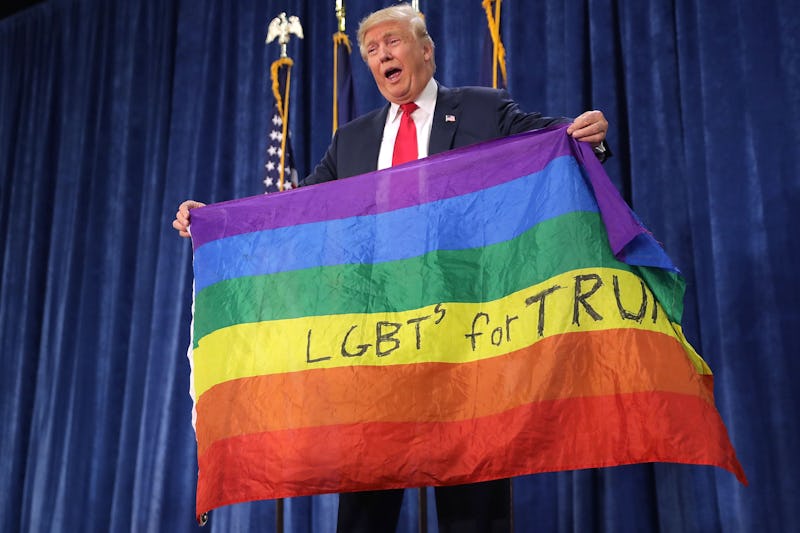 Chip Somodevilla/Getty Images News/Getty Images
LGBTQ Nation reported Friday that President Trump may sign an anti-LGBTQ executive order imminently, perhaps as soon as Monday. These rumors began swirling around earlier in the day, and an administration source told The Washington Post's Josh Rogin that an LGBTQ-related order is in the works, although they didn't reveal the nature of the order. Update: On Monday evening, White House Deputy Press Secretary Stephanie Grisham told NBC News' Mary Emily O'Hara that an anti-LGBTQ order "isn't the plan at this time."
It would be odd for Trump to sign an anti-LGBTQ order. Not because he's been shy about signing draconian executive orders during his short time in office — he hasn't — it's that the orders he's signed so far have all been attempts, symbolic or substantive, to implement his major campaign promises. And although Trump's vice president is a virulent homophobe, Trump himself didn't campaign in opposition to LGBTQ rights, and even voiced soft support for LGBTQ Americans in his convention speech.
Furthermore, pushing a staunchly anti-LGBTQ policy probably wouldn't be a political winner for Trump. Americans overwhelmingly support gay marriage — including majorities of Catholics and white Protestants — as well as adoption rights for gay couples. Trump has also been quite popular amongst gay Republicans, and signing an anti-gay executive order would surely diminish that support.
That said, the GOP did adopt an appallingly anti-LGBTQ platform at its convention in July, so there certainly are still elements in Trump's party pushing for this kind of discrimination.
The Washington Blade was unable to corroborate the rumors of an anti-LGBTQ order, but nevertheless asked Spicer about it on Monday. Spicer seemed to sidestep the issue.
"I'm not getting ahead of the executive orders that we may or may not issue," the press secretary said. "There's a lot of executive orders, a lot of things the president has talked about and will continue to fulfill, but we have nothing on that front now."
Spicer's language is a bit vague and leaves room for interpretation: The phrase "we have nothing on that front now" could mean that the White House doesn't have any anti-LGBTQ executive orders in the works; alternatively, it could simply mean that the White House isn't currently providing updates on future executive orders at all. The latter interpretation seems more in line with Spicer's earlier comment that he's "not getting ahead of the executive orders that we may or may not issue."
Trump flip-flopped during the recent controversy over North Carolina's anti-trans bathroom law. He initially criticized the law, but then reversed his position later in the same day and said he supported the states efforts to prohibit trans people from using the bathrooms of their choice.