Anti-Racists Are Using Twitter To Get Charlottesville Marchers Fired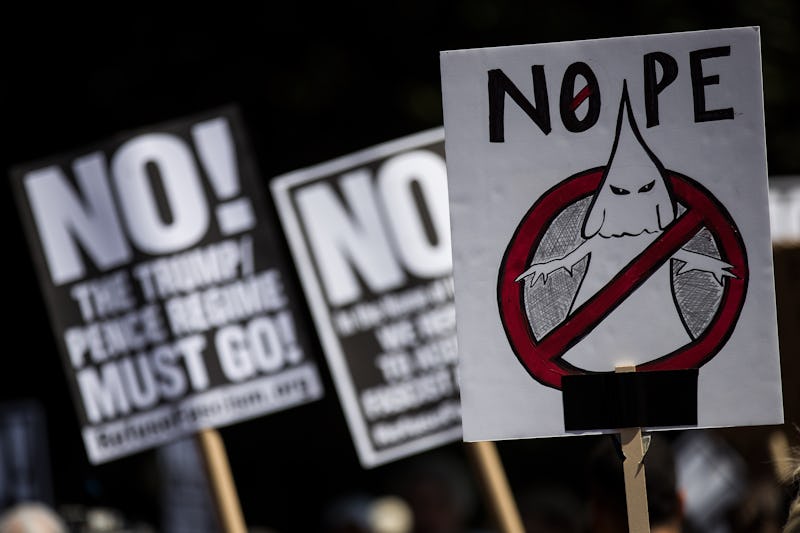 Drew Angerer/Getty Images News/Getty Images
White supremacists stormed the streets of Virginia on Saturday, resulting in at least one death and several injuries. Now, anti-racists are trying to get racist Charlottesville attendees fired by posting their names and employment information on Twitter and contacting their bosses. As of this writing, at least one of those attempts has been successful.
@YesYoureRacist has been around for years, and for most of that time, the anonymous person managing the account has simply retweeted posts that begin with the words "I'm not racist, but...": the idea being that people only use that phrase right before saying something that's definitely racist. After the Charlottesville march kicked off, however, they shifted their focus.
"If you recognize any of the Nazis marching in #Charlottesville," the account wrote Saturday morning, "send me their names/profiles and I'll make them famous #GoodNightAltRight." Accompanying the post were some high-quality images of the rally's attendees.
That one tweet quickly took off, eventually amassing over 49,000 retweets and over a thousand replies. And it worked: @YesYoureRacist effectively crowdsourced the task of identifying the unmasked white supremacists to the Twitter masses, and as a result, around a dozen people who went to Saturday's march appear to have been identified in the subsequent tweet thread.
Through @YesYoureRacist's inquiries, several of the white nationalists who attended the march were found to be members or former members of College Republican groups, and two of them — Peter Cvjetanovic and Jason Kessler — had met and posed for pictures with Republican members of Congress prior to the rally (those lawmakers are Sen. Dean Heller and Rep. Tom Garrett, for the curious).
Cvjetanovic, who was photographed screaming with a torch in his hand, later told Reno, Nevada, station KTVN that he's "not the angry racist they see in that photo."
In at least one instance, one of the march's attendees appears to have lost their job. One of the first people referenced by name in @YesYoureRacist's thread was Cole White, identified as an employee at Top Dog, a local hot dog restaurant in Berkeley, California.
The day after White's name was posted in that thread, a representative from Top Dog messaged @YesYoureRacist, thanking them for "bringing this to our attention" and revealing that White "is no longer employed by top dog, LLC."