Apple Says It's Committed To Keeping Hate Off The App Store & iTunes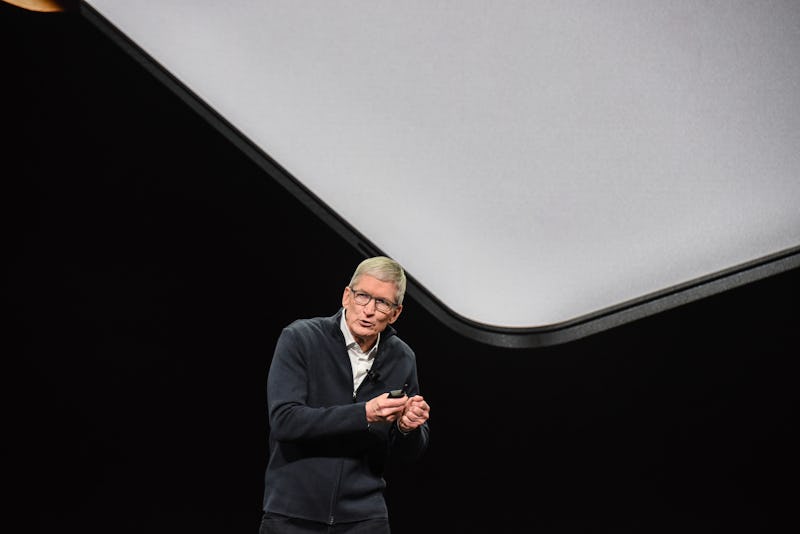 Stephanie Keith/Getty Images News/Getty Images
You won't find white supremacy on your iPhone or Apple computer's App Store, and there's a reason for that, according to the electronic company's CEO. At an Anti-Defamation League event in New York City on Monday, Apple's Tim Cook said hate has "no place" on the company's platforms, where such content has been banned.
"We only have one message for those who seek to push hate, division and violence: You have no place on our platforms," Cook said to a round of applause, according to CNET. "You have no home here."
Cook was recognized with the Anti-Defamation League's "Courage Against Hate" award for the stance he's taken on behalf of the company to favor diversity over white supremacy. In September, Apple was one of the first companies to ban far-right conspiracy theorist Alex Jones' content.
But that was not the first time the company has made such a move, Cook said. "From the earliest days of iTunes to Apple Music today, we have always prohibited music with a message of white supremacy," Cook told the audience. "Why? Because it is the right thing to do. As we showed this year, we won't give a platform to violent conspiracy theorists on the App Store. Why? Because it is the right thing to do."
Cook was not apologetic about the decision, arguing it's what customers want. "At Apple, we are not afraid to say that our values drive our curation decisions," Cook told the audience. "And why should we be? Doing what's right, creating experiences free from violence and hate, experiences that empower creativity and new ideas is what our customers want us to do."
The Anti-Defamation League's write-up on Cook focused on his leadership not only in business — developing new iPhone models and Mac computers — but also on inclusion, the environment, and fundraising. The organization, which works to fight anti-Semitism and other hatred, noted Apple's diversity plans for its workforce, the company's energy-neutral facilities, and corporate giving to the Red Cross.
Cook used biblical language while accepting the award, focusing on examples in history when people in power, who ought to know better, "look the other way" in difficult times. "I believe the most sacred thing that each of us is given is our judgement. Our morality. Our own innate desire to separate right from wrong," he told the audience. "Choosing to set that responsibility aside at a moment of trial is a sin."
Cook also spoke generally about technology's role in the struggle to fight ideologies of hatred like white supremacy or anti-Semitism. He said technology "should be about optimism." He said he hoped the future belonged to "those who use technology to build a better, more inclusive, and more hopeful world."
That will require that the devices you use need to exhibit the same human values, Cook said, like compassion. "In the end I sometimes say that I worry less about computers that think like people and more about people that think like computers," he told the audience. "Without values or compassion, without concern for consequences. And so we try to stay rooted and to keep our devices connected to the humanity that makes us us."
Cook is the "Courage Against Hate" award's first-ever recipient.