Applebee's Just Launched Pastas & The Photos Are Too Beautiful To Behold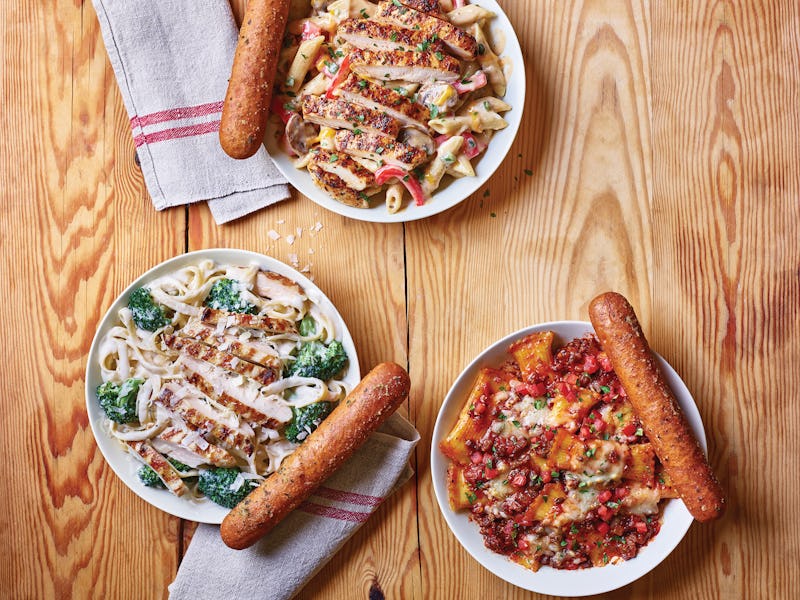 Applebee's
Applebee's is updating its menu with some new additions for pasta fans. And, this being Applebee's, the new pasta dishes don't include a simple spaghetti with marinara. Instead, the Neighborhood Pastas are cheese-filled, meat-covered, creamy, and spicy. Or, as Applebee's puts it, they're "both abundant and unexpected in the most delightful way, packed with hometown inspired flavors and mouth-watering ingredients like juicy and tender sliced prime rib, savory tomato meat sauce and zesty Cajun sauce." Abundant and unexpected? Well, well, well.
So, what are the new dishes? First up is the Stuffed Rigatoni and Tomato Meat Sauce. This one features rigatoni filled with ricotta and Romano cheese, covered with a tomato-basil and ground beef sauce. It's then topped with more cheese — parmesan and mozzarella — and baked so it gets all melty.
The second new pasta is Creamy Penne Pasta with Sliced Prime Rib. It has, well, penne and prime rib, and they're in a parmesan, cream, and mushroom sauce with sun-dried tomatoes, topped with parmesan cheese and parsley.
Lastly, is the Cajun Pasta with Blackened Chicken OR Shrimp. It includes penne pasta, roasted peppers, and mushrooms with a creamy Cajun sauce, and your choice of blackened chicken or shrimp.
Each dish also comes with Applebee's new Signature Breadstick, which is brushed with butter, garlic, and parsley. The pastas are available for a limited time and prices start at $11.99, but vary by location and dish.
The new menu items were created by Chef Stephen Bulgarelli, the chain's vice president and chief culinary officer. The Stuffed Rigatoni is his namesake dish at the restaurant, and he said in a press release about the new dishes, "I grew up sharing a kitchen with my Italian-American grandmother, and we loved exploring new recipes for traditional pastas. My namesake Stuffed Rigatoni and Tomato Meat Sauce is an homage to my childhood and a new take on baked ziti with ricotta and Romano cheese stuffed rigatoni topped with delicious mozzarella and parmesan."
In addition to the new Neighborhood Pastas, Applebee's menu still includes the pastas it already featured. This includes Classic Chicken Parmesan, Classic Broccoli Chicken Alfredo, and Three Cheese Chicken Penne. So, yeah, there was a lot of chicken on the menu, and the new dishes help switch things up.
Along with introducing these new menu items, Applebee's will be giving away the pasta dishes for free at one New York City location. On November 3, the day before the New York City Marathon, the restaurant will hold a Pastathon. What is a Pastathon, you say? "At Applebee's Pastathon, registered runners and their guests who snag a reservation can come to the Applebee's at 205 W. 50 St in New York City and dig into a FREE bowl of one of the new Neighborhood Pastas, served with a Signature Breadstick, a Caesar salad and refillable drink." More information can be found and reservations can be made here. (By the way, if you're picturing Michael Scott right now, you're not alone.)
If you want to try the new pastas and aren't running the NYC Marathon, they are available at locations across the country starting today, Monday, October 8.