Apple Is Releasing A New, More Versatile iPad & It Sounds So Cool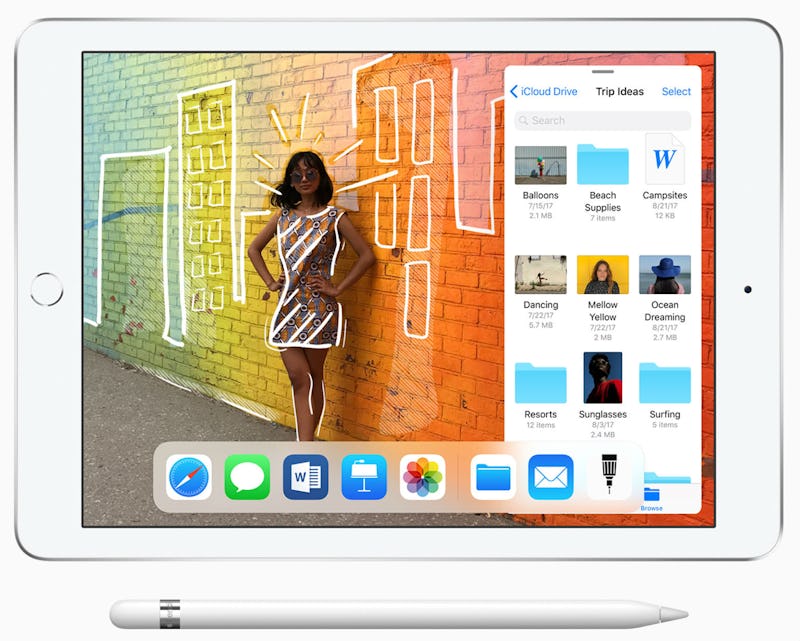 Apple
On Mar. 27 at Apple's Education Event in Chicago, the company revealed some exciting news that many fans were waiting for: Apple is releasing a new 9.7 inch iPad with Apple pencil capabilities that will retail at $329 for consumers and $299 for schools — the latter of which is much less than schools have had to pay in the past for iPad models. So, what's different about Apple's new iPad model that makes it stand out from existing products (aside from the lower price point for schools, of course)? Awesomely, it's made with education in mind.
Here's what we know so far about the basics of this new device: at 9.7 inches, the dimensions are very similar to models already on the market. This iPad also boosts 10 hours of battery life, an 8-megapixel read camera, an LTE option, GPS, Compass, and it supports Pencil. It only weighs one pound, which is perfect for students toting around heavy backpacks. It also features TouchID, HD FaceTime camera, and Apple's A10 Fusion chip that can do video. The price point is affordable at $329 for consumers and $299 for schools, although The Verge points out that with a keyboard and Apple pencil, the total price is close to $450. The new iPad will be available to purchase today and will start shipping this week.
Aside from the basics, the new iPad offers features and apps that aim to improve education for both teachers and students. The company has promised new versions of its iWork apps, like Pages, Numbers, and Keynote, that support the Apple Pencil. Apple showed off Smart Annotation, which will allow teachers to mark up reports in Pages directly. The notes will get pegged to the specific word being marked up. While it sounds very cool, Smart Annotation isn't available for release just yet, although the company says "it's coming."
Digital Books, similar to iBooks Author on Macs, is another app that will be changing the game. This tool will allow educators and students to make books together using handwritten notes and drawings. The books can include photos, videos, Apple Pencil illustrations, and more. Students will also be able to make a book for a group project so they can collaborate with others on it.
One of the coolest features of the iPad is some of the augmented reality apps that are definitely going to change the way students are learning. There's Free Rivers, which allows students to look at an environment on a table, making that kind of teaching much more interactive. For example: building a dam and seeing how it impacts the river. Most notable, though, is Froggipedia by Designmate, which is an AR app that lets you virtually dissect a frog using an Apple Pencil. Apple: saving the frogs, one step a time. But seriously, this is very cool.
There are also features for teachers and administrators. Shared iPad is a multiuser for iPads that is managed by the school. Apple School Manager uses Apple IDs to give the school more control over what students are doing.
For teachers, there are a few really interesting apps available. There's Schoolwork, which is a cloud-based app that allows educators to assign handouts and track progress being made (or not being made). Unfortunately, Schoolwork won't be available until June, so it likely won't be used until the next school year starting in September 2018. Handouts App Progress lets teachers make handouts with PDFs, links, and documents, and is supposed to be as easy as sending an email.
Then there's iOS 11, which has some great new features as well. The Dock gives easy access to frequently used apps and documents, making it easier to multitask with Split View and Slide Over. There's Drag and Drop, which makes it easier to move images, texts, and files between apps. The File app gives users a central place to store, access, and organize files no matter where they're located.
This new iPad, with all of its features, is really meant to be used with the Apple Pencil. Unfortunately, the iPad does not come with an Apple Pencil, which needs to be purchased separately. Apple revealed that Logitech is creating a Crayon for the iPad that is priced at $49, as compared to the Apple Pencil, which is $99.
One other thing worth noting is that both students and teachers will probably need a keyboard to fully take advantage of all of the features of the new iPad. Logitech is also creating a iPad case and keyboard combo, but there are no pricing details or availability date just yet.
Lastly, Apple is changing up its free iCloud offering from 5GB to 200GB for students, which is a big incentive for many.
This new iPad was clearly made with schools in mind, so if you aren't a teacher or student, it might not seem too appealing to you, although of course, you don't need to be in school to buy one. Apple is envisioning this as a tool to change the way students are learning - and honestly, it seems like it just might do that.
The headline on this story has been updated to more accurately represent the new features available on Apple's new iPad model.