All Solo Travelers Should Check Out These Apps ASAP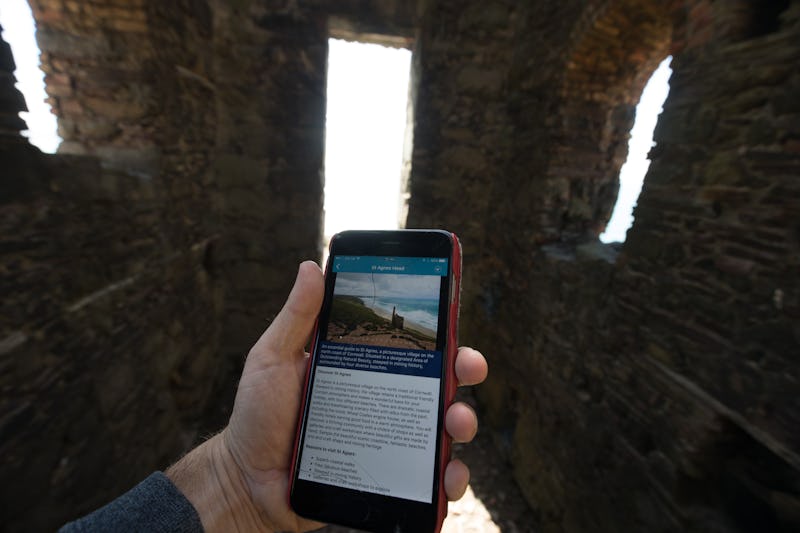 Matt Cardy/Getty Images News/Getty Images
There are about a million and one reasons why solo travel is and should be at the top of everyone's list of things to do in life. It's not only incredibly liberating (and challenging) not having to answer to anyone but yourself — not to mention going at your own pace on your own time and schedule — but it's also an incredibly rewarding way to learn about yourself within the context of the people and the world around you. Which yes, even as I typed that line realized how incredibly cheesy that may sounds. But cheese aside, it's the truth, and statistically speaking, solo travel is not so surprisingly on the rise. While there are probably a number of reasons why that is, much of which can be attributed to general awareness about solo travel — aka how to do it, where to go etc, people and women especially have the confidence more than ever to get out there and do it.
According to a recent study by adventure tour company Intrepid Travel, out of the 2,000 U.S.-based participants surveyed, nine out of 10 felt content to travel on their own, which is pretty remarkable. Today you'll find more and more tour companies like Intrepid offering trips under a new category, their is "solo adventures," which is actually aimed at putting a bunch of solo travelers together in a group for customized tours. It's kind of a best of both worlds scenario — even though at the end of the day, you're not really traveling solo.
However, if you're really going it alone, technology has played a huge role in helping women discover new places one their own. One of the most ingenious travel apps and ideas is Mend, which was actually developed as a means to help women get over a breakup by helping them plan a really amazing trip.
"Not too long ago, I was going through a breakup and looking online for help," Mend's founder and CEO Elle Huerta wrote in a "letter from our founder" on Mend. "I found a lot of cliche advice, but nothing that resonated with me. So I set out to build a site I would use myself: letsmend.com. After connecting with thousands of heartbroken people all over the world, I realized that there was more work to do. Content was helpful, but what people really wanted was more personalized support."
Because there really is no better way to cope with a breakup than planning an adventure, here are some of the best travel apps to help you plan your solo vacay.
1. Mend
Launched in April 2017, Mend is one part self-help one part travel-inspo app that was designed for women (and men) with one primary goal in mind; to help women get over a breakup. One of the ways to do that is to plan a really epic trip. Mend offers everything from city guides and the best places to go on a retreat to the five best trips to take around the world.
2. Peek
Even the most independent of travelers likes a little camaraderie, and that's where Peek comes in. A one-stop shop for activities, tours, and tips on local attractions fro restaurants to museums, Peek connects you to local travelers and happenings in select cities, mostly in the U.S., London, Paris and Mexico.
3. Google Translate
I'll say this about Google Translate: If this was a desert island scenario and I had just one app to choose from, a million time over it would be Google Translate. Hands down, no questions asked. You can not only translate into the language of your choice, but thanks to the built in camera option, you can hold your phone up to any menu, bar tab etc and it will translate the words for you. It's an absolute imperative, especially when traveling abroad, and can help with so many language barrier issues. It's also a great resource for simple things like learning local colloquialisms and knowing how to say please or thank you.
4. Audible
Not travel specific, but just nice to have when you travel and especially when you're in transit is Audible. The free app allows you to download books onto your smartphone, tablet or computer and can be a major saving grace on long flights.
5. Flying Yak
Created for wanderlusters and travel addicts alike, FlyingYak provides the real-time costs and information on how to get to and from a destination as well as intel on what to expect once you arrive. They even have a filter for solo female travelers, which highlights safety issues for women who travel around the globe.
6. EatWith
By far one of the coolest apps that combines all things food, travel and locals, EatWith is perfect for anyone who loves to eat and may not want to do so alone. The app, invited travelers into the homes and dining rooms of locals in cities around the world for a dinner party, it's been likened as the airbnb of food which is pretty damn cool.
7. Tourlina
A free women's app that aims to connect travelers wherever they are around the world, Tourlina works by entering your location and discovering a travel companion with mutual interests and trip plans. You can start to chat, plan your trip together accordingly.
8. Hopper
Perfect for the gal on the go, Hopper is a great option to find cheap/last minute flights. The app works by analyzing billions of flights to help you find the best deals and the best times to fly and buy which is a great resource for someone with a flexible travel schedule.