Reporter April Ryan Called Out Trump In A Fiery Op-Ed For 'The Washington Post'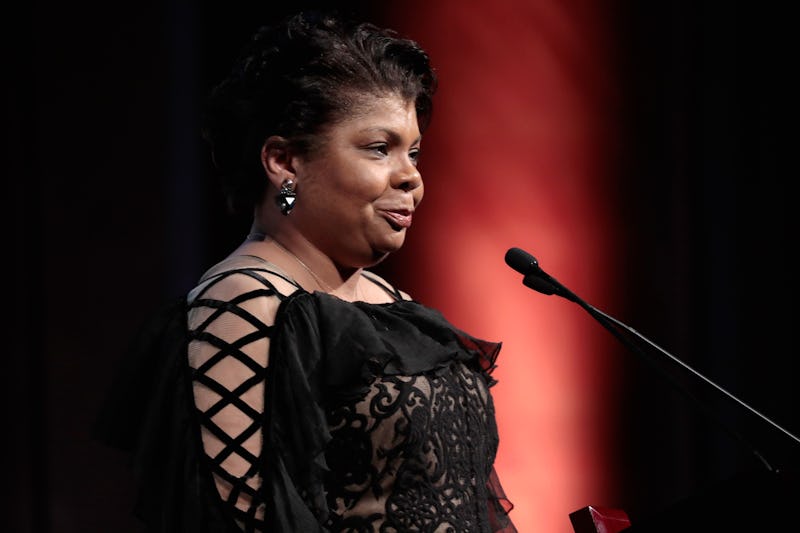 Cindy Ord/Getty Images Entertainment/Getty Images
After a week of enduring what many have called racist tweets and comments, CNN analyst April Ryan called out President Donald Trump for how he treats women of color in an op-ed for The Washington Post published on Saturday. "Though there's hardly anyone — from his predecessors to senators in his own party — he won't try to shout down with ad hominem insults, Trump relishes, and injects venom into, verbal attacks against women of color," Ryan wrote. Bustle has reached out to the White House for comment.
Ryan recalled Trump's exchange with PBS's News Hour Yamiche Alcindor. On Wednesday Alcindor asked Trump if he thought his words were "emboldening white nationalists." In reply, Trump said, "That's such a racist question."
Recently, Trump has also called Democratic Florida gubernatorial candidate Andrew Gillum "a thief," and alleged that the caravan of migrants slowly making its way through Mexico in efforts to seek asylum in the U.S. was filled with "criminals." (Weirdly enough, the caravan largely stopped being discussed after Tuesday's midterm elections.)
On Friday, Abby Phillip of CNN asked Trump if he would ask Matt Whitaker — former Attorney General Jeff Sessions' chief of staff who had recently been elevated to his boss's gig — to "rein in" the investigation by special counsel Robert Mueller. Trump responded by calling Phillip's question "stupid" multiple times. "What a stupid question that is. What a stupid question. But I watch you a lot, you ask a lot of stupid questions," he said.
Ryan said Trump's comments paint a clear picture of the situation. "He leaves little doubt about what he really thinks of us," she wrote.
Ryan said Trump's multiple public feuds with black women are "an unmistakable pattern" in his conduct: "Trump telegraphed that there's something about being questioned by a black woman that he can't abide. One or two of these instances might only leave you scratching your head. But we've reached the point where it's an unmistakable pattern."
As Ryan chronicled, the president said California Rep. Maxine Waters has a "low I.Q.," and he called Stacey Abrams, a Democratic gubernatorial candidate in Georgia who graduated from Yale Law School, "not qualified."
Ryan then stated the obvious: No one should have to endure insults or racist comments at work. "I'm confident that all of us, including the African American women covering this White House, will continue to do our jobs no matter how we're treated by President Trump. But we shouldn't have to put up with the kind of treatment we received this week," she wrote.
Ryan wrote that she knew what a privilege it was to be chronicling history. "Every day, I try to remember that, to the best of my knowledge of my family's history, I am only five generations removed from the last known member of my family to be enslaved, Joseph Dollar Brown, who was sold on the auction block in North Carolina," she wrote.
It's her duty to cover any presidency accurately and fairly, Ryan wrote. "And I carry that knowledge with me, because I owe it to him to cover the presidency the best way I know how, no matter how much pushback I get," she wrote.
Most importantly, Ryan said that she will not stop asking the hard questions. "As a black female journalist, I'm going to keep asking it and continue seeking answers," she wrote. "That's my job, and I am up for it."