The White House Is Purposefully Not Inviting April Ryan To Its Christmas Party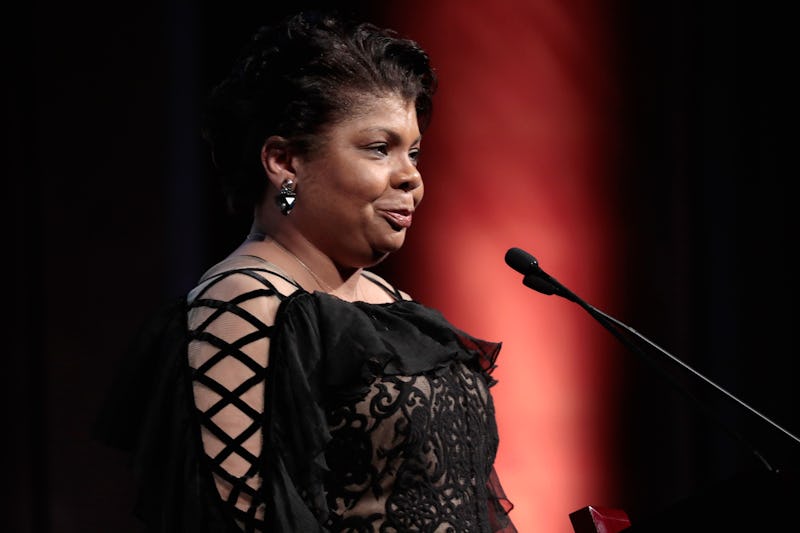 Cindy Ord/Getty Images Entertainment/Getty Images
The traditional White House Christmas party is supposed to be a feel-good, press-friendly event, where the president invites Washington correspondents to join in merry festivities. But this year, the guest list will exclude one prominent journalist, who is also one of the few female Washington correspondents of color. The Trump administration did not invite April Ryan to the White House Christmas party, and it's the first time in 20 years she's been excluded from the event.
Ryan, the Washington bureau chief for American Urban Radio Networks and a political analyst for CNN, told The Washington Post she thinks the slight was a deliberate move:
I don't think I was overlooked. I think they don't like me. For whatever reason, they have disdain for me.
Ryan's relationship with the Trump administration has been rocky, and members of Trump's team have admonished Ryan for her tough grilling. For example, she's repeatedly asked why Trump has been routinely absent from press briefings. At one point, White House Press Secretary Sarah Huckabee Sanders said she was "starting to regret" calling on Ryan when the correspondent brought up Trump's tweets from that morning. Furthermore, before Huckabee Sanders became press secretary, Sean Spicer once chastised Ryan for shaking her head during an exchange during which she asked how the Trump administration was planning to fix its public image.
According to Ryan, she wasn't the only Washington correspondent who got snubbed an invite.
In general, the Trump administration has a tense relationship with the press, to say at least. Trump himself hasn't shied away from vocalizing his disgust for the media's coverage of him, dismissing all TV news networks — minus Fox News — as "bad" and eligible for a "fake news trophy." But despite his frequent claims that the journalists who question him are the ones disseminating fake news, Trump's history of telling lies is well documented, as are the allegations that Russian agents disseminated fake news to help disrupt the 2016 election. The Kremlin has denied interfering in the U.S. 2016 presidential election.
In fact, Trump's adversarial take on the press led CNN to boycott the White House Christmas party this year. "In light of the President's continued attacks on freedom of the press and CNN, we do not feel it is appropriate to celebrate with him as his invited guests," said a CNN spokesperson told POLITICO. "We will send a White House reporting team to the event and report on it if news warrants."
Both Huckabee Sanders and Trump reacted in delight:
Ryan has also commented before on how the atmosphere in the White House press room has grown hostile, particularly for reporters of color. Anyone who questions the Trump administration becomes an enemy from "the opposing party" versus just a journalist "trying to get the facts," she told CNN news anchor Don Lemon.
And God forbid, you are someone of a different race, I was speaking of myself, you're considered an opposition. I don't bring my politics, I just ask questions about what's right and wrong, or things that go on in Washington.
Outside of politics, Ryan and Huckabee Sanders became embroiled in an online tiff known as #PieGate. Ahead of Thanksgiving, Huckabee Sanders tweeted a photo of a pie on a blank background that made it look suspiciously like a stock image. "I dont cook much these days, but managed this Chocolate Pecan Pie for Thanksgiving at the family farm!" she tweeted. Questioning the baker's credibility, Ryan asked for receipts by tweeting, "Show it to us on a table."
Although Twitter users pressed for pie proof, Huckabee Sanders did not post any pictures of the pie on a table, but instead offered to bake Ryan a pie in the days ahead. So far Ryan has not shared to the public any images of her digging into Huckabee Sanders' olive branch pie.
The White House Christmas party will take place on Friday afternoon. Considering the Trump administration's uneasy relationship with the press, the yuletide peace between journalists and the Trump team might be a little less peaceful this year.