Trump's Allowing Oil Drilling In The Arctic Now — And Its Impact Could Be Dire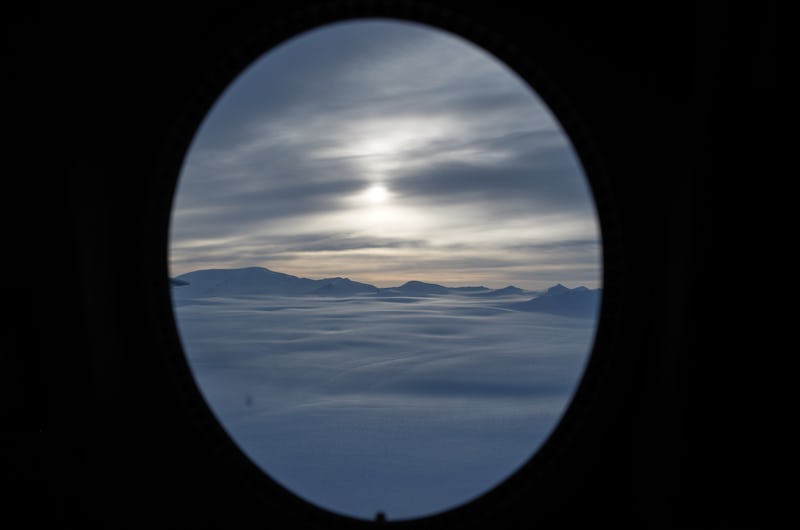 Mario Tama/Getty Images News/Getty Images
In a major blow to environmentalists and climate change activists, the Trump administration approved plans to allow arctic oil drilling off the coast of Alaska on Wednesday. The proposed drilling plan, known as the Liberty Energy Project, is sponsored by Hilcorp Energy, and would be the first oil and gas production site in Alaska's federal waters, reports The Washington Post.
Interior Secretary Ryan Zinke lauded the approval as a positive step for American energy production and self-sufficiency, referencing Trump's goal of "American energy dominance," that has informed many of the administration's environmental rollbacks.
"American energy dominance is good for the economy, the environment, and our national security," Zinke told The Post. "Responsibly developing our resources, in Alaska especially, will allow us to use our energy diplomatically to aid our allies and check our adversaries. That makes America stronger and more influential around the globe."
Organizations like the Center for Biological Diversity disagree, arguing that opening federal waters in the state to drilling puts Alaskan wildlife in jeopardy and exacerbates climate change effects, which are already felt dramatically in the state. "Opening the Arctic to offshore oil drilling is a disaster waiting to happen," Kristen Monsell, ocean legal director for the group, said in a statement. "This project sets us down a dangerous path of destroying the Arctic. An oil spill in the Arctic would be impossible to clean up and the region is already stressed by climate change."
The World Wildlife Fund also reported that since offshore drilling has previously been closed off in Alaska, there is no infrastructure in place to respond to oil spills, and harsh weather conditions in the area would make responding doubly difficult. Numerous arctic animal species including arctic foxes, polar bears, and various seal species could be killed by contact with an oil spill, says the organization, and the effects would continue up the food chain, destabilizing the entire ecosystem.
Indigenous Alaskan populations in the area rely on some of the native species for subsistence hunting, and are also likely to feel the disruptive effects of unprecedented drilling. However, the Department of Interior says it worked with tribal organizations and local communities to create "environmental mitigation measures and safety practices," for the project.
During his term, Barack Obama was the first sitting president to visit the Alaskan Arctic. In 2016, responding to Alaska Native leaders advocating to protect a subsistence lifestyle, Obama moved to ban offshore drilling in a 115 million acre swath of federal waters off the Alaska Coast — the Trump administration's latest decision is yet another reversal of that conservation legacy. Now that Hilcorp has been granted official approval by the administration, it is likely that conservation organizations will step forward with lawsuits to return Obama-era protections to Alaska's federal waters.
"We'll keep fighting this project and any new ones that follow," Monsell said in her statement. "We won't passively watch the oil industry and this inept administration harm Arctic wildlife and leave a legacy of climate chaos."