Adele & Beyoncé Are Huge Fans Of Each Other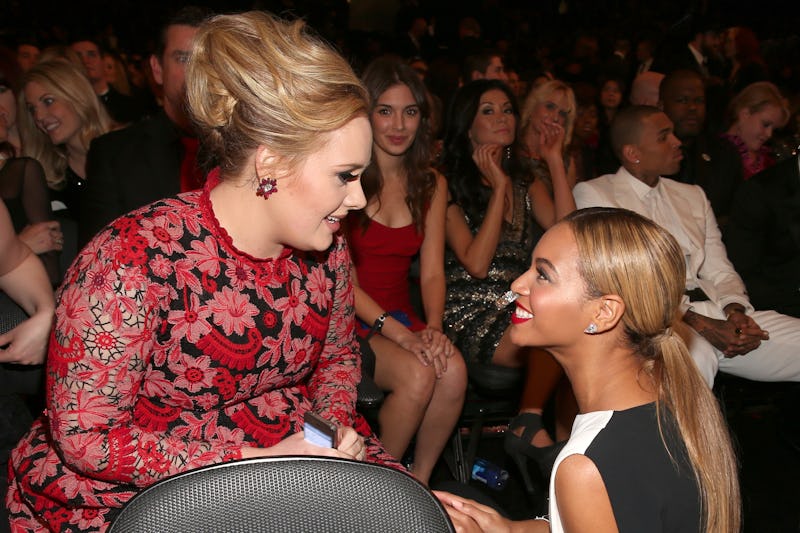 Christopher Polk/Getty Images Entertainment/Getty Images
I have to admit that a good old-fashioned diva battle is one of pop cultures greatest gifts — when it stays pretty innocent, that is. Like when Mariah Carey infamously said she didn't know Jennifer Lopez. It was classic MC, but not that bad. But, what's better than a diva feud? When two divas love and respect each other. Since Adele came onto the scene, her voice has captured the hearts of fans all over the globe. Another star — who has many, many, fans of her own — is Beyoncé, who happens to be facing off against Adele for a few awards at this year's Grammys. For my own curiosity, I have to wonder if Adele and Beyonce are friends, because that would make the music world that much better.
Well, the best thing about this answer is that not only have Beyoncé and Adele met multiple times before, they are huge fans of each other's music, so the old adage is most definitely true here that real recognizes real. No one gets realer than Bey and Adele in pop music. Adele described meeting Beyoncé for the first time in a Rolling Stone profile way back in 2011. Adele recounted,
"I was about to meet Beyoncé and I had a full-blown anxiety attack. Then she popped in looking gorgeous, and said, 'You're amazing! When I listen to you I feel like I'm listening to God.' Can you believe she said that?"
The two seemed to maintain a very supportive relationship in the business, and in December 2015, Adele opened up about some Beyoncé rumors that she said people got very wrong. She told Time of the rumor that she turned down a Beyoncé duet for her album 25,
"Whoever started that rumor must have been having a laugh because anyone who knows me knows that my main priority in life outside of my child is Beyoncé."
Tell us how you really feel, Adele! I love that she is just a big a fan as most of us mere mortals are. But Bey keeps proving that their love and admiration is mutual, which makes me glimmer with delight. For a Vanity Fair cover story about Adele in 2016, Bey shared a few words about Adele and said,
"It is so easy to talk to her and be around her. She's funny as hell and her comebacks are legendary. The most beautiful thing about Adele is that she has her priorities straight. She is a gracious woman and the most humble human being I've ever met."
Literally, even Beyoncé's compliments are perfection. Later on in the Vanity Fair piece, Adele confessed that she had been a fan of Bey since she was 11 and first heard "No, No, No" by Destiny's Child. Same, girl, same. She raved, "She's my Michael Jackson."
If it hasn't been evident enough throughout the years and their wonderful words about each other, Adele and Beyoncé are admirers of each other and have some sort of friendship, although it's unclear how much they hang out one-on-on. Regardless, they'll clearly continue to support each other through and through.