These 'HTGAWM' Co-stars Raise Dating Suspicions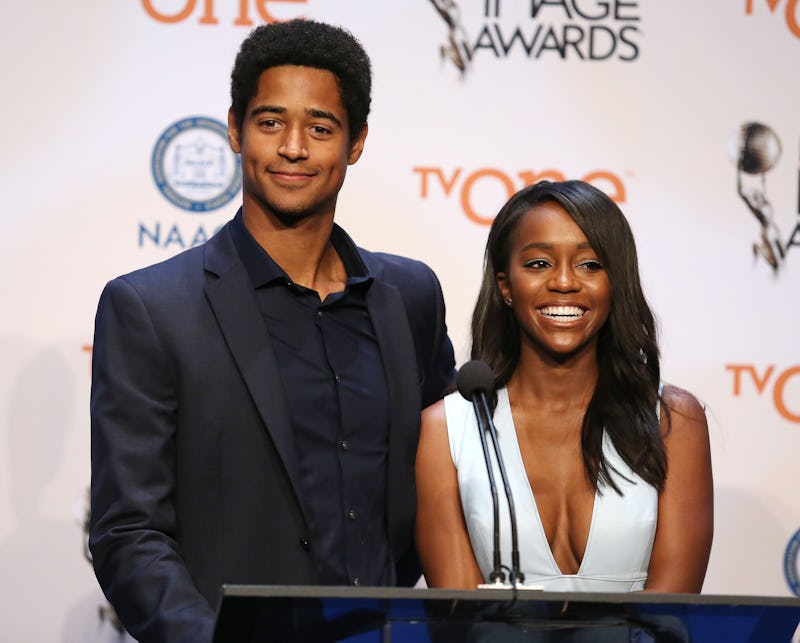 Frederick M. Brown/Getty Images Entertainment/Getty Images
Did love blossom off-screen for two How to Get Away With Murder co-stars? At The Hollywood Reporter's Most Powerful Stylists dinner, E! News caught up with Aja Naomi King and inquired about a rumored romance with Alfred Enoch. However, she did not give a definitive answer and chose to stay mum about the alleged relationship. Bustle has reached out to Enoch's reps for comment, but did not receive a response at the time of publication.
After being asked if King wanted to clear up anything about the two, she answered just like her HTGAWM character would. "I would like to clear up nothing," she said. "People could think what they want and I'm going to let them." The Birth of a Nation actor also added about Enoch, "He's a beautiful man and I think I'm quite a lovely young lady." I can't argue with that statement whatsoever.
Of course there's a chance the two are just really good friends. After it was revealed that Enoch's HTGAWM character was under the sheet during Season 3, King told Entertainment Tonight in February about initially finding about Wes' death, "I mean, it was devastation. We all burst into tears. It's actually been really hard for us as a cast, because we're a really close family." So, yeah, they all seem rather close. Although, she did also add about Enoch, "I love him so much." And what kind of "love" is that, King?
If you follow King on Instagram, you may have noticed that she's shared a lot of photos with Enoch. Her captions also raise suspicions. For example, the image above, which she posted on March 11, is captioned, "Had the best time in Paris and London. Another great adventure with the people I love most in the world!!!" E! asked about the particular photo to which King replied, "My parents love Alfie. They do. They do."
Furthermore, she captioned another photo of herself and Enoch, "This one." And she wrote alongside another one of herself and a collage of men, including Enoch, at GQ's Men of the Year event, "These are my Men of the Year...How lucky am I!!"
What is certain is that King and her family really "love" Enoch. Who doesn't? I mean, he did bring Harry Potter's Dean Thomas to life. Whatever is going on between them, it's hard to ignore all of her Instagrams with him. Here are a few for you to check out for yourself.
A Cute Pose
Just look at how Enoch is staring at her.
Out At An Event
It seems they went to Essence's Black Women in Hollywood event together. Or, he was just there to honor his friend and co-star.
She Really Likes This Photo
"That memorial photo was so sad," she captioned the IG in regards to the memorial photo of Wes used on HTGAWM. "I prefer this one." Yeah, this is a cute picture of him for sure.
They Went To The Women's March
They're either the next power couple or the next power friendship.
They Look Quite Cozy
They snuggled up with friends in this one.
"Love U"
Now, King could very well be saying, "Love u," to Enoch because of his character dying — or maybe because of something more.
If they aren't an item, maybe they should be. King and Enoch definitely make a cute couple, don't you think?