Alex & Jo Fans Will Not Like This 'Grey's Anatomy' Finale News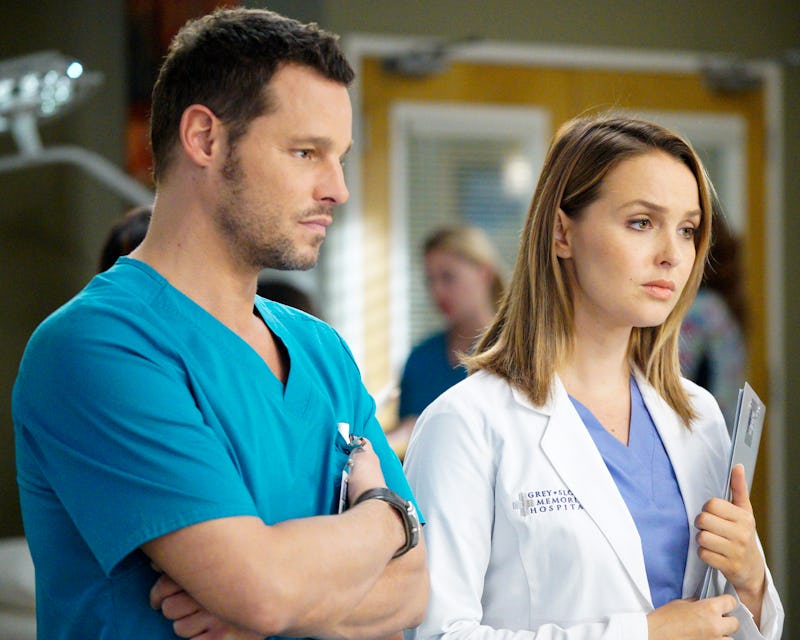 Jennifer Clasen/ABC
SPOILERS for the Grey's Anatomy Season 14 finale ahead. It's never a season finale of Grey's Anatomy without a few surprises — we knew that Jo and Alex were going to get married (which they did, but not without a few bumps), but what we didn't know is that Jo was going to get into one of her top-choice fellowship programs. The problem? It's on the other side of the country in Massachusetts. Oops. Are Alex and Jo returning for Season 15 of Grey's Anatomy? Her career may send these newlyweds packing.
Of course, there will be a Season 15 of Grey's Anatomy — according to Entertainment Weekly, it will now be tied with ER as the longest-running medical drama ever on television. A press release from ABC decreed that the following actors will be returning for Season 15:
Ellen Pompeo as Meredith Grey (a big duh to this one), Justin Chambers as Alex Karev, Chandra Wilson as Miranda Bailey, James Pickens Jr. as Richard Webber, Kevin McKidd as Owen Hunt, Jesse Williams as Jackson Avery, Caterina Scorsone as Amelia Shepherd, Camilla Luddington as Jo Wilson, Kelly McCreary as Maggie Pierce, and Giacomo Gianniotti as Andrew DeLuca.
As you can see, Alex and Jo are both included in this list, as are Owen and Amelia (unfortunately, and I won't get over this until they're gone, so sue me), so that means that Alex and Jo will be back in action next season!
That doesn't mean, though, that they'll be in Seattle. Jo got her first choice at Mass Gen, but Alex is still working in Seattle. It's kind of like the time Derek (RIP I guess) started working in Washington, D.C. for the President of the United States and Meredith was still in Seattle. They basically just did a split marriage thing for a while, even though it put a lot of strain on Meredith and Derek's relationship. But I think that Jo and Alex could survive something like that, with her being in Boston and him being in Seattle. Or, maybe Alex will follow Jo to Boston and they'll lay some groundwork for a spinoff.
Meredith and Derek couldn't survive the distance, but they were having issues anyway in their relationship over who got to focus on his or her career. Remember, Meredith is the sun, and Derek didn't always want to let her shine the brightest. But Alex and Jo don't really have those issues. He supports her unconditionally, and now, they're man and wife. Hooray!
Frankly, I'm just happy that Alex and Jo made it down the aisle, and so is Camilla Luddington, who plays Jo. She told Entertainment Weekly, "I can't believe that we've actually made it! Just because they've been through so much. We were excited to finally shoot those scenes. Then, it just so happens that — like I told you guys — there's a lot of twists and turns to it. It's a really fun story line for them. We laughed a lot shooting it."
Well, yeah, it had to be fun, because Jo and Alex had a quickie before their wedding and then got locked in a tool shed that held a dead body in it. (A skeleton, really). Jo and Alex need a little levity — it's been all assault and dead ex-husbands lately. Let's bring these people a little joy.
And let's hope that Jo and Alex don't stray too far from Grey's Anatomy's orbit. Season 14 said goodbye to Jessica Capshaw (aka Arizona Robbins) and Sarah Drew (aka April Kepner), two characters who were the emotional center of the show. Grey's Anatomy is going to need a new moral compass, and how wonderful would it be if formerly hot-headed Alex was the one to fill in their shoes? No matter what happens and how, we'll see both Jo and Alex next year on Grey's Anatomy — the press release gods say so.