Alexander Skarsgård & Alexa Chung Actually Go WAY Back, So You May Want To Sit Down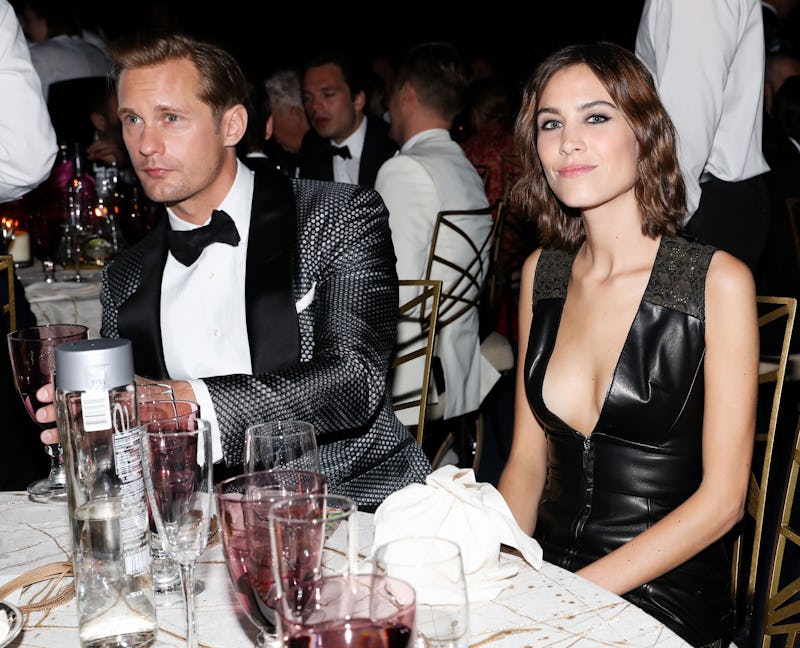 Neil Rasmus/BFA/Shutterstock
Actor Alexander Skarsgard and the multi-talented British model and fashion designer Alexa Chung began dating back in 2015, and appear to have a pretty on again, off again relationship ever since. After reportedly parting ways in June 2017, this year the pair have sent rumours into overdrive regarding a potential reconciliation. But are Alexander Skarsgard and Alexa Chung dating?
Due to some conflicting reports, we're not really sure whether or not the couple are actually back together, however Bustle have reached out to their representatives and will update with any information when available. Earlier this year, Skarsgard and Chung were spotted arriving arm in arm at St. Pancras International train station in London, the Mail, where according to the Daily Mail they had travelled to from Paris, France. One source told Us Weekly "The two seemed happy but a bit tired. They walked through the station holding hands". And a more recent sighting of the on-off couple earlier this week further suggested the couple could indeed be an item again, as they were seen strolling though New York together.
This recent outing marks the second time the British fashion icon and Swedish actor have been spotted together since apparently splitting last year. When discussing the break up, one source told E! Online "No one cheated on anyone. It was a clean breakup that was caused by busy schedules and distance. They really did love each other and were pretty serious. They still have respect for each other".
Page Six also reported that shortly after the break-up, Skarsgard began casually dating model Toni Garrn, and that the pair had been set up on a blind date by close friends of the model. One source at E! Online, however, commented that there was no romantic spark between the two. The source claimed: "Alex and Toni just recently met each other but there is no romance. A few people all hang out. Very casual. It wasn't a date. Nothing is going on with them".
Another report suggest the two have remained in regular contact since going their separate ways. According to the Mail, the source said: "Alexa is always friends with her exes. She's always cool with everyone she dates and stays in contact and even will hang out with them after they break up". And back when the pair were an official item, Chung spoke very highly of her significant other in an interview with Porter magazine in February of this year. She said: "He's an amazing man, very structured, responsible and supportive. He's very good at, not making me more grown up, per se, but at making me take myself more seriously".
Recently, Skarsgard was also rumoured to have reconciled with another ex-girlfriend, Hollywood megastar Charlize Theron. The acting duo were reported to have rekindled their relationship whilst on the set of the upcoming American comedy Flarsky, the filming of which took place six years after Theron and the Big Little Lies actor first dated back in 2012.
All of the hearsay and rumours about the current state of their relationship doesn't cloud the fact that both Chung and Skarsgard appear to be a really cool couple. And if they are indeed dating again, I wish them the best of luck.