Tom Brady Isn't The Only Patriots Guy Who's Buddies With Trump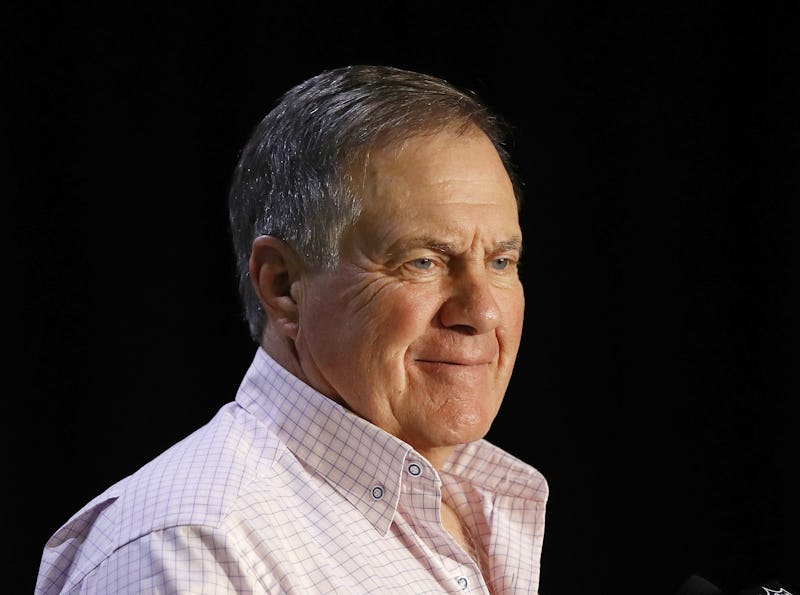 Elsa/Getty Images Sport/Getty Images
During Super Bowls past, politics have taken a backseat to the actual game and the Super Bowl halftime show — if being broached at all. But this year there are plenty wondering about players taking a knee and what the president's reaction could be. But the president actually has another connection to the game beyond his position. Trump is friends with Bill Belichick, the Patriots' head coach.
During the fall of 2016, the Patriots' coach drew attention for his apparent support of then presidential candidate Donald Trump. Trump famously read from a letter he said was from Belichick at a rally on Election Day in Manchester, New Hampshire. He read:
Congratulations on a tremendous campaign. You have dealt with an unbelievable slanted and negative media and have come out beautifully. You've proved to be the ultimate competitor and fighter. Your leadership is amazing. I have always had tremendous respect for you, but the toughness and perseverance you have displayed over the past year is remarkable. Hopefully tomorrow's election results will give the opportunity to Make America Great Again. Best wishes for great results tomorrow, Bill Belichick.
That led to Belichick being questioned about the letter's authenticity. In the following days CSN New England confirmed it was authentic — before Belichick addressed the issue publicly. But the pressure continued to grow in the days to come and Belichick did speak to the press on the matter.
"I've received a number of inquiries relative to a note that I wrote to Donald on Monday," he told reporters the day after the election. "Our friendship goes back many years and I think anybody that's spent more than five minutes with me knows I'm not a political person. The comments are not politically motivated. I have a friendship and loyalty to Donald."
Belichick tried to portray his comments as apolitical. "[A] couple of weeks ago, we had Secretary of State [John] Kerry in our locker room. That's another friend of mine. I can't imagine two people with more different political views than those two, but to me friendship and loyalty is just about that. It's not about political or religious views," Belichick continued.
"I write hundreds of letters and notes every month. [It] doesn't mean I agree with every single thing that every person thinks about politics, religion or other subjects. I have multiple friendships that are important to me. That's what that was about," Belichick said.
Belichick was not the only prominent Patriot who was singled out by Trump for his alleged political support. Trump also claimed that the lead quarterback Tom Brady had voted for him. In October 2016, Brady had also said positive things about the president in an interview on WEEI radio. "Like I said, he's been a friend of mine, supported our team," Brady said. "He's been on the Patriots sidelines a lot and always called me after games to encourage me over the course of 15 years. And, you know, so that's kind of the way it is,"
Brady's wife, Gisele Bundchen, seemed to contradict the claim that Brady had voted for Trump on Instagram, and the football star avoided answering related questions in the same press conference where Belichick had spoken of friendship with the president. Bundchen later cemented the couple's perspective when she tweeted out support for the Climate March last April. Brady skipped the White House's reception for the Patriots too.
Belichick, though, did attend the White House reception and there's no reason to believe their relationship has changed. At the April Patriots reception, Trump had only good things to say about the coach. "Whether you're trying to win a Super Bowl or rebuild our country, as Coach Belichick would say, 'There are no days off,'" Trump told the crowd.