Camila Mendes & One Of Her 'Riverdale' Costars Are Sparking Romance Rumors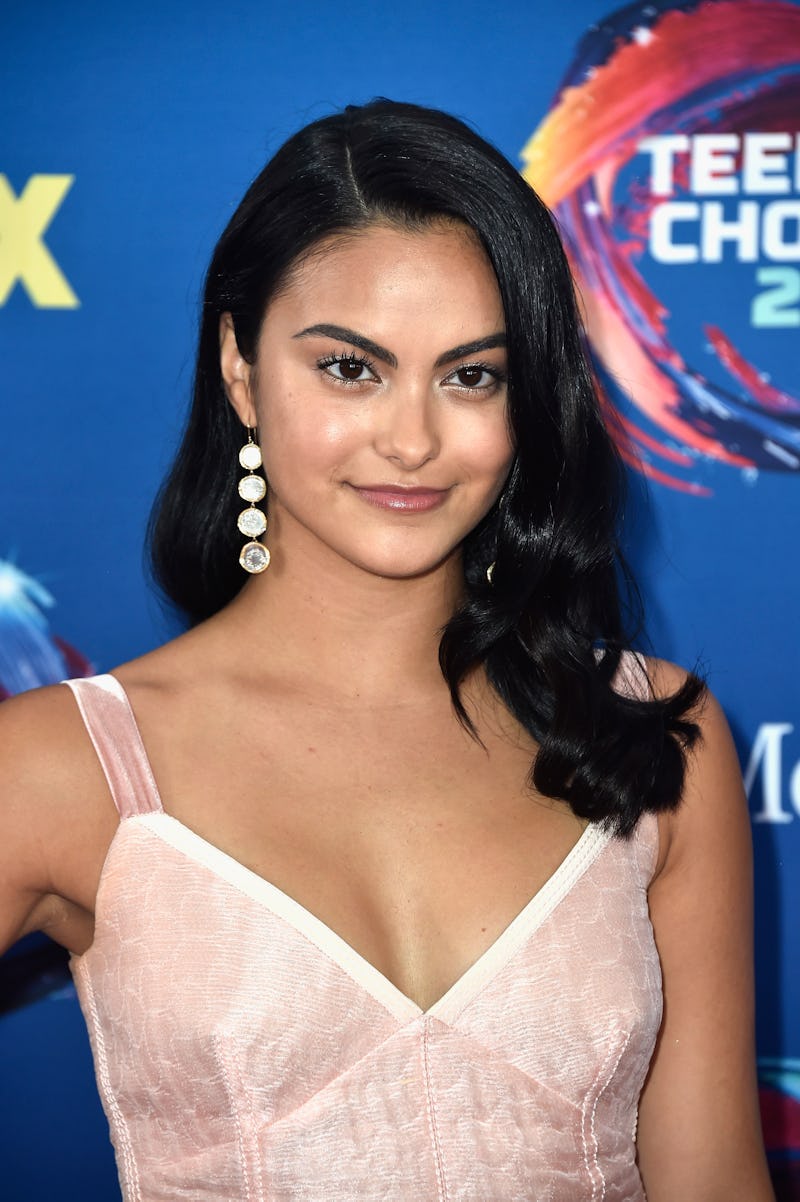 Frazer Harrison/Getty Images Entertainment/Getty Images
It appears that love is blossoming on the set of Riverdale. First, Lili Reinhart and Cole Sprouse. And now, could it be that Camila Mendes and Charles Melton are dating? A report from E! News suggests that they could be the next couple capturing Riverdale fans' hearts. (Bustle has reached out to reps for Mendes and Melton for comment, but did not receive an immediate response.)
According to a source at E! News, a recent outing sparked some relationship rumors between the two actors. They reported that Mendes and Melton were spotted at the movies in Vancouver with their Riverdale costars, Casey Cott and Reinhart. "Camila sat next to Charles and leaned on his shoulder," the source claimed, "As the lights were dimming, my friend saw them kiss!"
That's not the only thing that's caused some to wonder if there's anything romantic going on between the TV stars. Additionally, they've each been featured on their rumored significant other's social media accounts. As E! News went on to note, on Sept. 3 Mendes posted a photo of a group getaway that featured her and Melton sharing a towel while hanging out on a yacht. One fan even commented on the photo with the perfect "ship" name for the duo, "Charmila is rising I love their friendship."
They've also been linked to the same fireside hangout, thanks to videos that they each posted to their Instagram Stories on the night of Sept. 18. Might that get together signaled that something more is going on between Mendes and Melton? Well, until either of them discuss the state of their relationship, fans can only speculate in regard to everything "Charmila."
The news about this possible romance comes shortly after it was reported that Mendes split from Victor Houston, according to E! News. The publication reported on Aug. 23 that the breakup between the two, who previously attended neighboring high schools in Florida, happened "very recently" during the summer. "Camila ended things with Victor after ComicCon, when she realized she wasn't ready to be in this relationship anymore," an insider told E! News, "Victor was completely blindsided and is very heartbroken."
The source also noted that Houston received some negativity from the Riverdale fandom in regard to their relationship. They said, "He has been receiving a lot of backlash from the Riverdale community, even though it was actually Camila's choice to end the relationship."
If the reports are true, Mendes may have moved on with one of her Riverdale costars. Interestingly enough, she previously shared her thoughts on dating within the entertainment industry in a July interview with NYLON. She said,
"It's just dating people in the industry is tough. I did for a little bit. I've just dated actors. It's hard when that's your world. You only meet people through work and that can be really tough, because you're not necessarily meeting people that you're similar to."
She continued to say that she's "learned not to do that," in reference to dating a fellow actor. But, maybe she's simply decided to switch things up give it a go with her Riverdale costar, Melton. Until she reveals the truth herself, all of those "Charmila" fans will just have to sit tight.