This Is What's REALLY Going On Between Caroline Flack & Dr Alex George — Exclusive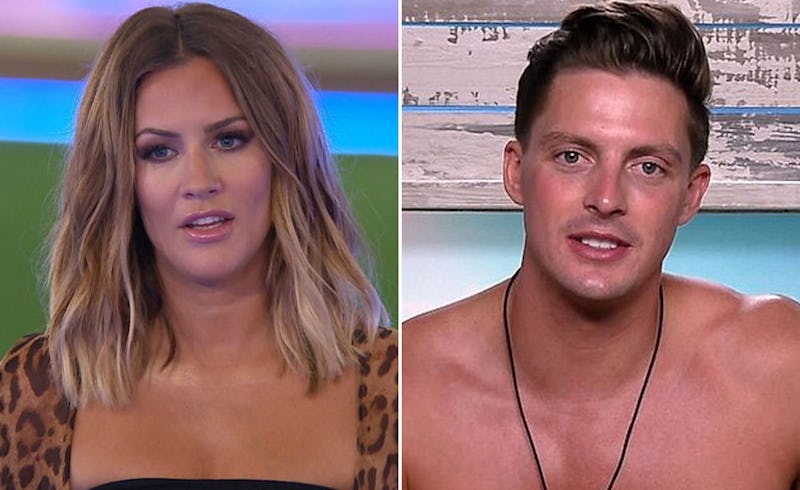 Love Island 2018 may be over (it still hurts to type), but that certainly doesn't mean the romance has to end. And the Internet's all in a tizzy over a potential new coupling, though this one would most likely be very much against the show's rules. Rumours are circulating that a certain host and a certain doctor might be getting close now the villa doors are locked up for another year — but could it be true? Are Caroline Flack and doctor Alex dating?
The whispers began, as The Sun reports, with an Instagram comment. Flack recently took a trip to Ibiza, posting an envy-inducing snap of herself floating in an impossibly blue swimming pool. But keen-eyed fans were drawn not to the vista, but to the comments. One @dralexgeorge posted, "Looks dreamy!" And just like that, the theories that former Islander Alex George is secretly dating Caroline began.
A romance wouldn't be completely out of the blue: after all, Flack and Dr. Alex have history (a tiny bit of a history. A single bullet point in an encyclopaedia, maybe). Devoted viewers will recall that way back at the start of this year's show, Alex named Flack as an example of his ideal woman, as the Huffington Post reported. She later tweeted that she was "totally flattered"; at the time, however, she was engaged to former Apprentice star Andrew Brady.
But wait! Flack and Brady split up, didn't they? And Dr. Alex has broken off his relationship with Love Island co-star Alexandra Cane after leaving the villa. So, are you thinking what I'm thinking? Twitter certainly is.
After Flack confirmed her engagement was off, a veritable chorus of Twitter users chimed in to suggest that she should turn her affections to Dr. Alex, as the Standard observed. Even Dr. Alex's former love interest Laura Crane — other half to Jack Fowler — added her two cents, saying that the pair should get together, according to Metro. She told Fubar Radio hosts Stephen Leng and Lizzie Cundy, "Maybe [she should be with] Dr. Alex? They got on really well!"
Adding fuel to the speculation, on Sunday evening, Dr. Alex took to his Instagram account to share videos of himself dancing with Flack. Although they weren't the only people in the room, the duo certainly seemed to be enjoying each other's company. So, are they dating?
Sorry to disappoint Love Island fans, but this relationship is purely a very good friendship. After speaking to Flack's rep, I can confirm that she definitely is not dating Dr. Alex. They're just mates.
According to The Sun, Flack actually still has very strong feeling for her former fiancé, Brady. An unnamed source told the paper, "Caroline can't live with Andrew but she can't live without him," adding, "Their chemistry is incredibly intense, and she really does adore him.
"She cannot continue with this rollercoaster of a relationship and is fully aware that something needs to give. After a serious heart-to-heart, they gave things one final go. She's taking things day by day."
Looks like Dr. Alex's last shot at Love Island love may be scuppered, then. But at least he's made some lifelong friends.