Celine Dion Got Chic Bangs & She Looks Completely Different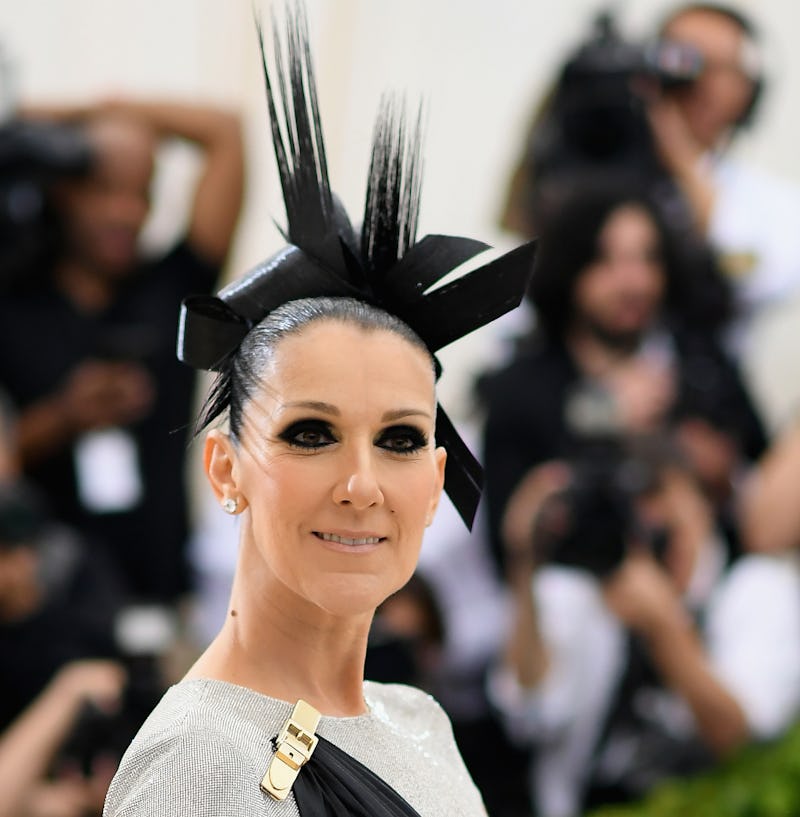 Dimitrios Kambouris/Getty Images Entertainment/Getty Images
While the rest of the world is over on Kim Kardashian's Instagram and refreshing to see what kind of fashion lewk Rihanna debuted next, I'm over here refreshing Celine Dion's Instagram because it's the only account I'll ever need. Which is why I know Celine Dion got bangs, and we should all stop and acknowledge how great she looks with wispy fringe.
Dion's Instagram account has become something of a guilty pleasure for her followers, where the "My Heart Will Go On" singer has silently but unquestionably become a fashion influencer on the app, filling her grid with private planes, five inch stilettos, and outrageous and dramatic designer outfits she wears on a regular weekday, and not a Vogue spread. It's so stylish, so extra, so Celine. And in between these head-to-toe snakeskin outfits and geometric mini dresses was the beauty photo that alerted followers of a hair change, where the artist debuted eye-skimming bangs.
Taking her Las Vegas Céline Dion Live show on an Asia-Pacific tour, right now Dion is in Tokyo which is where this transformation took place. Facing a mirror and revealing the new look through her reflection, her usually center-parted hair was now sporting a choppy fringe that swept over her sunglasses.
In her caption she wrote, "Tonight is the night! Tokyo, are you ready?" She didn't tag any hairstylists like celebrities usually do when they undergo a major hair transformation, so people were skeptical whether it was a permanent look or if she was just playing around with bang clip-ons or a blonde wig.
A little investigating shows that she, indeed, was fringe-less at her Tokyo show that following evening, so she probably just experimented with the look to amp up her colorful, designer outfit.
And lets look at the outfit for a minute, shall we? Like any good Instagram influencer, Dion was sure to list which brands and designers she was wearing, sharing that her neon-sign-like dress was by JW Anderson, her Kelly green bag was Hermès, the scarf casually tied around it was Gucci, and the sapphire suede pumps were Saint Laurent. Total legend.
And if you think that designer lineup is impressive, just take a quick scroll through Dion's grid and you'll find your new favorite muse. For example, here she is head to toe in snakeskin, sitting all casual-like on the steps of her private jet, as one does.
Here she is in Gucci's kitchy-chic, Victorian-influenced pink floral maxi, accented with pastel pink cat eye sunglasses. Because Dion does nothing half-assed; it's all or nothing. (Scroll to see all the shots.)
Then lets not forget when she took this Instagram shot in the elevator mirror, squatting in a black Givenchy jumpsuit and studded Gucci sunglasses.
Then there's this immaculate look where she announced that Nordstrom is going to carry her line of handbags, where she came at us with a bat-wing collared blouse, silky pencil skirt, and a WWF Championship belt that was the absolute cherry on top.
And please let us not forget Dion doing the absolute most during last year's Paris Fashion Week, brushing all the amateur streetstyle stars out of her way with her Vogue-like poses and haute couture air.
If you want to see more of Dion being extra, check out this couture mashup by Vogue in honor of Fashion Week in 2017. You absolutely won't regret the click.
Dion has an absolute blast when it comes to fashion and her look, and doesn't take herself too seriously. From crouching in front of mirrors to get that full-body shot, to having fun in front of the camera and going into flamboyant poses, she makes fashion fun again and isn't afraid to take risks — whether that's with her outfits or her hair.