Alert: Chris Evans & Jenny Slate Are Reportedly Back Together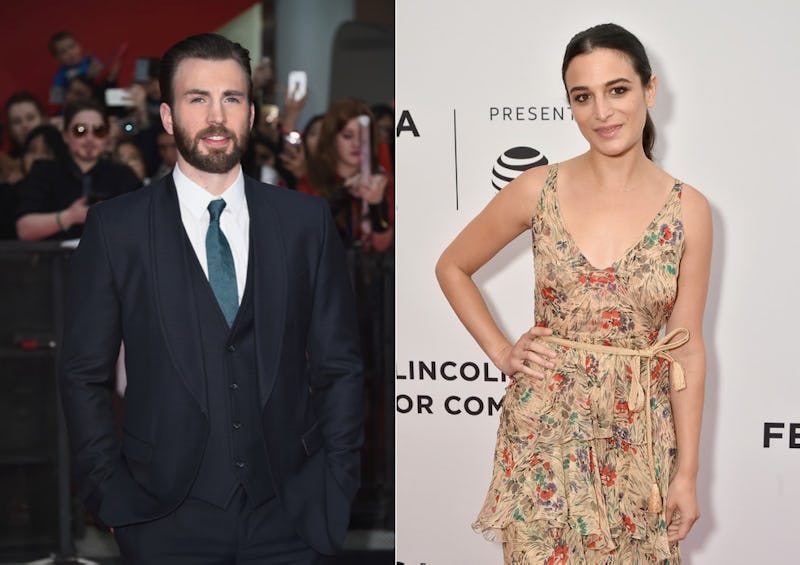 Getty Images
Lately, the world has become a black hole of awfulness. But, finally, there is some good news! According to People, Chris Evans and Jenny Slate are back together after breaking up in February reportedly due to their busy schedules. Now, the two were reportedly seen in New York City, where Slate was supposedly helping Captain America look for a new apartment, since he's starring in Broadway's Lobby Hero come March. Per a source who saw them together, they exuded happiness and were "very much back together."
For awhile now, there's been speculation that the Gifted co-stars reconciled. On Oct. 17, Us Weekly reported Evans and Slate grabbed dinner in Atlanta on Oct. 13. A source told the outlet, "They seemed like a couple. [They were] laughing. He reached across and touched her arm a couple of times. They seemed like normal people on a date." The next evening, they reportedly went on a double date with Robert Downey Jr. and Susan Downey, per Us. Regarding their so-called double date, an insider dished that they "looked very much together."
Then, on Oct. 21, they started tweeting each other, which, of course, didn't go unnoticed. Their conversation started when Evans tweeted, "The theme song to Mash stresses me out. The Pavlovian response is that it's time to go to bed and I probably haven't done my homework." Slate replied, "Probably haven't"???? Cmon, Christopher. Have you done your homework or haven't you? It's 7pm and you've had the whoooole weekend. Cmon."
You can see the rest of their Twitter exchange here (prepare to *swoon*):
What really got their shippers talking was when the Avengers: Infinity War actor tweeted several videos of his dog, Dodger, howling along with his stuffed lion that sings "The Lion Sleeps Tonight." The first video he tweeted was on Nov. 7 and a woman can be heard laughing in the background, which many thought sounded like Slate. He shared two similar videos on Nov. 9 and Nov. 20, where a woman is also heard talking — and sounds exactly like the comedian.
For further "proof" that they are absolutely back together, Slate tweeted the following on Nov. 10: "My boyfriend does many dreamy&generous things but number 1 in my mind right now is how he celebrates my new turtlenecks/let's me show him my online shopping spoils&cheers me on." Her "boyfriend"? Hmm... who could that possibly be?
Bustle previously reached out to reps for Slate and Evans about them being back together, but did not receive a response.
Slate and Evans first talked about their relationship together in April 2016 (they were first linked in March 2016) during Anna Faris' podcast. "Oddly enough, I've only known Jenny for a few months which is insane to say," Evans said. "It doesn't [feel like that] at all. Sometimes you just meet the same animal. And that's just [what it's like] with Jenny." As for Slate, she said at the time, "The first night we hung out I was like, 'Wow, I could hang out with Chris for like 90 hours.'"
Even after they broke up, they continued to talk about each other in beautiful ways. For example, Evans told People in March 2017 that Slate is his "favorite human" and said, "She's the best. I've never ever ever met someone in my life who has a mastery of the English language the way she does." Slate did the same in a March interview with Vulture, where said, "He's really vulnerable, and he's really straightforward. He's like primary colors. He has beautiful, big, strong emotions, and he's really sure of them. It's just wonderful to be around. His heart is probably golden-colored, if you could paint it."
So to hear that they've reunited romantically is amazing news, as so many people are tweeting:
2017 Isn't So Bad After All
It didn't seem possible.
Good Does Exist
It's a great feeling.
Twitter Can Be Positive
Finally!
It's Time To Celebrate
Hallelujah!
Basically Another Royal Engagement
Prince Harry and Meghan Markle, who?
Don't Give Up All Hope
They are the true heroes of this world.
Not only do Evans and Slate make an adorable couple, but they have the ability to unite people during a time of darkness — and that is exactly what the power of love is supposed to do.