Chris Pratt Was Officially Spotted Laughing With Katherine Schwarzenegger & OMG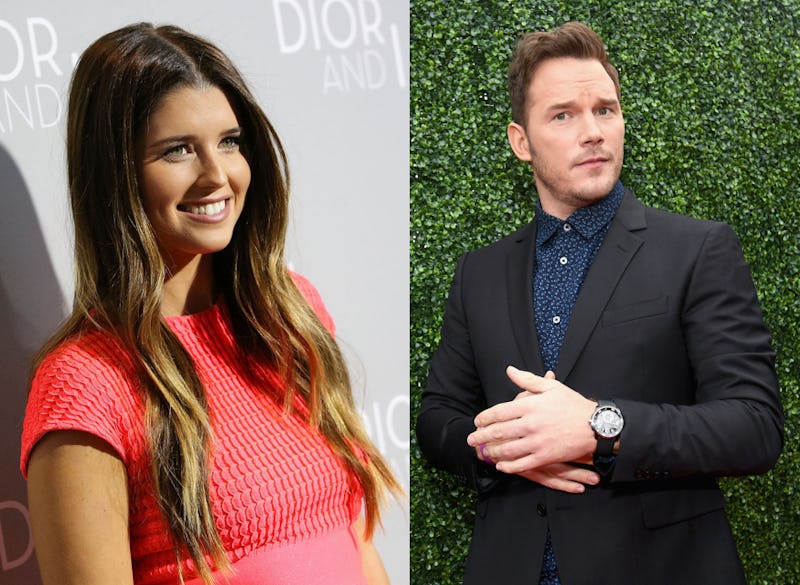 Imeh Akpanudosen; Emma McIntyre/Getty Images Entertainment/Getty Images
Hearts sank deep into the acidic pits of uneasy stomachs when the Hollywood funny couple announced their separation. The Guardians of the Galaxy star, a goofy guy also known for his comedic improv skills on Parks and Rec, and Anna Faris, the gorgeous funny lady many grew up watching in Scary Movie(s), Cloudy With A Chance Of Meatballs, and 2018's Overboard, no longer wanted to be together. Now, nearly a year later, new TMZ pictures suggest the Avengers star may be putting himself out there and dating: pics of Chris Pratt with Katherine Schwarzenegger show the two laughing as they enjoy an outdoor meal.
As TMZ reported, the 38-year-old Jurassic World: Fallen Kingdom star started on his best foot by treating Schwarzenegger like the gentleman everyone hopes he is: Pratt reportedly picked her up at her place and drove the two of them up the scenic coast to Santa Barbara, California. He reportedly spent a part of Father's Day with Schwarzenegger, who is 28 and the oldest daughter of Arnold Schwarzenegger and Maria Shriver. And there were no frills here — the two were dressed in casual clothing, with Pratt in a blue sweater and jeans while Schwarzenegger rocked a black hoodie on black skinny pants that tapered off to a pair of white sneakers. As they ate sandwiches, potato chips, and apples at an outdoor wooden seating area, cameras captured the duo laughing.
Schwarzenegger comes from Hollywood royalty, but she herself isn't in the industry. Her Twitter account describes her as a "lifestyle blogger" and author. She has written the books Rock What You've Got: Secrets to Loving Your Inner and Outer Beauty from Someone Who's Been There and Back and I just Graduated...Now What?. Schwarzenegger's personal website also lists her TV experience with The Today Show, as a guest co-host of The View, and as a contributor to InStyle Magazine.
It's unclear what Faris thinks about this, but she began dating again back in 2017, according to US Weekly. Faris was first spotted in November 2017, about four months after the split-up announcement, with Michael Barret, a cinematographer. The couple was then seen house hunting around Los Angeles in December, US Weekly reported.
Pratt filed for divorce in December of 2017, according to PEOPLE. Pratt and Faris have a 5-year-old son name Jack, and the two reportedly have remained on good terms while raising their kid, something they had said was a focus in their separation in a joint statement released in 2017 on Instagram.
After spending part of the day in the public eye with Pratt, Schwarzenegger also posted some sweet photos of herself with her 70-year-old governator dad for Father's Day. In the post, she wrote, "Happy Father's Day Daddy @schwarzenegger ! I love you so much and can't wait to celebrate you!"
For Schwarzenegger, there's more than just Father's Day to celebrate: Arnold Schwarzenegger recently had open-heart surgery to replace an aging pulmonic valve, according to CNN, and he continues to recover without issue. When the elder Schwarzenegger first woke up, "his first words were actually 'I'm back', so he is in good spirits," Schwarzenegger rep Daniel Ketchell had tweeted. In June, the actor posted a video of himself doing reps in his second workout of the day. "There is no magic pill" for a surgery comeback, the former bodybuilder says to the camera. Talk about motivation.
It's got to be a tad intimidating to possibly be dating the daughter of the Terminator (if that's, in fact, the case). And if this picnic outing leads to something serious, StarLord might have to wrap up his wisecracks for his best behavior with the legend who saved all of humanity from a robot uprising. It could be the beginning of an epic relationship.