Here Are All The Hints That Christina Aguilera & Demi Lovato Could Collaborating On A Song Together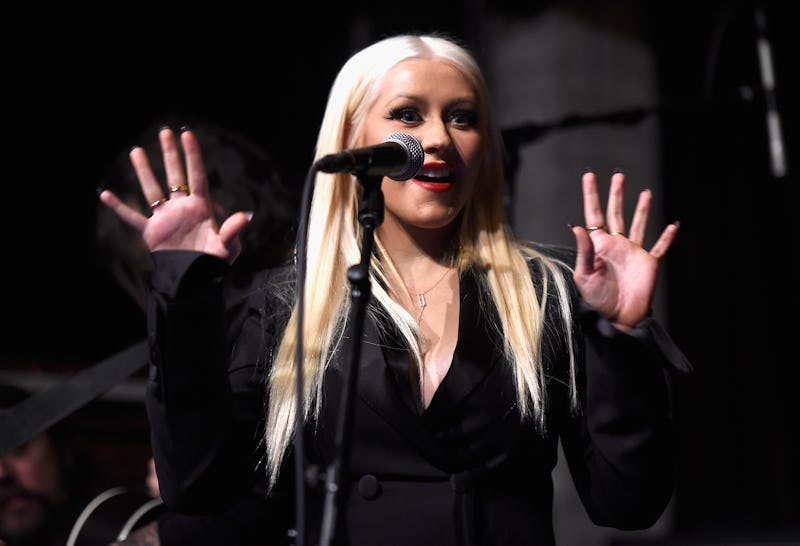 Frazer Harrison/Getty Images Entertainment/Getty Images
After months of hint-dropping and subsequent speculation, it's starting to seem like a Christina Aguilera and Demi Lovato collaboration might actually be happening. Even though fans have yet to get any sort of official confirmation, People reports that Lovato mentioned Aguilera during a recent stop on her Tell Me You Love Me tour. Bustle reached out to reps for Lovato and Aguilera for comment about a potential collaboration, but have not yet heard back.
"Now Christina's my girl and big things are coming," Lovato said while performing in Dallas, Texas, according to People. Vague? Yes. However, it's not the first time one of the two pop singers has alluded to a potential collaboration — and, seeing as how Aguilera's new album is reportedly on the way (according a January Instagram Stories snap), perhaps Aguilera is planning on releasing the potential collaboration track as the album's first single? One can only hope.
In a Feb. 2018 interview with Billboard that would end up sparking all those collaboration rumors, Lovato revealed that she'd been working on something super special. "I did a collaboration with one of my biggest idols," Lovato said in the interview. "I can't give away who it is yet, but you'll find out soon. I can't wait for the world to hear it. It's an incredible song."
Fans were quick to start speculating about who the "idol" in question could be — she admitted in that same Billboard interview that she's really been digging SZA as of late, but then said that Eminem would top her dream collaboration list. "[Eminem] would be really cool to work with," she said. "I think he's an incredible rapper and we could do some cool stuff together."
Since Lovato said that it "would be cool" to collaborate with Eminem, however, it's probably safe to assume that they've yet to work together. A SZA collaboration would be pretty cool, too, but it was Lovato's Sept. 2017 interview with People that ultimately made fans think she'd recorded with Aguilera.
Lovato spoke to People after she released her latest album, Tell Me You Love Me, and confessed that Aguilera was a major inspiration. "I grew up listening to Christina Aguilera," she said. "She was one of my idols growing up, she still is. I think it was her breakout album that really transformed her into the icon that she is today. So that inspired me … she really inspired this album. I was even inspired by the black and white artwork!"
Lovato sang Aguilera's praises yet again during an Oct. 2017 with iHeartRadio, explaining that, "[Aguilera] did a lot of growing up on [Stripped]. And I feel like she really made herself, like, an icon with that album. That's what I hope to do someday and that I wanted to accomplish my vocal capabilities the way that she did with that album."
While Aguilera never publicly responded to Lovato's compliments, she did have something nice to say when approached by TMZ in Jan. 2018. "Are you excited about your duet with Demi Lovato?" the reporter asked Aguilera as she was stepping into her car. "I love Demi," Aguilera said. "She's my girl, great things to come!"
Sure, taken at face value, Aguilera's comment could still be considered pretty vague. Was "great things to come" in reference to her and Lovato, specifically? Or was Aguilera just saying that, yes, Lovato's great, and there are "great things to come" in general? Like, for example, Aguilera's new album.
The January interaction between Aguilera and TMZ seems a bit more telling, though, when compared to what Lovato said about Aguilera during her March tour stop in Dallas. Quick refresher: Lovato said, "Now Christina's my girl and big things are coming." That's pretty much word-for-word the exact same thing. Coincidence? I think not.
Aguilera has yet to announce when her new album will be released, but perhaps fans will get lucky and either she or Lovato will let a collaboration confirmation slip sometime soon. In the meantime — thanks to Lovato's incredible Aguilera impression on The Tonight Show With Jimmy Fallon — we can at least kind of imagine what their duet would kind of sound like.