'Riverdale' Fans Want Cole Sprouse & Lili Reinhart To Date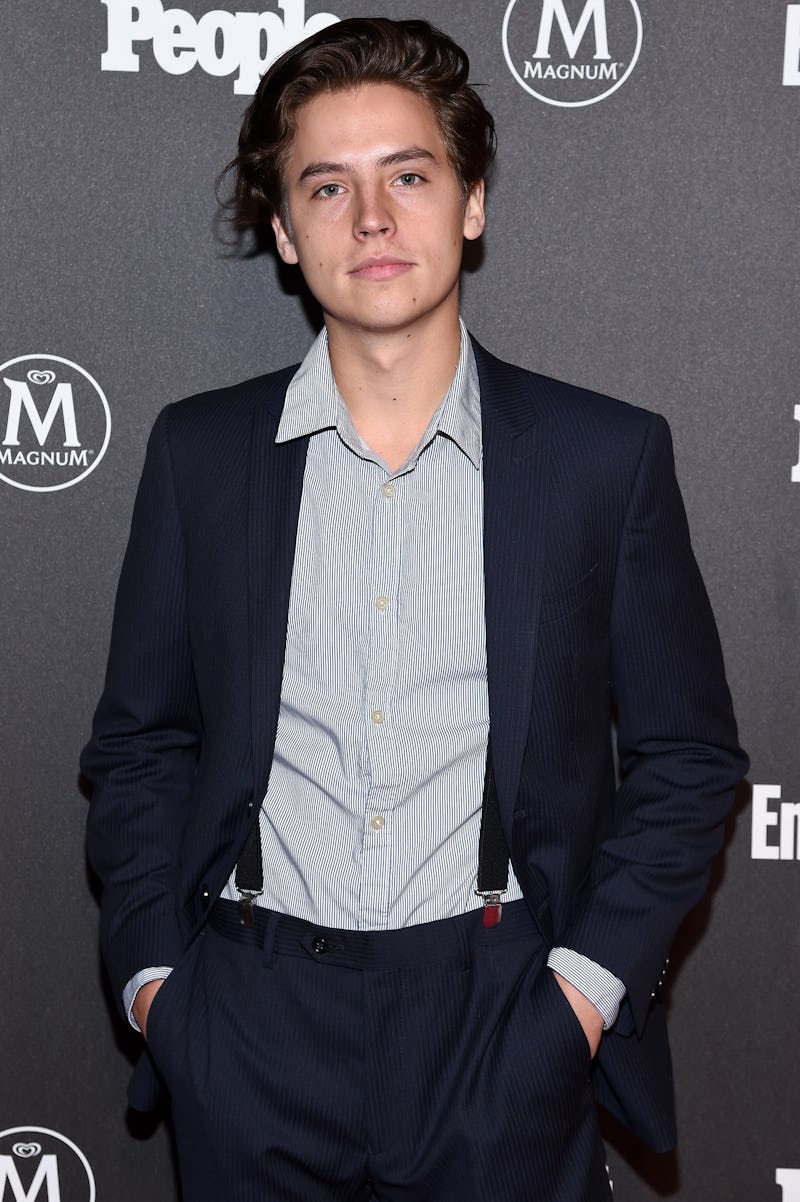 Dave Kotinsky/Getty Images Entertainment/Getty Images
If you're all about Betty and Jughead as a couple (aka "Bughead") on Riverdale, there's a good chance you want the actors who play the characters to date in real life. So, allow me to attempt to answer a question that may or may not be running through your mind ever since Bughead shared their first kiss. Are Cole Sprouse and Lili Reinhart dating?
Based on an Instagram Sprouse shared last Saturday, it sure seems like Riverdale fans really want these two to be a couple off-screen, too. The photo features Reinhart sitting in a field of flowers, while wearing a flower crown. He also used a lot of flower emojis and one of a girl as the caption. Reinhart also shared a similar photo of herself relaxing in the same flower field. There's no doubt the 20-year-old looks stunning in the image. Maybe that's why Sprouse shared it? He could very well just be showing love to his co-star and expressing how much he likes this particular image of her.
This also isn't the first time the former The Suite Life of Zack and Cody actor has shared similar images like that of Reinhart. Most of his Instagram is filled with professional photos he's taken of different people. So, the photo definitely doesn't say for certain that they are a couple. Though, if you read the comments, their fans definitely want them to be.
The comments range from, "THEYRE IN LOVE" to "DATE PLEASE to "I ship" to "They are so dating awww." The same can be said for fans Twitter. Here are just a few examples:
Unfortunately, whether or not they are dating isn't a question that can be answered based on one photo. Of course, there's a chance that they're secretly dating and just haven't announced it yet, but there aren't any actual signs that they've taken their characters' romance off screen. There's also the chance that they are dating, but not each other. Bustle has reached out reps for the actors for comment, but has not yet received a response.
According to a February 2016 Teen.com article, the last anyone knew, Sprouse reportedly was dating Bree Morgan. Apparently, they met at New York University in 2013 and it's unclear if they are still together. As for Reinhart, in April 2016, she shared this very telling Instagram with a mystery guy. And in March 2015, she tweeted about a gift her "boyfriend" gave her. "My boyfriend sent me a package containing hot fudge, gummy worms, pics of us, a handwritten letter, and a sweatshirt [heart emoji]," she wrote. Because these updates were quite a while ago, really, who the heck knows what their each individual relationship status is besides them.
It does seems that Reinhart and Sprouse are close friends, though. As Reinhart told TooFab in early March about Betty and Jughead's kiss, "Cole and I have always been pretty close on set so I think we were just excited for our characters and excited for people to see it happen."
Furthermore, based on photos she has shared on Instagram, it appears they get along really well. I mean, just look at this adorable picture.
There's also this one, where Reinhart wished a happy birthday to her "pal."
The overall conclusion? Riverdale fans would really appreciate it if Reinhart and Sprouse would date in real life, but so far, it doesn't really seem like it.