This Is Why You May Have Heard DACA Recipients Referred To As Dreamers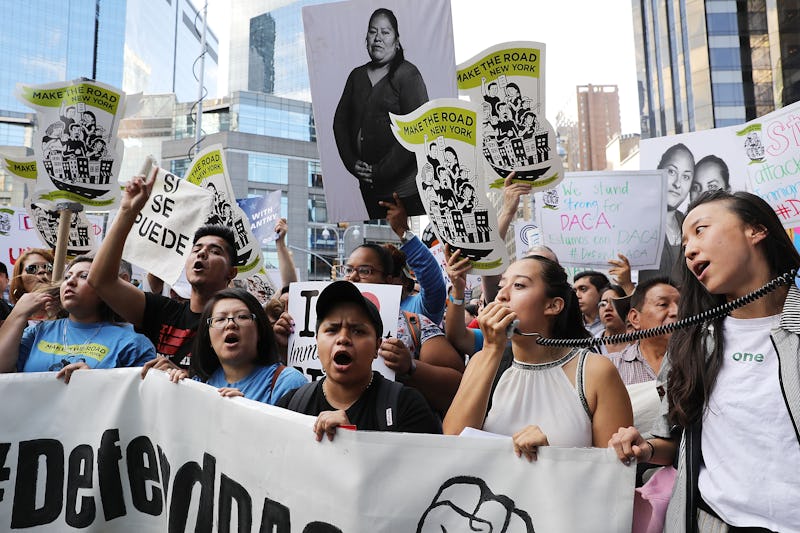 Spencer Platt/Getty Images News/Getty Images
This week, President Donald Trump is widely expected to announce his plan to end DACA, the Deferred Action for Childhood Arrivals immigration program launched by the Obama administration back in 2012. The news has generated a lot of scrutiny, with many news outlets focusing their attention on the dire consequences for DACA recipients ― namely, the hundreds of thousands of undocumented immigrants who rely on it. But if the relevant terminology is confusing you, you might be wondering: are DACA recipients and Dreamers the same thing?
Fortunately, this is a question with a pretty simple answer: yes, "Dreamer" is the term popularly used to refer to DACA recipients. The Dreamers are those undocumented immigrants who would've been protected by the passage of the DREAM Act, which was first brought before Congress in 2001, and stalled-out in high-profile fashion in the Republican-led Senate after being reintroduced in 2011.
Former president Barack Obama ultimately launched the DACA program in response to the DREAM Act's failure, granting some of the same protections laid out in the bill to the same class of undocumented immigrants it was meant to protect ― specifically, those who were children when they were brought into the country, and who pass a number of standards.
In other words, if you're reading something that refers to the Dreamers, or to recipients of the DACA program, they're fundamentally referring to the same group of people. Since the program was launched five years ago, nearly 800,000 people have made use of it, meaning there are literally hundreds of thousands of Dreamers currently in the United States.
The fate of DACA remains unclear, although all indications suggest the program is in extreme peril. The Trump administration is reportedly planning to announce a plan to end DACA, albeit one that delays things for six months to ostensibly enable Congress to act.
Given the fact that the DREAM Act hasn't passed already, however, as well as the uniquely anti-immigrant rhetoric and policies Trump has championed, it's not clear that enough congressional Republicans would or could intervene on behalf of the Dreamers to make a difference.
In short, the days, weeks, and months to come figure to be of critical importance for the Dreamers, and for the federal program so many of them are relying on for work permits, and for basic protections from the threat of deportation. And that's borne out by the energy activists and advocates are already showing on the issue ― some protests have already occurred, and you can expect to see even more if and when Trump announces his decision.