So, Dakota Johnson & Chris Martin Might Actually Be A Thing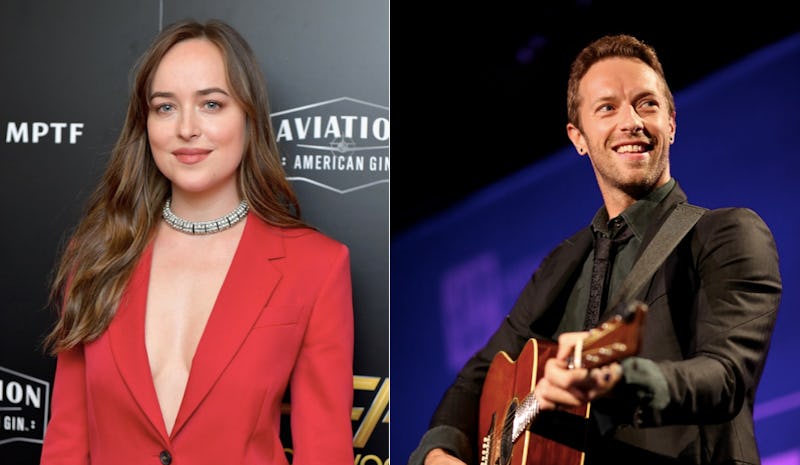 Getty Images
For the past few months, actor Dakota Johnson and Coldplay frontman Chris Martin have been involved in their fair share of romance rumors. But, are those rumors true? Are Dakota Johnson and Chris Martin dating? According to a new report from Us Weekly, which details a trip the pair reportedly took to Israel, these two are very consciously coupled. Bustle has reached out to reps for Johnson and Martin for comment on the dating reports, but did not receive any responses at the time of publication.
Us Weekly reports that the two spent time together in Israel in November. They supposedly attended Nick Cave's concert together and had dinner with the singer at Yam Sheva restaurant. A source also told the publication that "Dakota and Chris are definitely dating". The source continued, "They've gotten to know each other really well and are very comfortable from one another. Chris sends Dakota his music to get her opinion. It's more than just a fling." Although this isn't direct confirmation from Johnson or Martin, according to sources, it sounds like things are going well. After all, you don't send just anyone samples of your band's latest songs. That's serious business.
This isn't the first time that the two have been linked. Back in November, Elle also reported that Johnson and Martin were seen together in Israel. This news came out around the same time as the below (very blurry) picture:
Johnson was also spotted attending a Coldplay concert in November in Argentina. According to People, she attended the show and even sat in the sound booth. In a video uploaded from the same "Dakota Johnson World" fan site, she can be seen enjoying the concert.
Of course, it could have just been that she was supporting her friend in his show here. But, seeing as though she's traveled to Argentina and Israel (both of which aren't exactly close by date venues to the United States) to hang out with Martin, it's likely that she was supporting and hanging out with her rumored boyfriend.
The pair also reportedly went on a sushi dinner date in October, as People again reported, which is possibly what sparked the romance rumors in the first place. According to a source, the two were "cozy, laughing and affectionate" during the date and that it was only the two of them grabbing a bite to eat at a Los Angeles restaurant.
This wouldn't be the first high-profile relationship for either Johnson or Martin. Martin was married to Gwyneth Paltrow (with whom he shares two children) and dated Jennifer Lawrence. Johnson previously dated actor Jordan Masterson. She was also linked to Jon Hamm as recently as early October (prior to the rumors concerning her and Martin). However, that relationship was never confirmed and was most likely just a rumored one.
While a source at Us Weekly did report that the pair are "definitely dating", neither Johnson nor Martin have outright confirmed whether that was the case. And it's not as though either could have confirmed things on social media as neither are currently active on any public social media accounts. (Martin is through the use of Coldplay's account, but that content relates only to the band.) It certainly seems as though they may be dating, but until either of them confirm anything themselves, everyone will just have to stay tuned.