Are Dating Apps *Really* Effective Tools For Meeting Someone?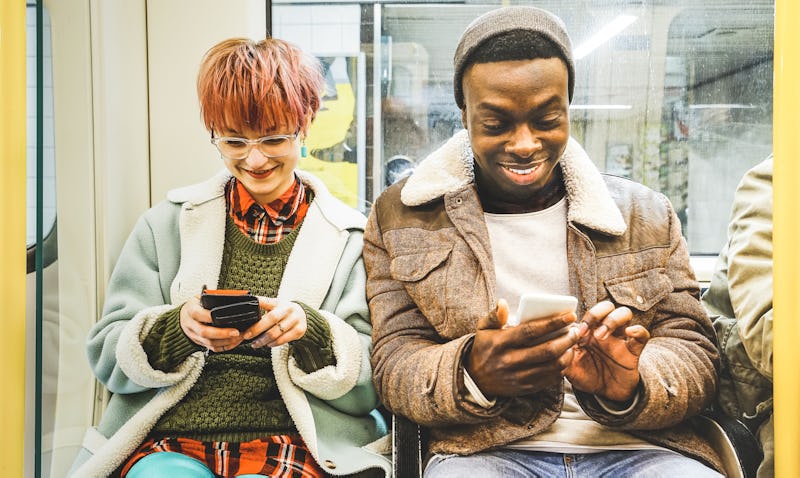 Mirko/Fotolia
Whether dating apps are causing a "dating apocalypse" or are merely the easiest way to get a date, there's no denying these tools have been total gamechangers in the dating scene within the last few years. And even though dating apps are most popular among Millennials, according to a recent Bustle survey with dating app Happn of over 1,000 dating app users, 78 percent of women and 85 percent of men still want to meet people IRL. That's why for the second year in a row, Bustle is deeming April, "App-less April" and encouraging our staff and readers to delete their dating apps for 30 days and meet people the old-fashioned way: offline. With participants tracking their progress and tricks and tips from dating experts, we'll be helping you feel empowered to meet people IRL all month long. Today's topic: Erika Ettin, founder of A Little Nudge and author of Love at First Site, explores whether dating apps are effective.
For App-less April, Bustle's challenge to delete your dating apps for 30 days, I know you're getting a lot thrown at you in terms of how to meet someone outside of online dating, but it's also important to know whether the apps are, in fact, effective tools for meeting someone when May 1 rolls around.
Despite the nuanced differences, all dating apps work similarly in that you look at a picture and you swipe left or right (not interested or interested, respectively) based on that picture alone and a small, optional profile. Given that the market is pretty saturated, clients ask me all the time, "Which are the best dating apps to use?" I'll let you in on the secret I tell them: Either none of them or all of them.
What does this mean?! Any app can be efficient or successful, depending on what you put out there and how proactive you are in the process. If you put up six mediocre pictures — the number most apps allow — and no writeup and expect to have a date every night, you'll be sorely disappointed… just like if you put together a half-decent resume and expect to be given an interview for a CEO position. Coming to the table is not enough.
Dating apps *are* an effective tool in meeting someone (notice I didn't say finding a relationship, since that's solely based on the two people involved). But, there are a few rules of thumb you should abide by to give yourself the best chance:
Make the first picture a clear shot of your face. People just want to see what you look like. Period. Don't overthink it.
Include a full-body shot. Knowing that we're all superficial on these apps, provide people with a sense of what you look like so they don't have to invent it.
Be by yourself in the shot. I can already hear the complaints about this piece of advice! Trust me here. It's important for the viewer to know which person you are in the photos. Don't worry that someone wonders whether you have friends. First, no one cares or is thinking about it, and second, the baseline is that you have friends!
Have one photo of yourself doing something interesting. Most people have no idea what to say in the initial message, so give them one more thing to comment about, or "message bait." Don't force them to write a "Hey" or "How's it going?"
Less is more. Four great photos will always win over six or more mediocre photos. People will, unfortunately, look for the one they don't like and decide not to swipe right because of it.
After much experimentation, I found that, on average, 23 words is the ideal app profile length. Write something short, sweet and quirky. Here are three examples (some with a few extra words):
Two truths and a lie: 1) My beverage of choice is Scotch, 2) I was born outside the US, 3)I have a dog named Scruffy.
Things I like: Pizza (only with red sauce, white is a travesty!), GOT, my job in finance, and my Garfield slippers that I've had for way too many years.
Entrepreneur, punster, kettlebeller, original NES owner… math jokes and whiskey make me swoon. Like a cupcake with cayenne pepper—sweet with a kick!
Short, sweet, and end with a question. Just remember that *anything* is better than "Hey," or "What's up?"
Examples for when no "message bait" is provided:
Sunday priorities: exercise, sleep, or mimosas?
*Pizza emoji* or *sushi emoji*?
If you had nothing to do today, would you rather go running or drink a bottle of wine… or both?
If you match with someone on a Sunday, try to have the date set up by the next Sunday (basically, keep it within a week). Momentum is key, as people have shorter and shorter attention spans. As a side note, someone will likely ask for your number, saying, "It's easier to talk outside the app." No, it's not! It's the same! Keep it on the app, or else you'll fall into a texting abyss. I call texting "the death of the first date" with reason.
So, are apps an effective way to meet people? YES! But, you have to put in the work, follow this advice, and show up for your dates ready and excited to meet someone new.
Erika Ettin is the founder of A Little Nudge and author of Love at First Site. Her job is to help people put their best foot forward and find success in the crazy world of online dating. She also hosts a weekly podcast, So, We Met Online… Join her mailing list here.
Join the campaign and share your stories with #ApplessApril and ​by ​tagging @Bustle.