Is This Who Dean Found Love With On 'BiP'?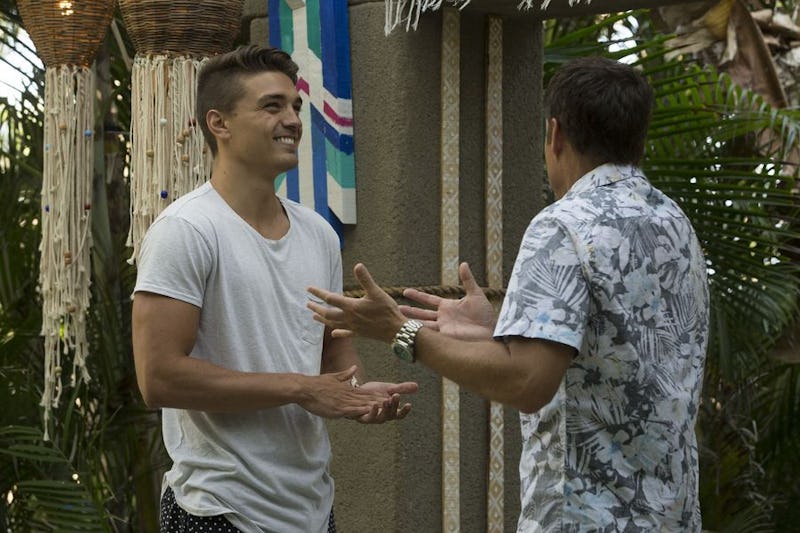 Paul Hebert/ABC
Bachelorette Rachel broke his heart when she sent him home after saying she was falling in love with him, but now Dean Unglert knows a thing or two about being in the love hot seat after appearing on Bachelor in Paradise. He started the season pursuing Kristina Schulman, but after Danielle Lombard arrived, the subsequent love triangle is the decidedly non-controversial drama fans were hoping for this season. It's possible that Dean & Danielle L. are still together after Bachelor in Paradise — but until the season ends with the show's reunion, it will be hard to tell whether or not this couple managed to take their relationship to the real world.
For now, most of the evidence linking Danielle and Dean is pretty circumstantial, though it's always possible that they're just keeping things quiet to keep the rest of this season interesting. Given how seriously Dean took the idea of saying he was falling in love with Rachel while competing on The Bachelorette, it's best to also take his recent interviews seriously. Dean said he fell in love during Paradise to Glamour, saying, "I'll be honest with you. I did find love in Paradise. Yeah. I don't see any need to hide it." He didn't specify whether he was talking about his relationship with Danielle L., or his initial relationship with Kristina — or with someone else entirely. But here are some hints that it might be Danielle who ultimately won, and kept, Dean's heart.
He Wants Some Independence
Dean said to Glamour, "I think a relationship is very much two people complementing each other and not being codependent on each other. That's big for me." This suggests that even if he did fall in love, he might not be the type to splash it all over social media and do everything together — even if TV show spoilers weren't in the mix. And, consider Dean seems to want some space from Kristina on BiP, this quote could be a nod to that.
They're Both West Coast Fans
Here's the biggest sign that Dean and Danielle might still be connected outside of Paradise: They both spend a lot of time in LA. That's not uncommon — both have a circle of Bach friends and alumni who also live and/or hang out in Los Angeles, but maintaining a relationship is a lot easier when you're in the same location.
Their Travel Schedules Align
Both also just took a trip up the coast to the Bay Area. Danielle posted some pics from San Mateo, while Dean was in San Francisco. Coincidence? Possibly. It could also hint that they're not just still dating, but also spending enough time together to travel.
They Have A Friend In Common
Another possible hint: both Dean and Danielle are tight with Raven Gates. Again, it's not crazy to imagine two Paradise cast members both being friends with a third, but, in the words of the Spice Girls: "If you wanna be my lover, you gotta get with my friends." Maybe Dean and Danielle's relationship is still going because they have a few friends in common.
And Now, One Totally Out There Conspiracy Theory
There is basically zero evidence of Dean and Danielle's relationship on Paradise on social media. The two haven't commented about one another, or even given veiled hints about what will happen between them. But, if you put on a tinfoil hat, and look very, very closely at the backround of this photo, at the guy wearing a flamingo and lawn chair-patterned shirt. Doesn't that seem like something Dean would wear? He's a stlish guy with a sense of humor.
It's Possible All Of This Means Nothing
Dean has repeatedly said and joked that he ultimately did not have a great time during Bachelor in Paradise. That sure doesn't sound like a man in the throes of newfound love. Again, it's possible that this couple simply loves privacy... but they're on a reality show, so it also seems possible that things just never heated up between them.
But in order to find out whether or not Dean and Danielle L. are still dating now that they've returned to normal, non-paradisal life, you'll probably need to finish watching the fourth season of Bachelor in Paradise, because they're not the hint-dropping type.