Kesha Always Dreamed Of Singing Alongside Of Dolly Parton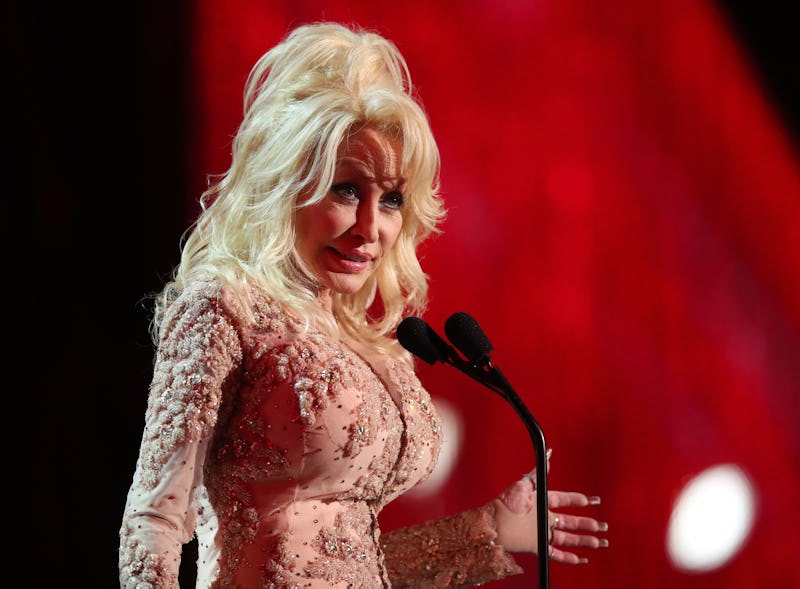 Christopher Polk/Getty Images Entertainment/Getty Images
The new Kesha album has been given a huge amount of significance not just for her fans, who have been waiting a long time for new music, but by the star herself. After being caught up in a legal battle over her exclusive recording agreement with her producer, whom she sued for alleged sexual assault, along with other abuse (claims he denied; he counter-sued for defamation), she finally released Rainbow, featuring songs she wrote herself that deliver a message of hope. In fact, there's only one song included on the album that she didn't write. However, it seems to hold just as much meaning. Kesha recorded that song with Dolly Parton, who she describes as a "positive compass" in her career.
The song is called "Old Flames (Can't Hold a Candle to You)," and it was actually written by Kesha's mom. Rosemary Patricia "Pebe" Sebert wrote the song with Hugh Moffatt for Parton herself. The queen of country recorded it for her album, Dolly Dolly Dolly in 1980. It became a number-one hit single, and has had special significance for Kesha since she began her career. Kesha explained a bit about the song for NPR's All Songs Considered:
It's a classic country music standard. I've played it at tons of my shows, and I've recorded it before — on my Deconstructed EP. I just love the song — it's in our family, and it has always been a dream to record it with Dolly Parton. It's always been one of those ridiculous thing to say out loud so you don't say it. I felt silly ever saying that out loud, because, I mean — it's Dolly Parton.
Well, that dream, of course, came true for this album. Kesha went on to explain the significance that Parton has had for her as a female artist. "I have always looked up to Dolly. I always wanted to get a tattoo: 'What would Dolly do?' Because I always think about that whenever I'm in a situation or when I'm in an interview. She's just been such a positive compass for me in my career as a woman."
Their collaboration means an awful lot to Kesha:
The fact that I actually got to sing "Old Flames" with her on this album is a really, really, really big deal for me — I dream really big but I wasn't sure if this one would ever actually happen. Still, every time I listen to it, it gives me full-body chills and it makes me tear up because she's a f--king legend; she's an icon. I'm just so grateful and humbled. This album is special for so many reasons but this just like tops the whole thing off.
But it wasn't just this song with Parton that was an important milestone. In her first studio album since she sued her former producer, she wrote the rest of the songs herself, sharing her own struggles with depression. She's explained in many interviews that, in fact, it was the album that got her through it.
Kesha shared on Good Morning America how important it was to write the songs on the album. "I think this record is quite literally saving my life," she said. "And I hope you guys like, and I hope you can hear it, and I hope it helps people."
The album dropped Friday.