Wait, Are Nicki Minaj & Drake Making Music Again?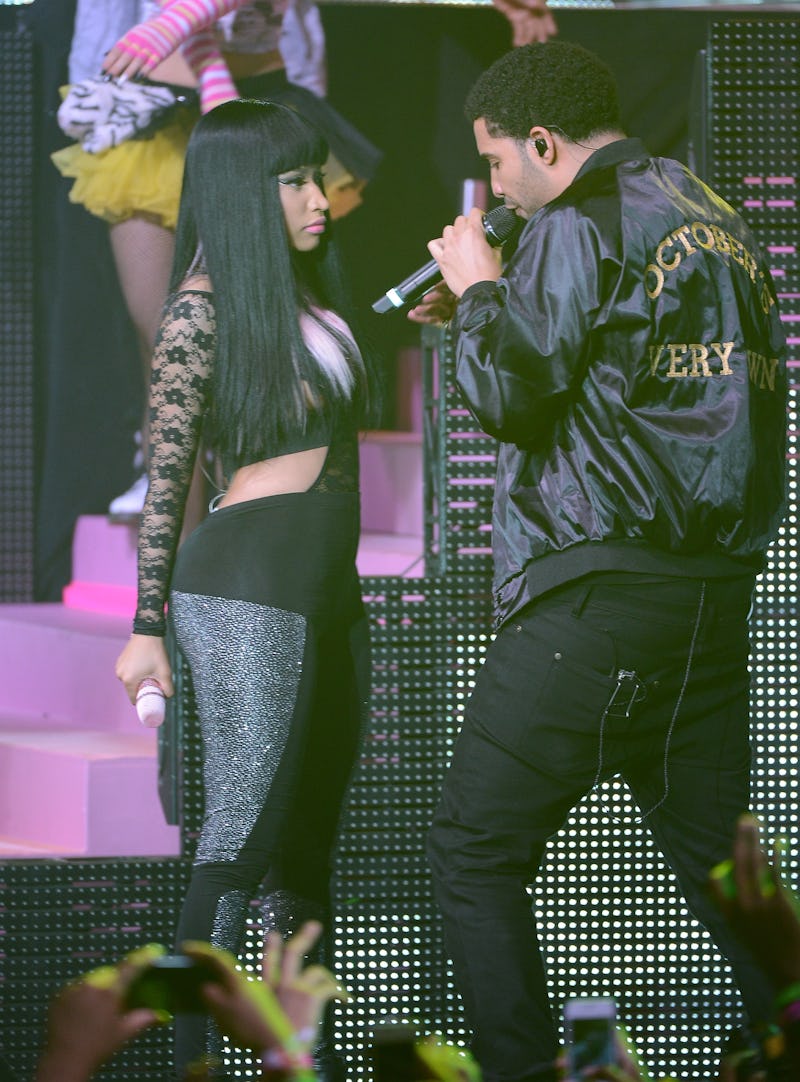 Larry Busacca/Getty Images Entertainment/Getty Images
Stop the presses: Those crazy kids who used to collaborate all the damn time may just be putting aside their differences. An Instagram photo of Nicki Minaj, Drake, and Lil Wayne was published on Wednesday, and if there's any good in the universe, you might as well take this as proof that these three will be making new music together. Why? Exhibit A: check out who Minaj tagged in the photo — none other than Mack Maine, the acting president at Lil Wayne's record label Young Money. Exhibit B: During an appearance on NFL GameDay in January, Lil Wayne revealed he has music in the work. He said,
"I have a lot of things coming out. I don't like to give 'em titles and names of anything because we don't know what we're going to drop first."
He then went on to say, "I got my key players, I got my Nickis, I got my Drizzys, so we're gonna be alright." He certainly is: Nicki Minaj and Drake have a strong record of creating serious dance floor jams together, creating songs under the Young Money moniker like "Bedrock" to collaborations under their own names Nicki Minaj's third studio album The Pinkprint, including the saucy "Only" and "Truffle Butter."
The pair appeared to lose touch when Drake got into a public feud with rapper Meek Mill — who also happened to be Minaj's boyfriend — in summer 2015. In a Beats 1 interview, Drake said,
"She dealt with me how I would expect her to: with class. I would do the same you know. There were times I was sitting there, waiting to see, you know, how deep is your love? I have respect for Nicki, but unfortunately we haven't spoken."
However, clearly things seem to have changed. Just look at these photos.
I'm calling it now — these guys are definitely ready to get back into the studio together. And given how prolific all three artists are, I'd argue we'll see new material from them sooner rather than later.