Rihanna's Fenty Beauty Mattemoiselle Lippies Are Here & The Internet Is Shook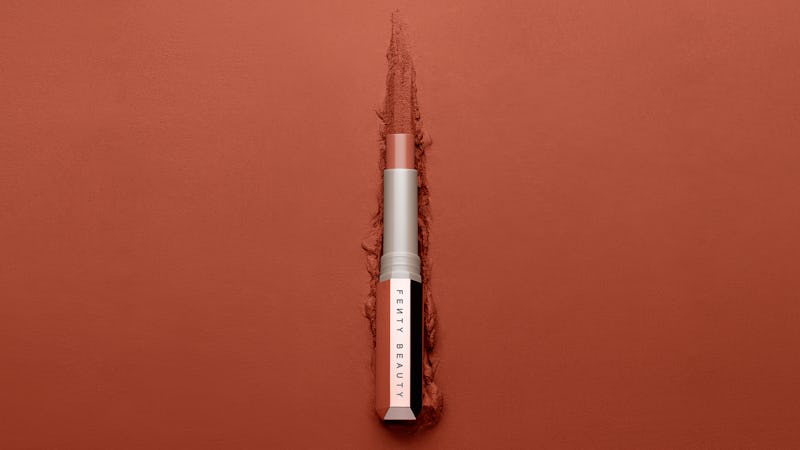 Courtesy of Fenty Beauty
The mother of all matte lipstick launches has happened! Sorry, Kylie Jenner and your mega popular Lip Kits, but Rihanna's Mattemoiselle Plush Matte Lipsticks are here and they are gunning for that velvet-look, ultra pigmented, and precise lip throne. While Rihanna launched her beauty brand in September with a single lip product — the Fenty Beauty Gloss Bomb Universal Lip Luminizer, which is a super shiny, peachy pink lip gloss — fans have been waiting for her unique take on the matte lip trend and she hasn't let them down!
The lippies, which are $18 per tube and come in 14 lightweight but long-wear shades, arrived at Sephora stores, Sephora.com, and the Fenty Beauty site today, Dec. 26, at 9 a.m. EST, giving Sephora gift card holders a reason to redeem them RN.
As of press time, the highly anticipated lip launch is not sold out (yet!) but the Internet is shook. There is a "Fenty Frenzy" and fans are scooping these up on the quick, so stock of certain shades could be depleted sooner than later. Translation: Don't delay in grabbing the colors that are speaking to you or you may have to wait for a "Rih-stock."
The singer and Puma Creative Director, who views lipstick as "all about having fun and expressing your mood at any given moment," created this collection for that purpose and promises that "there's a color for everyone."
The Mattemoiselles further the brand's ethos of Beauty for All, since the shades were expressly created to complement all moods, all skin tones, all day, minus the cakey and crusty texture that is oftentimes the result of other mattes.
Fenty Beauty Mattemoiselle Plush Matte Lipstick, $18, Sephora
While liquid mattes dominated 2016 and 2017, Rihanna is bringing back the bullet!
The Mattemoiselles are petal soft and light as air, with the shades housed in slim cases and that can be applied straight from the tube.
The Fenty Beauty team suggests using the lipstick bullet upright on top lip and upside down to fill in bottom lip for a plump, plush pout. That's probably how Rihanna herself uses her lippies.
The full range of shades (and cool AF names) is as follows.
Candy Venom is an electric pink.
Clapback is true navy.
Freckle Fiesta is a spiced terracota.
Griselda is a bold burgundy.
Ma'Damn is royal red.
Midnight Wasabi is a wicked green.
One of the Boyz is a wild lilac.
PMS is a moody brown.
Saw-C is an exotic tangerine.
S1ngle is a blushing nude.
Shawty is a warm chestnut.
Spanked is a dusty rose.
Up 2 No Good is a nude peach.
Ya Dig?! is a periwinkle blue.
Twitter's response to the Mattemoiselles range was as expected — intense!
This reaction upon the announcement of the Mattemoiselles was perfect.
As was this!
Fans are already experiencing sell outs!
Others took to Twitter to express their happiness at having grabbed a tube.
It's a Fenty Frenzy.
Here are a couple of quick shopping tips for the Fenty Beauty Mattemoiselle lipsticks online. Open a browser to either the FB or Sephora site. Login if necessary. Have your credit card out of you wallet and at hand. Know which shades you want in advance. Grab them, put them in your cart, and proceed to check out. Don't refresh maniacally and don't dilly dally or overthink the shades. Go with whatever hues your eyes naturally gravitate towards and grab 'em. Remember, Rihanna created these with you in mind.
Happy shopping!