Are Fifth Harmony & Camila Still Friendly?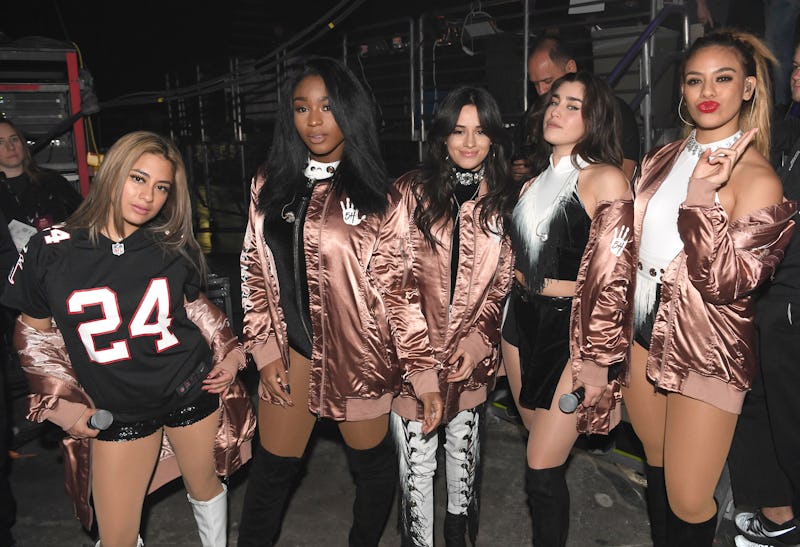 Paras Griffin/Getty Images Entertainment/Getty Images
In mid-December, Fifth Harmony fans got the shock of a lifetime when Camila Cabello officially left the band. For much of 2016, rumors spread of Cabello leaving 5H because of the multiple solo projects she had begun to pick up for herself, leaving many fans to wonder what the future of Harmony would be. On Dec. 19, 2016, the band's official Twitter account confirmed that news with a statement, saying that her bandmates "wish her well." Now that their first performance as a foursome is coming up at the People's Choice Awards, I wonder: Are Fifth Harmony and Camila Cabello still friends?
On the same day that they posted their positive statement, the girls posted another statement on their Twitter to "clear up" any rumors and asserted that they were hurt and confused by Cabello's decision to leave the group, which I assume would leave them on not the best terms. So, in asking if Fifth Harmony and Cabello are still friends, I would venture to say that they're maybe just cordial — at least for now since this is all still so fresh.
Cabello also took to social media to post her side of the story, saying that she had expressed her concerns for the future of herself and the group. She wrote in part,
"...I will continue to root them all on as individuals and as a group... I wish nothing but the best for them, all the success in the world and true happiness."
It sure sounded like good intent was there, but actions spoke otherwise. After the split was official, Fifth Harmony "unfollowed" Cabello on Twitter, according to The Sun, and in this days and age, unfollowing a friend is a pretty clear sign of a breakup.
On Jan. 5, 2017, merely two weeks after Cabello left, the remaining group posted their first photos as a foursome, with the caption "twenty seventeen," alluding that they were moving along OK without her.
A Billboard article following Cabello's exit reported that the group had faced many issues in the months prior, making it seem that Cabello's departure wasn't exactly sudden.
Based on the fact that in the wake of Cabello leaving, none of the girls have posted any further indication that they are all friendly, it seems likely that things are still tense right now. While no one knows if the girls can mend their differences and be friendly eventually, it does sound like they wish each other well, but they will all be fine on their own.