Jamie Dornan & Dakota Johnson Get Along Just Fine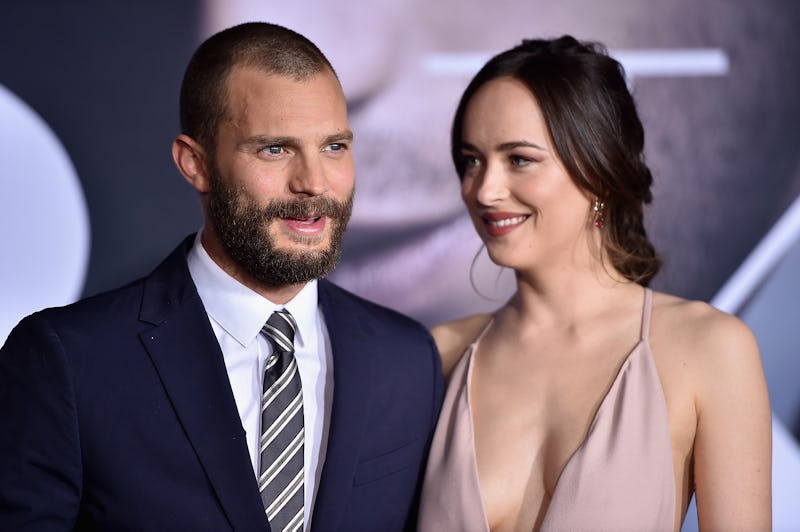 Alberto E. Rodriguez/Getty Images Entertainment/Getty Images
Just in time for Valentine's Day, the next juicy installment of the Fifty Shades trilogy, Fifty Shades Darker, is out for the world to see. Fans around the globe have been fascinated with the tumultuous relationship between Christian Grey and Anastasia Steele. But after watching Fifty Shades of Grey, seeing interviews with the two actors, and considering they spend so much time together, I wonder: Are Jamie Dornan and Dakota Johnson actually friends in real life or do they have a tumultuous relationship, too?
While many thought they had an icy start, Dornan and Johnson have grown very close and consider each other good friends, especially after the intensity of their closeness during filming.
During press for Fifty Shades of Grey, people critiqued Dornan and Johnson's distance during interviews and rumors surfaced that they "hated" each other. The rumors were shut down by Fifty Shades of Grey director Sam Taylor-Johnson, who set everything straight in USA Today back in 2015. She said,
"Everyone likes to gossip. And so many stories are utterly untrue. They're funny and sweet together. I don't know if everyone expected them to have a Kristen Stewart/Robert Pattinson thing. Jamie is married with a small baby. Dakota is in a relationship... It's a movie. It was work. They get along fine."
In that same interview, Dornan said of his relationship with Johnson, "We instantly had a thing ... I got cast because they thought it worked. Dakota and I get on so well. We're friends now."
During those earlier days of filming, it certainly sounded like Johnson and Dornan were friendly for work, but weren't super close. In early 2015 while promoting the first film, Dornan told Glamour,
"I've never had an on-screen relationship as intense with another actress. We respect and trust each other. We have to be fond of each other for this to work."
It's possible that Johnson and Dornan might have had to play it kind of cool when it comes to their relationship, which is sad. They faced affair rumors even amongst the rumors that they hated each other, so imagine what would happen if they constantly hung out? While not as vocal as Dornan about their friendship, Johnson opened up a bit more about their close dynamic in Vogue, and said,
"Jamie and I worked so incredibly closely for so long. There were no inhibitions, and it was very honest, very trusting. But I mean, what a gamble! What if he had turned out to be a total dick? There's no makeup. There are no clothes to tell you a bit about the story."
And they have continued to speak out about how close they've become, especially after three years of filming very intimate scenes. During the recent publicity tour for Fifty Shades Darker, Dornan told Entertainment Tonight,
"I was only cast five weeks before we started filming the first movie, and that's when I met Dakota [Johnson] for the first time... it's been three years, [and] Dakota and I are very close. We've got a great sort of love and respect for each other. We're great friends and I think that makes it easier, you know? So it's definitely more comfortable."
There you have it! After working so much together, Johnson and Dornan are friends who have great respect for each other and that's all there is to it!