The Way Jason Momoa's Real Tattoo Was Worked Into His Aquaman One Is Super Cool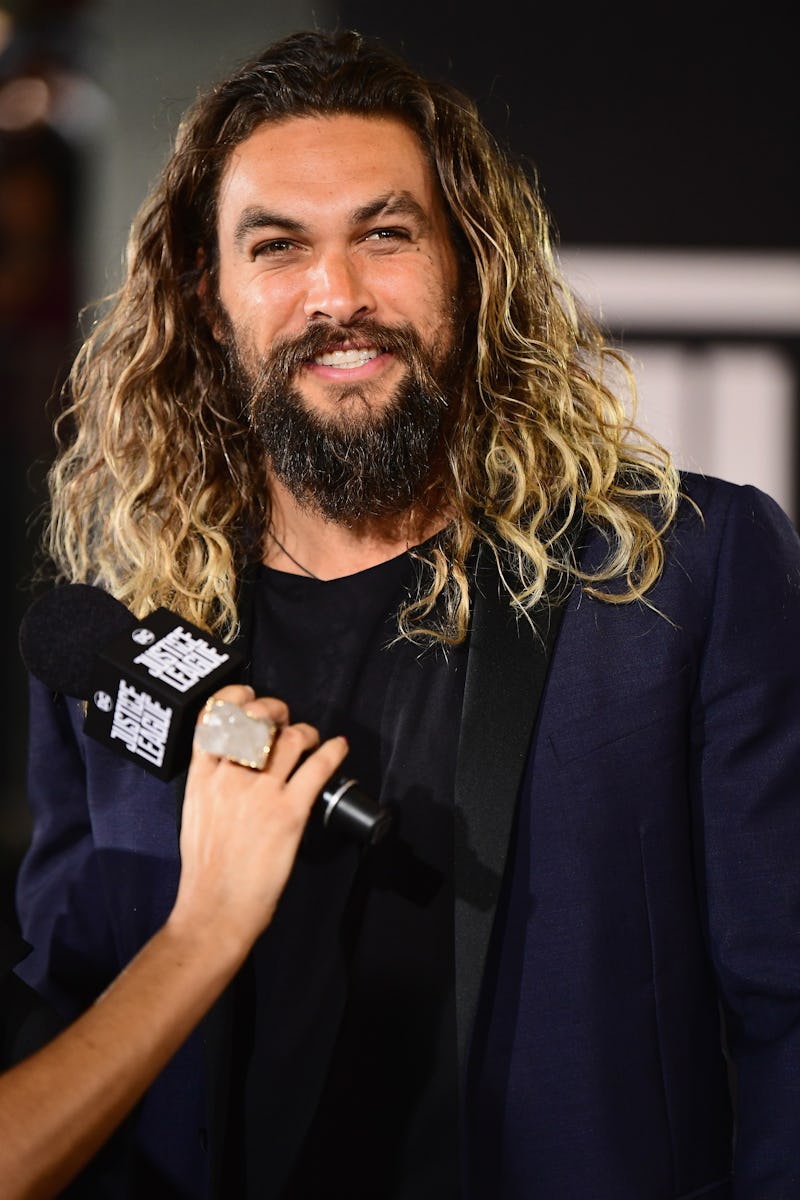 Emma McIntyre/Getty Images Entertainment/Getty Images
From The Flash's striking garb to Batman's dark attire, you might be wondering what went into making the costumes for the heroes in Justice League. And that includes Aquaman and the interesting tattoos that make up his super look. But, are Jason Momoa's Justice League tattoos real? The actor has opened up about what went into the making of Aquaman's costume.
Turns out, Momoa isn't really sporting all of those Aquaman tattoos in Justice League. The actor recently discussed the process of making the entire look, including all of those cool tats. According to DC All Access (via Comicbook.com), the film's director, Zack Snyder came up with the idea for the look.
Momoa said, "Zack [Snyder] had the idea to put tattoos everywhere". And you can totally see that the makeup artists' followed through on the director's vision, as you can see that Momoa is sporting some serious tats in his Aquaman get-up. In other photos of the actor, when he's not in costume, he's sans visible tattoos (with the exception of a specific one on his forearm). So, while the ink might look incredibly cool, it's just a part of Momoa's Aquaman look.
What went into the making of the design for those tattoos? Well, Aquaman himself, Momoa, had some influence on the tatted up look, which he's sporting in the photo below with his children, who are wearing some faux-tats of their own.
There have been a couple of different explanations as to what the tattoos actually depict. Momoa could be covered in spearheads, according to Screen Rant, which would be meant to present a strong image to Aquaman's enemies. Another possibility is that the ink resembles fish scales, according to IGN, which would obviously tie back to Aquaman's realm of the ocean and the scale-covered costume that the character has worn in comic books.
The superhero's look in Justice League is also influenced by Polynesian culture, which would tie back to Momoa's own Hawaiian heritage, seeing as though the actor has said before that he wanted to "represent" his culture in the role. According to Screen Rant, in ancient Polynesian culture, warriors would sport tattoos on their bodies as a form of armor. This is incredibly similar to Aquaman's look in Justice League as, in addition to the armor that he wears, he has a plethora of tattoos covering his chest.
In an interview with The Daily Beast, the actor said, "Aquaman is especially cool because being Kanaka Maoli — being Hawaiian —our gods are Kanaloa and Maui and the Earth is 71 percent water, so I get to represent that." Since Momoa said that his Hawaiian heritage was important to note in his portrayal of the character, it's great to see that Aquaman's costume is honoring that.
Momoa's take on Aquaman was not only influenced by his culture, but a particular singer also played a role. In an Entertainment Weekly article, Momoa said that Slash was one of his main influences while on set. "He's my spirit animal," he said. "When I'm walking down that runway, I'm singing 'Rocket Queen' in my head. Slash is a beast." Seeing as though Slash himself has many tattoos and sports the same long-haired look that the actor does in Justice League, you can see even more how channeling him would get Momoa into character. You can check out Momoa with the singer (with actor Peter Dinklage and artist Danny Minnick) in the photo below.
Even though Momoa is wearing some fake tats in his role as Aquaman, the actor does still have at least one tattoo. He sports a band of triangles, which is a tie back to his Hawaiian family crest, on his left forearm, according to Inked. The triangles are meant to represent shark teeth, a family guardian spirit or a aumakua as he called it in a 2013 Q&A at Armageddon Expo. The actor said in the Q&A, "It's supposed to take the darkness out of your heart and bring the light in, but we're still working on that." As you can see below, his own tattoo was even incorporated into the inked-up Aquaman design with another face one on his other forearm for symmetry.
So, while most of the Aquaman tattoos may be fake, Momoa's get-up is still super awesome.