Here's Why Jenna Coleman & Tom Hughes Have Such Intense Chemistry in 'Victoria'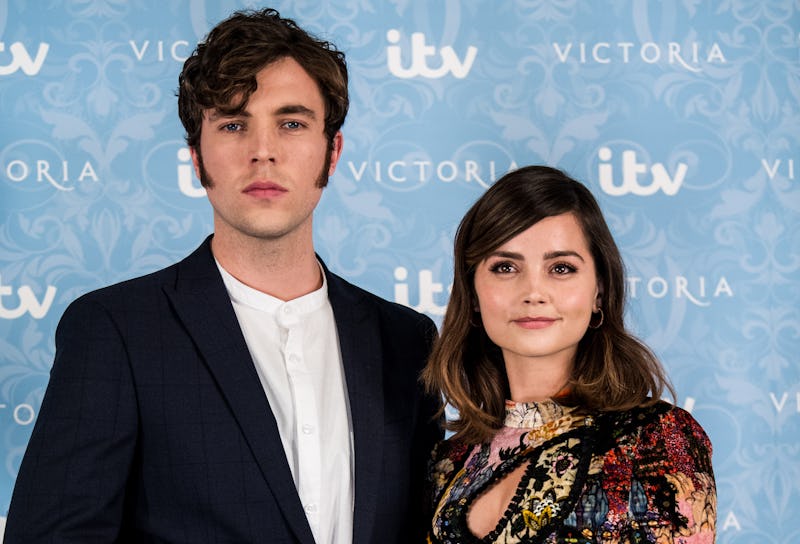 James Gourley/Shutterstock
Imagine spending each work day roleplaying Queen Victoria and Prince Albert. Well, it isn't your average way to fall in love, but so goes the story of Jenna Coleman and Tom Hughes. They've been starring alongside one another in the ITV drama Victoria, playing the royal couple. If you're a stan of the show like me, you may have noticed how real their chemistry is on screen. Ever wondered why? Well, it may have something to do with the fact that they're a couple IRL. Yes, really. But are Jenna Coleman and Tom Hughes engaged? That's what a lot of people have been asking recently.
In order to answer that question, lets go back to the beginning. Back in 2016, when the couple first started filming Victoria, the two stars quickly developed a suspiciously intense onscreen chemistry, which of course set chins wagging. In fact, right after the very first first episode, The Sun sparked rumours of an off-screen romance between Coleman and Hughes, with reports claiming that they had "grown close."
As we now all know, it then wasn't long before the relationship was then confirmed. A source told the Mail On Sunday that September: "They've been together for months, on and off since last summer."
In August the following year, speculation that the pair were engaged began to soar. The Sun reported that Coleman was spotted wearing a resplendent vintage ring at a screening for Victoria. But those rumours were hushed that the same month when The Express published pics of her out and about without the ring, and she's not been spotted wearing it since.
But it certainly seems like the couple could be on the path to wedding bells. According to OK! magazine, the couple took a pretty big step in their relationship two months later in October 2017 by moving in together for the first time.
Fast-forward to May 2018, rumours were spreading like wildfire that the couple were expecting their first child together after Coleman uploaded a photo of herself with what appeared to be a baby bump. But the former Doctor Who actress quickly scrambled to explain that the baby bump was prosthetic, and that she was wearing it for her new BBC show The Cry. Said Instagram post has also since been deleted.
But while that rumour may have been put to bed, some fans are still curious to know whether Coleman and Hughes are engaged. So, are they?
I have reached out to both of their reps for comment but am yet to hear back. However, neither Hughes nor Coleman have ever spoken out to confirm an engagement. In fact, the couple are incredibly private regarding anything concerning their love life.
They managed to keep their relationship under wraps for over a year without anyone finding out, according to The Mail On Sunday, with a source close to the couple saying this was because "they didn't want their professionalism called into question." With that in mind, perhaps we should all respect their privacy and back off. If you are a true stan like me, all you'll want for this couple is for them to be happy.