Jimmy Iovine & Dr. Dre Are Still Changing The Music Industry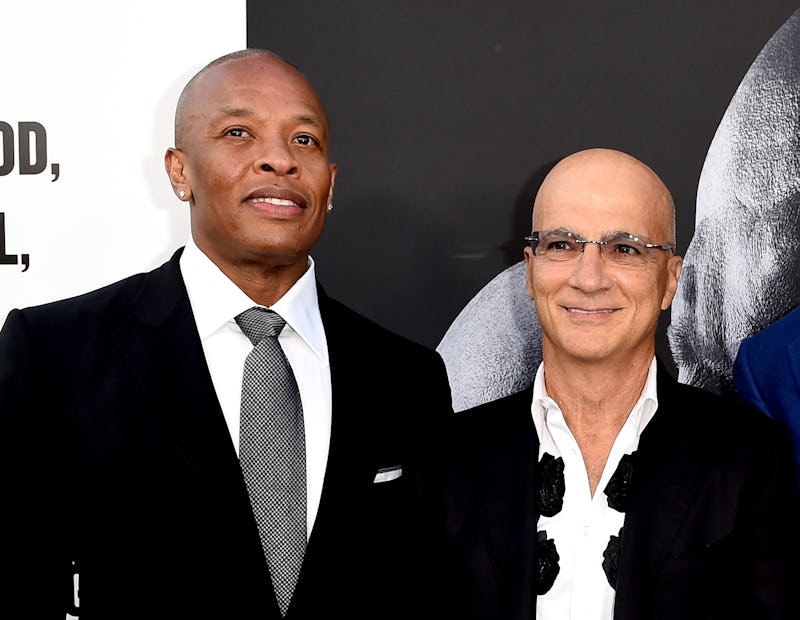 Kevin Winter/Getty Images Entertainment/Getty Images
HBO's latest rock documentary tells the story of one of the greatest partnerships in music. Jimmy Iovine and Dr. Dre helped shape the music industry as it is today, jumpstarted the G-funk movement of the early '90s, and launched the careers of megastars from Snoop Dogg to Eminem. The Defiant Ones tells the story of their meteoric rise, but has their story come to an end yet? Are Iovine and Dr. Dre still working together or has their legendary partnership fizzled out?
Things have changed so much in music in the past few decades, but these two music legends are still collaborating and working together – just in different ways. While Iovine is mostly known as a producer and Dr. Dre is most known for his iconic rap albums The Chronic and 2001, both men have worn a variety of different hats over the many years they've spent collaborating. As the culture has shifted towards technology, so have Iovine and Dre. While both of them still have a hand in making music, they've moved out of the studios and into executive offices. The team's biggest success was the creation of Beats By Dre headphones, which was purchased by Apple for $3 billion dollars, according to Billboard. Now they both work with Apple, continuing to shape the way people listen to music.
While the Beats By Dre brand is still running strong, Iovine and Dr. Dre have moved to other interests within Apple. Iovine is currently running Apple Music, active in helping the platform compete in the streaming wars with other major services like Spotify and TIDAL with exclusive features like Beats 1 radio. Dr. Dre is also working with Apple Music, focusing on new creative properties like a scripted television series called Vital Signs that is set to premiere as an Apple Music exclusive, according to The Hollywood Reporter. The two have also put together $70 Million to fund the Jimmy Iovine and Andre Young Academy for Arts, Technology and the Business of Innovation at the University of Southern California, per Billboard.
While their recent ventures have taken them into the business of how music is heard and shared, that doesn't mean they've retreated from music entirely. Jimmy Iovine is still an influential producer, shepherding artists like Kendrick Lamar and Frank Ocean. Dr. Dre helped the Apple Music brand by releasing his first album in over 15 years exclusively on the platform. The album Compton, released in 2015, was one of Apple Music's first high-profile exclusive releases. Outside of making his own music, Dr. Dre also continues to perform guest verses for artists like The Game, Rick Ross, and frequent collaborator Kendrick Lamar.
While the two have a buffet of projects to work on at any given time, Iovine and Dre often find themselves comparing notes on different projects happening at Apple Music. According to an interview with Iovine in Variety, the two still find time to speak every morning. While their focus has shifted from releasing groundbreaking records to making groundbreaking innovations in how music is consumed and appreciated, the partnership between these trailblazers doesn't look like it will be fading out any time soon.