'Strictly Come Dancing's Joe Sugg Finally Addressed THOSE Dating Rumours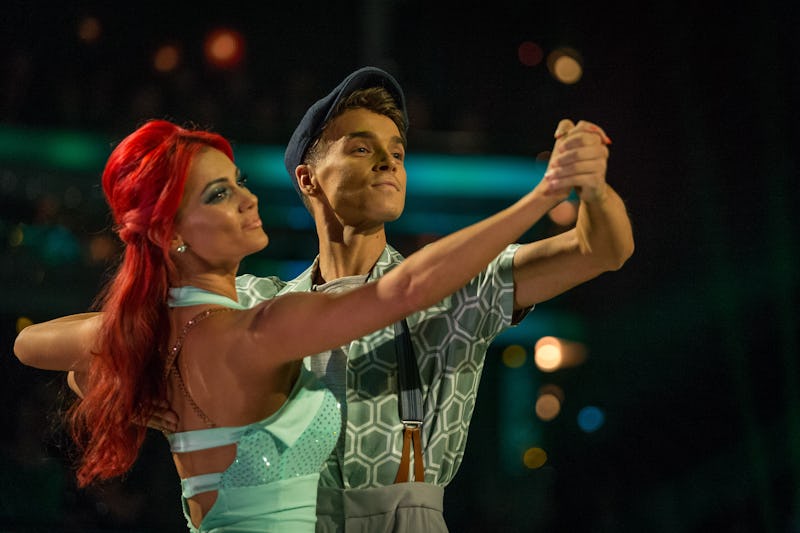 Guy Levy/BBC
Strap in, friends, for another supposed instance of the Strictly Come Dancing curse. After Seann Walsh and partner Katya Jones were seen kissing, rumours are now circulating that YouTuber Joe Sugg and his professional partner Dianne Buswell are paired up both on and off the dancefloor — rumours that intensified after Buswell split from her former boyfriend, Emmerdale actor Anthony Quinlan. At this point, there's almost too many declarations and denials to keep track of — so are Joe Sugg and Dianne Buswell dating? Here's what we actually know about the couple.
This week, the Express reported on a claim by an anonymous source, purportedly confirming that Sugg and Buswell were dating. "Joe Sugg and his partner are 100% in a relationship," the insider said (somewhat bluntly). But the claims didn't stand uncontested for long: a representative for Sugg told the paper that the reports were "absolutely not true." See what I mean about keeping track?
Last week, the Sun reported that Dianne Buswell and Anthony Quinlan ended their relationship after he "grew suspicious" of her relationship with Sugg, citing an anonymous Strictly source who said, "Everyone on set's been discussing how close they'd become. It did not go unnoticed by Anthony."
But an insider (it's unclear whether it was the same source) also told the newspaper that the split was down to distance, explaining, "There's not bad blood between them but it looks like a reconciliation is off the cards this time. Last time they split she was really upset but this time around she doesn't seem that bothered." They continued, "He's up north and she's down south and things just weren't working any more so they've knocked it on the head despite being quite serious."
"She's having a lot of fun with the show at the moment and is enjoying spending time with her dance partner Joe," the mysterious source concluded.
In a subsequent interview with the Sun, Quinlan confirmed that he separated from Buswell because they're based in different cities — he in Manchester, she in London. "Over the ten months in which we were dating, it was very up and down. Just being in a long distance. We still remain amicable," Quinlan said. "It's just the long distance thing was quite taxing for us both. But we are still good friends, you know. And like I said these things happen day to day."
"I wish [Sugg and Buswell] both all the best. They're doing absolutely amazing on the show," Quinlan added. "I actually saw the show last night and yeah, the dance was incredible. So yeah, I am still rooting for the guys. All the best to them." Doesn't exactly sound like a case of the Strictly curse, then!
And just to round things off? This week, Joe Sugg was asked if he'd start a relationship with his pro partner, as the Evening Standard reports. His response? "No, I don't think so. I haven't got time." That's not to say the pair aren't close, however. "After the show finishes we'll stay friends," he added. Cute!