Kim K & J. Lo Met Up For "Taco Wednesday" & It Was Over-The-Top AF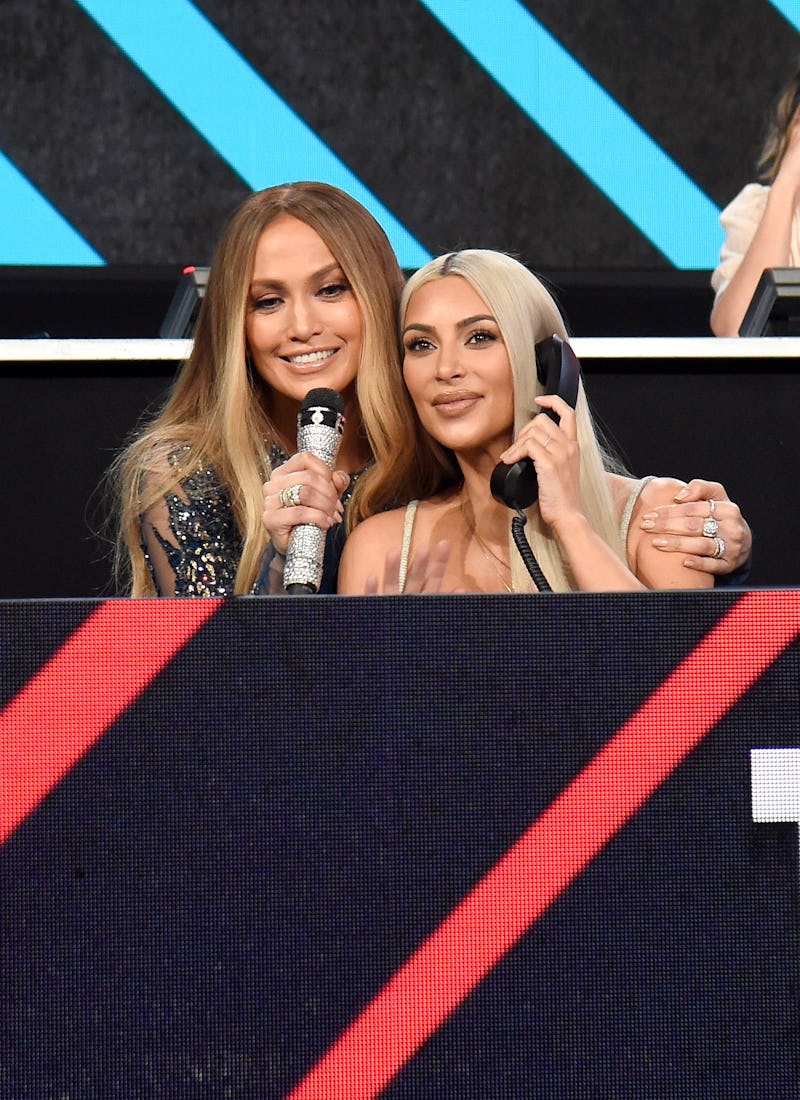 Kevin Mazur/One Voice: Somos Live!/Getty Images Entertainment/Getty Images
This morning a lot of us woke up to see pictures of two legends united for a "Taco Wednesday" party in our Twitter feeds, so naturally many of us are wondering the same thing: Are Kim Kardashian and Jennifer Lopez friends? And if so, how long have they known each other? Kardashian and Lopez seemed friendly in the pics posted to Twitter and Snapchat, and as it turns out, this definitely wasn't the first time Kardashian and Lopez appeared together in photos shared to social media.
According to People, Lopez hosted the dinner at the Bel-Air home she shares with Alex Rodriguez on Wednesday, Dec. 27, and put together a taco bar full of supplies including rice, corn, queso, and — of course — guacamole. Attendees of Lopez's party included Kardashian, along with her sister Kourtney Kardashian, her mother, Kris Jenner, Lopez's mother, Guadalupe Rodríguez, and singer Carole Bayer Sager. Lucky for us fans, the group shared plenty of photos of the party to social media. Lopez's close friend Leah Remini was also in attendance, E! News reports, and photobombed one of the videos Kardashian posted.
"TACO WEDNESDAY," Kardashian captioned a photo of herself and Lopez posted to Twitter. Kardashian then @ replied Lopez and ended the message with a heart emoji. Now, you know Kardashian and Lopez must be good friends if their posting selfies with heart emojis in the captions!
"Who else would host a Taco Wednesday in this outfit?" Kardashian said in a Snapchat video of Lopez. According to Glamour, Lopez's bedazzled Gucci outfit retails for a cool $7,680. So yeah, it's definitely a fierce outfit to wear to make tacos. "This gorgeous girl," Kardashian continued in her Snapchat video. "Taco Wednesday, taco Wednesdays! At J. Lo and Alex's house."
In case you're wondering, yes, traditionally people do "Taco Tuesdays," but when you're an icon like Lopez or Kardashian it doesn't matter what day of the week it is — a party with tacos involved is always a fabulous event.
Before arriving at the Taco Wednesday party Kardashian also poked fun at herself when she shared a photo to Snapchat with caption that jokingly said, "rare selfie."
Kardashian also shared an adorable shot of her and Lopez's mothers at the party. "Queens," she captioned the pic of Jenner and Rodríguez looking quite chummy. Major mom goals.
As E! notes, Kardashian and Lopez have been friends for a number of years now, and have been spotted at public events on numerous occasions. One such occasion was the 2015 Met Gala. Both women were attendees at the annual fundraiser gala for the Metropolitan Museum of Art's Costume Institute, and Kardashian shared a photo of herself and Lopez with their arms linked, showing off their incredible dresses with a caption that referred to Lopez as her "idol."
Pretty fabulous, right?
The two stars were also recently photographed together at the One Voice Puerto Rico disaster relief telethon, which Lopez co-hosted.
Oh, and let's not forget about the time that Kardashian and Lopez posed for a photo alongside Taylor Swift's ex Calvin Harris:
Back in July of 2016 Kardashian and Harris were photographed in alongside French Montana (who posted the now deleted photo to Instagram) and Lopez while at Lopez's 47th birthday party in Las Vegas. Given the drama between Kardashian and Swift, as well as Harris' own statements about Swift after their breakup, many people felt that the timing of their photo together couldn't have been a coincidence and was meant to send a message to Swift. As Billboard reports, about a week before the above photo was taken Harris shared a video of himself lip-synching to a Kanye West's "Famous." But all drama aside, one thing to note is that Lopez invited Kardashian to her birthday party, which is another sign of friendship.
Now as you can see, Lopez's Taco Wednesday dinner definitely wasn't the first time that she and Kardashian have hung out together, and hopefully it won't be the last. Perhaps the famous friends will ring in the New Year together?