Katy Perry Flew Kim Kardashian's Met Gala Nails To Her On A Plane, NBD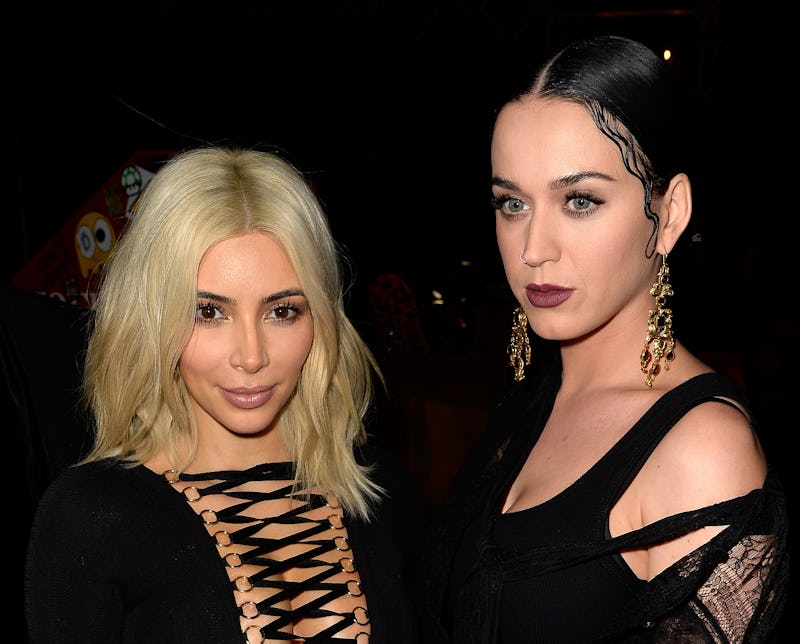 Pascal Le Segretain/Getty Images Entertainment/Getty Images
Anytime a bunch of celebrities are in the same place for an event like the Met Gala, chances are good that a few interesting moments are going to go down. And on Monday night, one involved a Kardashian, a pop star, and a set of fake nails — what a combination. In a tweet she shared in the wee hours of Tuesday morning, Kim Kardashian revealed Katy Perry brought her nails to the Met Gala so that her look would be complete for the event, and... wait, these two know each other?
The news came after a fan tagged Kardashian in a tweet, captioning a photo of her and Perry at the gala as she showed off her nails. That's when she explained that she'd had to glue the nails on at the last minute after they arrived via plane in Perry's care. Well, duh — if someone's kind enough to fly you your nails when you left them at home, you have to show them how their hard work paid off.
Unfortunately, this is where the story ends, because neither Kardashian nor Perry have shared more details. This leaves so many questions unanswered: Why was Perry the one who brought Kardashian's nails? Why didn't Kardashian bring the nails herself? And then, there's the big one: Are Kardashian and Perry friends?
Being that Kardashian knows basically everyone by virtue of being a member of her family, it's not surprising at all to learn that she and Perry, in fact, are pals. Going back to 2015, they posed for a few photos together at a Givenchy show in Paris during Fashion Week, and they look pretty friendly here:
That same year, Perry also voiced her love for the entire family in an interview with Entertainment Tonight at the 2015 Met Gala, calling them, as a group, "completely valid" while also voicing her love of Kris Jenner. "Listen, Kris Jenner is very important to me and that is not sarcastic at all," Perry said at the time. "She has a great sense of humor and she's kinda of like the mother of everyone."
Have truer words ever been spoken? Probably not.
Then, in 2016, Perry made her Keeping Up With The Kardashians debut when she was seen backstage at one of Kanye West's concerts that just so happened to also be one of Kardashian's first public outings after her Paris robbery. In the episode, Perry was seen comforting Jenner, who was worried about her daughter, and greeting Kardashian when she arrived backstage. So much friendship happening, people.
Next, it was Kardashian's turn to visit Perry at a concert. She and daughter North went backstage at Perry's Witness tour last fall, sharing some really fun footage on her Instagram story at the time.
And that brings us all the way to present day. Before the Met Gala nail-rescuing incident, Perry trolled Kardashian on Instagram about her eyebrows when Kris posted a #TBT. Clearly, these two have been close for awhile if they feel comfortable enough making fun of each other. Isn't that the sign of real friendship?
There's also the oldest (and best) tie between the Kardashians and Perry, lest we forget about this one. The entire family showed their appreciation for Perry's music when they filmed a music video set to one of her singles, E.T.? That means Kardashian has been admiring Perry's work since at least 2011.
But the mystery of why the nails and Kardashian had to make it to New York separately? That may never be solved — unless we get to find out what was happening behind the scenes on Keeping Up With The Kardashians next season. Who knows? Maybe Perry and her lifesaving nail delivery skills will make another appearance on the show.