Kit Harington & Rose Leslie Are Reportedly Engaged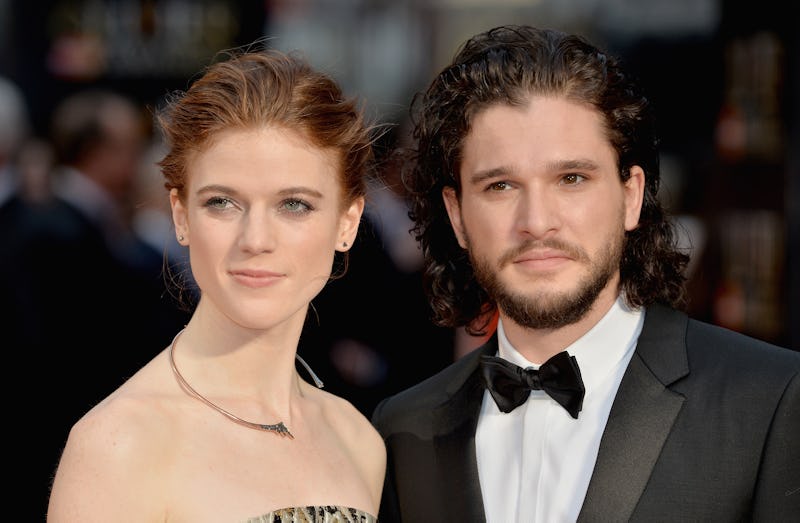 Anthony Harvey/Getty Images Entertainment/Getty Images
Jon Snow and Ygritte's relationship may be a thing of the past on Game of Thrones, but their portrayers, Kit Harington and Rose Leslie, are still going strong offscreen. In fact, they're going so strong that The Sun is reporting that Kit Harington and Rose Leslie are engaged. Bustle has reached out to reps for Harington and Leslie for comment, but did not receive a response at the time of publication.
UPDATE 1: People is also reporting that Harington and Leslie are engaged.
UPDATE 2: On Wednesday morning, the BBC reported that the couple officially announced their engagement in The Times newspaper.
EARLIER: According to The Sun, Harington and Leslie, who met on the set of Game of Thrones and have reportedly been dating on and off since 2012, got engaged sometime during September. A source claimed to the publication, "They're yet to set a date, but told friends and family last week that they've got engaged." The source continued, "After moving in together this January he felt it was the right time to take the next step."
The actors haven't confirmed this engagement news, and there's still a good chance that it's just a rumor. In July 2017, Life & Style reported that Harington and Leslie were engaged. Harington had supposedly "cooked Rose a romantic candlelight dinner and proposed to her." However, that lovely engagement report didn't stay true for long. Harington's rep put a stop to those rumors and said in a statement to U.K.'s Metro, "They are not engaged." It's too bad though since that proposal sounded like the definition of romantic.
The two can be tight-lipped about their personal lives and relationship. Harington told Esquire as much when he said, "It's as much her relationship as it is mine and I can't speak for both of us." Also, neither star has a public Twitter or Instagram, so you'll never catch them posting photos or comments about each other.
That said, there have been a few times when Harington couldn't help but talk about his relationship with Leslie. When asked by Vogue Italia what his favorite memory was during his time filming Game of Thrones, he said, "The three weeks in Iceland when we were shooting the second season. Because the country is beautiful, because the Northern lights are magical, and because it was there that I fell in love." These two couldn't have asked for a more romantic start to their relationship.
Harington also reflected on his relationship with Leslie during the Season 7 premiere of Game of Thrones. He talked about his journey with not only the epic television show but one with his girlfriend, as well. He told Entertainment Tonight that, "I think that's the really special thing about it is that we met on the show and here we are seven years down the line back here promoting season seven. I mean it's mad. It's such a special thing. I'm so privileged."
One person who's probably dying to see whether the engagement rumors are true? Nicole Kidman! Harington appeared on The Late Late Show with James Corden along with the Big Little Lies star in June and they got personal about his relationship status with his girlfriend. Kidman did not hold back as she asked Harington some questions about his relationship with Leslie, who Harington revealed had just moved in with him. Kidman asked the Game of Thrones star, "Are you gonna get married?" Harington didn't give Kidman, or viewers, the outright answer they were looking for, though. He did say that he's taking things "step by step" with his "best friend."
Even though The Sun is reporting that the adorable duo is engaged, fans will need to wait on confirmation from Leslie and Harington. If the news is true, then two just need to confirm it so that Game of Thrones fans everywhere can congratulate their own Jon Snow and Ygritte ship come to life.