Why Kit Harington & Rose Leslie Will Probably Be Married For Years Before We Find Out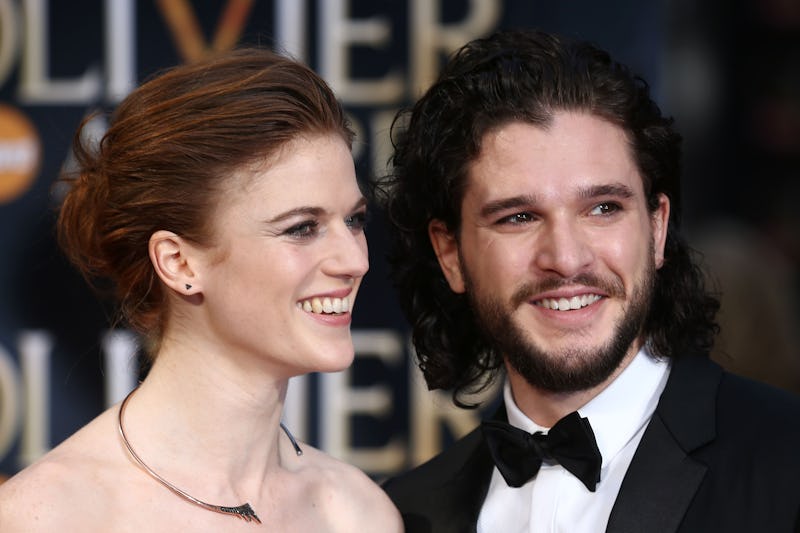 JUSTIN TALLIS/AFP/Getty Images
Since first coming into the spotlight in 2012 and not making their relationship official until April 2016 at the Olivier Awards, these two Game of Thrones stars have been battling engagement and marriage rumors left and right. So, are Kit Harington and Rose Leslie married? To put it bluntly, no, but that doesn't mean they won't say "I do" in the future.
In July, Life & Style reported that Harington had proposed to Leslie and that they would have "a traditional Scottish wedding with kilts and bagpipes" at a Scottish castle, where Leslie reportedly grew up. The Game of Thrones actor's rep immediately shot down those rumors by telling U.K.'s Metro, "They are not engaged."
It doesn't seem like either of the two actors are in a hurry to rush down the aisle. During a June appearance on The Late Late Show with James Corden, Harington revealed that they are taking their relationship "step by step". He admitted this after being grilled by fellow guest Nicole Kidman, who bluntly asked him, "Are you gonna get married or...?" To that, the Emmy nominee replied, "Oh, wow!" and later added, "I've been put on the spot by Nicole Kidman."
The Big Little Lies star eventually told Harington and Corden, "I just think it's kind of nice if you're gonna live together maybe to at least get engaged." She also said, "I'm just all about, hey what about, getting engaged and then living together."
Even though it looked like Harington was sweating a bit during the conversation, he had no problem opening up about living with Leslie. "I've moved in with my other best friend, Rose, so, I'm very, very happy," he adorably gushed. "And it's going well, she's got all sorts of idea for the house."
Even if they were to get engaged or to marry, Harington probably wouldn't talk about it publicly. He's a pretty private person, especially when it comes to his love life. The 30-year-old actor made that quite clear while chatting with the Evening Standard in May 2014. The outlet pressed about the rumors he was dating Leslie. At that time, he said they weren't even a couple. "All rumor and myth. Me and Rose are very, very close and very good friends," he said. "And continue to be, actually. She's wonderful. But no, no love affair." Later on, Harington declared, "Don't believe everything you read."
As for discussing relationships publicly, he doesn't seem to be a fan of it. "On a serious level, I wouldn't tell the press if I was in a relationship or not," he admitted to the Evening Standard, before continuing,
"I wouldn't ever reveal that, because it takes you down a certain road... I have no desire to be courting the press with my love life. It's not my job, it's not who I am — and I actually think it's more fun for everyone to speculate. The minute I start telling people things are true or not true, then it's just boring."
As for Leslie, in August 2016, she briefly commented on their relationship saying it sometimes takes work, because of their busy schedules. "It's kind of an embarrassment of riches, I suppose, if both of us are working, and that's a lovely thing to be involved and to be busy," she told ITV's This Morning. "But, yes, I suppose you make it work. FaceTime is a must."
She also chatted with The Telegraph in June 2016 and was careful not to say too much about them as a couple, according to the outlet. Though, she revealed that she is "very happy" and called Harington "a great man."
There you have it. If or when they do get married, you might not hear it from either of their mouths — at least not for a while.