Malika & Ronnie's Chemistry Didn't Survive 'Famously Single'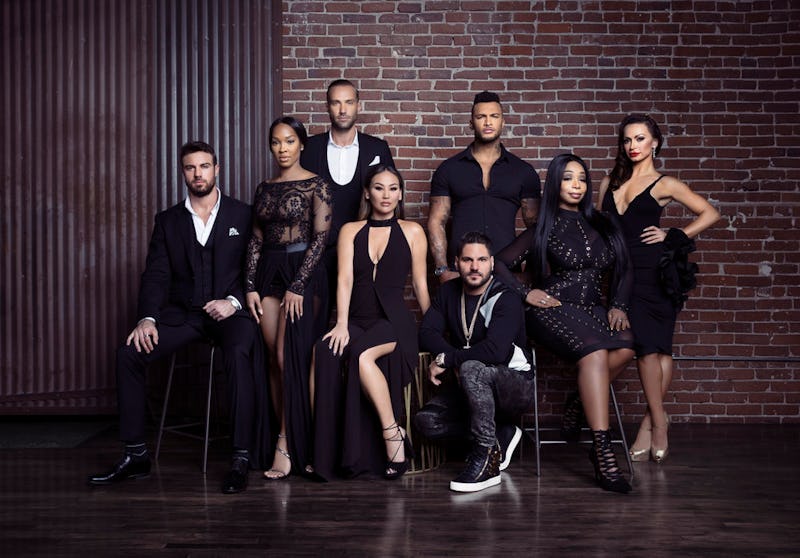 Tommy Garcia/E! Entertainment
Jersey Shore's Ronnie — perhaps best known as one half of the now defunct Ron-and-Sammi power couple — is attempting to learn what is keeping him from true love on Season 2 of E!'s Famously Single. Well, it doesn't look like he has learned his love lesson just yet, because he went ahead and jumped right into a brand new relationship with Khloe Kardashian's bestie Malika Haqq almost immediately upon entering the loft. So, are Malika and Ronnie still together after the show?
Well, give yourself a gold star if you guessed that this relationship didn't make it out of the Famously Single loft. Unfortunately after responding to immediate and obvious chemistry with each other and forming a pretty quick pairing, Malika and Ronnie split shortly after leaving the show, which they both confirmed in interviews with E!. It is really no wonder that this particular relationship didn't flourish, because these two are just too different even for the old "opposites attract" cliche. Malika described herself as a lover who is looking for a lover when she talked to People about their split. While Ronnie certainly has passion, she referred to him as "aggressive" in his "love language." It just seems like their communication styles clashed quite a bit.
For his part, it looks like Ronnie refused to break the pattern that got him into this show in the first place. I am not a relationship expert by any means but he seems to be very spontaneous when he meets someone he has a connection with, which doesn't necessarily make for long commitments. Of course, that it apparently didn't last doesn't mean that fans weren't seriously invested in this relationship as soon as it began.
Malika and Ronnie may have fizzled out romantically, but they both stressed in their E! interviews that they remain on very good terms with each other, which is good to hear. In the meantime, Ronnie seems to be keeping himself busy by promoting Famously Single and doing appearances at clubs and events, according to his social media updates. He also seems to have taken some of the advice from the show's resident love doctors to heart, tweeting (albeit with an "lol") that he is ready to ditch his fear of commitment.
Malika however, seems to have walked out of the experience with a new bestie in Rich Kids of Beverly Hills star Dorothy Wang. The two seem to have formed the best bond of the entire cast. Their Instagram accounts have been bursting with love for each other since the show began airing and it is honestly #goals.
Sure, Ronnie and Malika didn't find true love together on Famously Single, but hopefully they learned something from the experience and are open to new love in the future.