Things Could Have Gone South For Rita Ora & Andrew Garfield Based On These Reports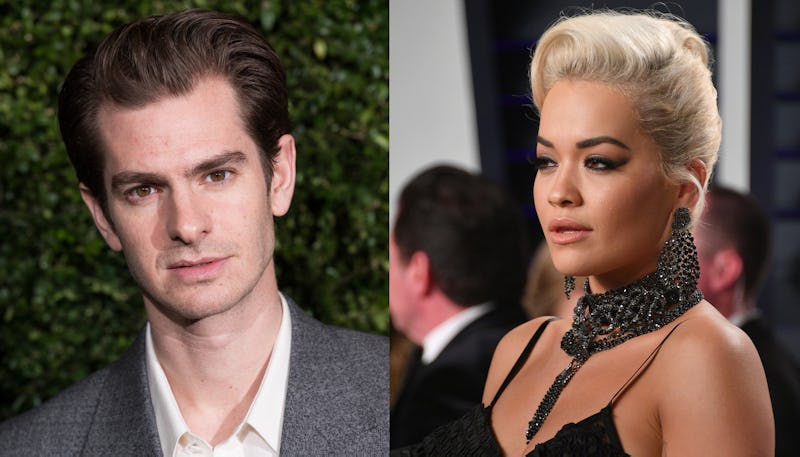 Dia Dipasupil/Jeff Spicer/Getty Images Entertainment/Getty Images
Rumour has it two of your favourite stars have just broken up, and, er, you may not have even known they were dating in the first place. It has been reported that singer Rita Ora and Spiderman actor Andrew Garfield have apparently been dating, and that they actually recently parted ways. Confused? Me too. Let's take a look at what's been said as of late, and try to answer the following: are Rita Ora and Andrew Garfield are still together?
Let's begin with the latest reports that Ora and Garfield have split up. According to The Sun, a source recently announced they had parted ways. I'm taking this with a pinch of salt however, as this "source" may not be iron clad. To find out for myself, I reached out to the pair's respective reps, but am awaiting response as this is published.
Anyway, onto the source who spoke to The Sun. They said the following about Ora and Garfield's supposed split, suggesting Rita in particular is pretty upset about the whole thing: "Rita is cut up about the whole situation. Andrew split up with her recently and it's been hard going as they had spent a lot of time together."
The source continued: "They spent Christmas together and she thought things were going well between them. Her career is going from strength to strength and lives her life in the spotlight but he told her he wanted to lead a more private life."
"Rita had tried to do that and had kept their romance off social media but things didn't work out. She is currently on tour in Australia and is using it to distract herself from the whole situation."
Interestingly, reports from The Mirror suggest the pair have broken up, but that neither party is too "cut up" about it. A friend reportedly told the publication that, "The relationship just fizzled out. It's sad but they have both accepted the situation and moved on."
Hmm.
Like me, you may have actually been pretty unaware the two were even dating in the first place. It just so happens that The Sun also broke the news of their courtship back in November 2018.
Speaking to the publication, a source revealed that Rita had told friends the pair were dating: "Rita let slip to pals about her brewing romance about a month ago. But in recent days things have started to heat up and she says what they have is the real deal."
"It is still very early days but they like each other and are seeing what happens. Their schedules make things difficult but they have a real connection."
The thing is, there's no real evidence the pair were even together, aside from the indisputable fact that they were photographed together, most notably over the festive period in 2018. Unfortunately, this doesn't really prove much, and could just mean the two were friends. Who really knows?
All I can say is that if the rumours are true, it's a shame; they would have made a cute couple!