If You Think Robocalls Have Gotten Worse Over The Years, You're Not Wrong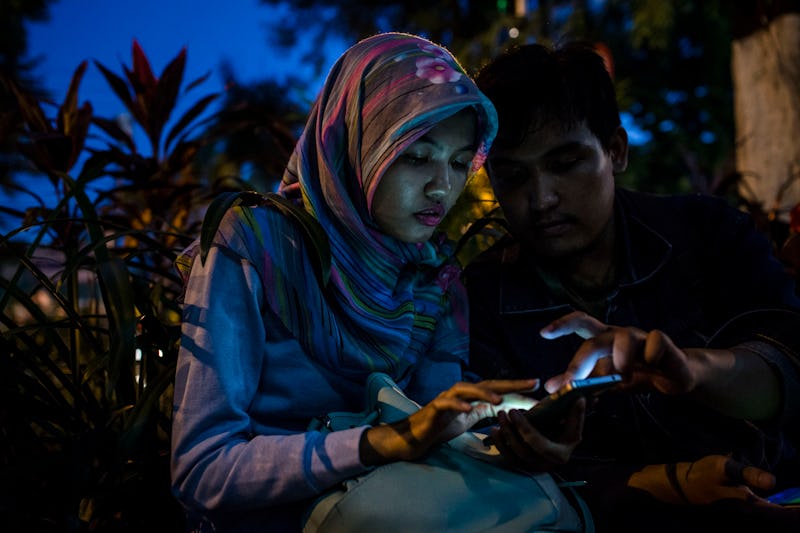 Ulet Ifansasti/Getty Images News/Getty Images
In a rare unanimous decision, the Federal Communications Commission (FCC) voted Thursday to allow cell phone carriers to block robocalls for customers by default. The decision will surely be welcome news to many Americans, because several points of data show that robocalls are getting worse, and have been for the last few years.
During 2018, the volume of monthly robocalls rose precipitously, from 2.9 billion in January to 4.1 billion in June, according to the robocall-tracking site YouMail. Although it's oscillated since then, there were 5.2 billion robocalls in March; according to YouMail's data, that's the highest monthly volume in at least four years.
Yearly data shows a similar trend. Between 2016 and 2017, the annual number of robocalls rose slightly, from 29 billion to 30.5 billion. But they skyrocketed the next year, jumping to 47.8 billion, according to YouMail. There have already been 24.9 billion robocalls in the first five months of 2019, putting Americans on track to receive over 59 billion robocalls by the end of the year.
According to an FCC report from February, formal complaints from consumers about unwanted calls jumped from 185,000 in 2017 to 232,000 in 2018. That's an imperfect metric, however, as it includes not only robocalls but also calls from telemarketers.
Ian Barlow, the FTC's Do Not Call Program Coordinator, told the Verge that the increase in robocalls has been spurred, in part, by new software that makes it easier to make robocalls.
"The technology is widely available," Barlow said. "There's basically no barriers to entry in this market."
The FCC's vote on Thursday may put a halt to this trend, however. In addition to allowing carriers to block robocalls by default, the ruling will also give carriers the option of letting customers restrict all incoming calls to known phone numbers.
"The Commission approved a Declaratory Ruling to affirm that voice service providers may, as the default, block unwanted calls based on reasonable call analytics, as long as their customers are informed and have the opportunity to opt out of the blocking," the commission wrote in a press release after the vote. "The ruling also clarifies that providers may offer their customers the choice to opt-in to tools that block calls from any number that does not appear on a customer's contact list or other 'white lists.' This option would allow consumers to decide directly whose calls they are willing to receive."
It's worth noting that this doesn't mean service providers will be required to block robocalls, only that they now have the authority to do so. Moreover, as FCC Commissioner Jessica Rosenworcel pointed out, the ruling doesn't require carriers to offer such a service for free. Nevertheless, the new rule was by and large uncontroversial, as evidenced by the fact that the FCC approved it by a unanimous vote.
"There is one thing in our country today that unites Republicans and Democrats, liberals and conservatives, socialists and libertarians, vegetarians and carnivores, Ohio State and Michigan fans: It is that they are sick and tired of being bombarded by unwanted robocalls," FCC Chair Ajit Pai said, according to.CNN "My message to the American people today is simple. We hear you, and we are on your side."