Selena Gomez Just Underwent Another Hair Transformation — And Yes, It's Real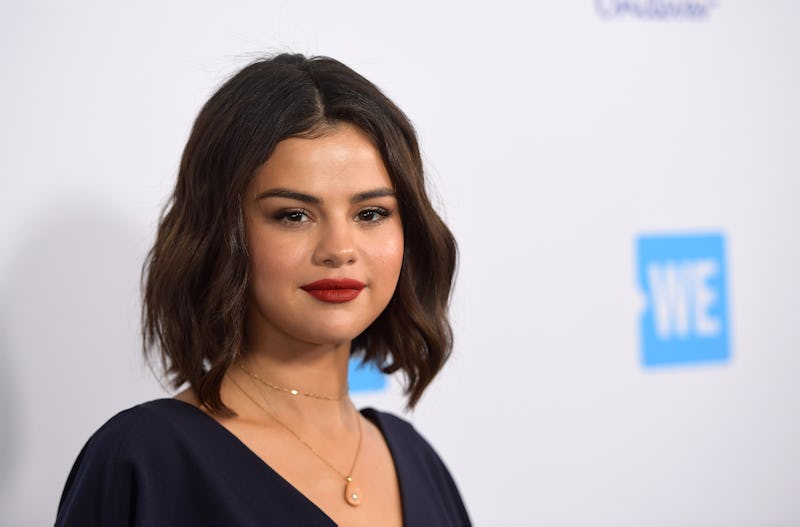 Matt Winkelmeyer/Getty Images Entertainment/Getty Images
Over the past year, celebs have been faking us out with faux-hairstyle changes, adding to their length, creating bobs with wigs, and even going as far as creating temporary bangs with the help of very convincing clip-ons. But this time around Selena Gomez got bangs for real, committing to an actual chop and sporting piecey side-swept fringe that is going to make you contemplate following suite, humidity and sweaty foreheads be damned.
When it comes to summer hairstyles, the less fuss the better. Especially when creeping temperatures and frizz prone weather is involved. But when you know how to wield a flat iron and aren't flummoxed with how much mousse is just enough, it can still be done.
Gomez revealed her new look at the Hotel Transylvania 3 premier, wearing a two-piece crop top set from Oscar de la Renta's recent Resort 2019 collection. The outfit in question had a blue and white ginger jar print, and the long, voluminous midi skirt was balanced out with a flirty and frayed crop top in that same print. She accented that outfit with $21,500 worth of Tiffany & Co. jewelry, and while you would think that amount of sparkle would be the scene stealer on the red carpet, her bangs took center stage.
Gomez is known for her chameleon-like ways when it comes to her hair, where she puts on wigs and clip-ons for special occasions and leaves fans wondering whether her newest change is permanent or another flavor-of-the-hour. For example, a year ago she posted artsy photos of a wet bob, back when she had long hair, and everyone began to wonder if she shore off her inches.
But it turns out that it was just a wig. Then for 2018's New York Fashion Week, the singer showed up to Coach's show transforming her collarbone-hitting lob into waist length hair extensions accented with wispy bangs, which were thought to be clip-ons seeing how she chopped her hair into a real bob (sans bangs) just a few weeks later.
Tired of the chin-hitting bob a few short months later, Gomez added blunt straight-across bangs to the look to create a nostalgic '60s inspired hairstyle, which she got in honor of her retro "Back to You" music video. While many people were convinced it was a wig, it turned out that the artist made the cut permanent, where her stylist, Danielle Priano confirmed to Popsugar that this was the real deal.
"This look was inspired by 1960s love scenes," Priano shared. "Selena is super hands-on with all of her creative endeavors. She always has an idea of what she wants. She wanted the look to feel dated [but] with a modern twist."
Not one to keep her hair looking the same for too long, she has now updated those vintage-like bangs into piecey, side swept fringe.
So versatile. If you love her side fringe but aren't sure you can keep your hair flat and spiky throughout the whole day, don't fret. You just need to know how to properly style them and they will survive even the most sizzling of summer afternoons. According to Maggie Miętus-Balon, who is an independent freelance stylist at Maven by Maggie for Maven Hair Studio for six years, it's pretty easy.
The trick to get bangs to style right is to blow dry them with a flat brush, towards the direction of the nose. "To have dramatic side- swept bangs, you want to blow dry the bangs in the opposite direction of where they usually lay. So if you part your hair on the right, blow dry your bangs from the left and down towards the nose," Miętus-Balon says. By doing this, you won't get that "rainbow" effect where the fringe goes up and over. Instead, it will lay perfectly flat.
To get it to hold, Miętus-Balon recommends using hairspray. "To style, comb the bangs into place and place the hand below to block the eyes and gently mist hairspray. Or spray hairspray on your fingers and gently work your fingers into the bottom of the bangs to get a piecey look." You can also use wax to get a similar look, but hairspray will be more matte. Just remember, with either product, a little goes a long way. Follow these directions and you, too, can rock the side-swept look this summer.