The Cutest 'SYTYCD' Pair Of The Season Are Playing Coy About Those Romance Rumors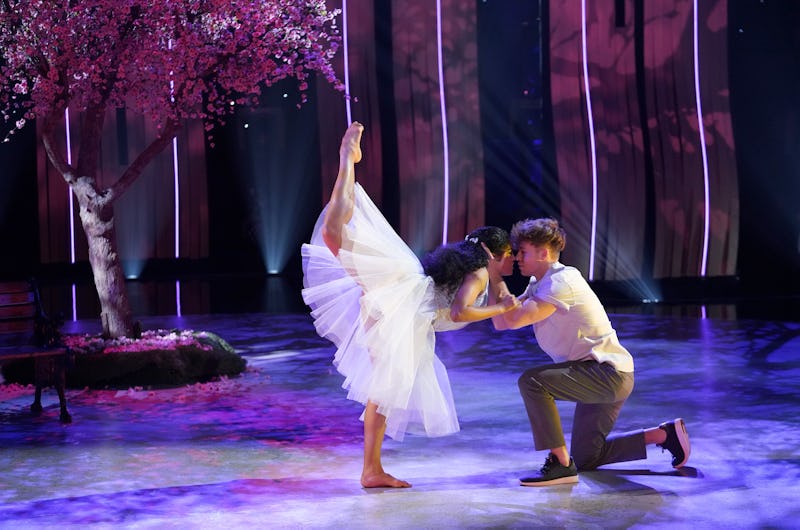 Michael Becker / Fox
There's no way around it: dancing is pretty damn sexy. Thus it's easy to imagine — especially for those of us with about as much grace as a giraffe taking its first steps — that when two dance partners ooze confidence and chemistry that there's something going on behind the scenes. And if you've been watching So You Think You Can Dance Season 15, then you'll know what I mean when it comes to dream team Slavik Pustovoytov and Genessy Castillo, a.k.a. Slenessy, a.k.a. Genik. But are Slavik and Genessy from SYTYCD dating IRL?
Slavik and Genessy have already done four routines together in the live shows: hip hop, jive, contemporary, and, most recently, Broadway. By now, these two are like a fine wine — that is, watching them makes your face all flushed and your head dizzy in the best possible way. Just when you thought they couldn't get any cuter, choreographer Al Blackstone sets them up with the most Notebook-esque fairytale Broadway number that left judge Vanessa Hudgens (and pretty much anyone with feelings) in tears.
After praising the pair for the sweetness they brought to the performance, Hudgens exclaimed, "Your guys's connection is just like — I ship you!"
Well, you're not alone there, Vanessa. Twitter is also shipping the duo, hard.
Genessy Castillo (if you were wondering how to pronounce that, her Insta bio says "like Hennessy but with a G") hails from NYC, as she revealed on the show. Her dance background is contemporary, but as her performance this season has shown, she can pretty much do anything. Oh, and she's just 18, btw.
Slavik Pustovoytov, who's only 19 himself, was born in the Ukraine and grew up in Stillwater, Oklahoma. Like his partner Genessy, he's a total renaissance man when it comes to dance and hasn't missed a beat in any genre so far on Season 15.
While this dancing duo might be dripping with chemistry on the dance floor, they insist they're just friends... Although listening to them talk about their friendship will probably just make you ship them even harder. In an interview with Pacific Rim Video Press, Genessy actually credited choreographer Talia Flavia with helping them build up their special bond. "We got into this deep heart-to-heart," Genessy said, "and she was just like, 'You guys have to get to know each other.' After that talk it just... clicked for us."
"We have that connection," Slavik added. "I don't know, you can't explain it. It's that sauce."
One reporter from AfterBuzz asked the pair point blank if there was something more to those romance rumors. When asked what was going on, Genessy responded, "Nothing much! He's one of my really good friends." She stretches the word "friends" so much it sounds like the way your older sibling would say your crush's name when they wanted to tease you. And teased is pretty much how I feel about this whole thing, TBH.
If the pair are dating, they're definitely trying to keep it under wraps for right now. It is showbiz, after all, and the pressure of such a public relationship sounds pretty horrendous, especially for stars as young as these. And if they're not dating, then I at least hope they stay good friends and keep dancing together, even after SYTYCD Season 15 wraps. The world is a better place with Slenessy in it.