UK Prime Minister Teresa May Confirms London Incidents Are Being Addressed As A 'Potential Act Of Terrorism'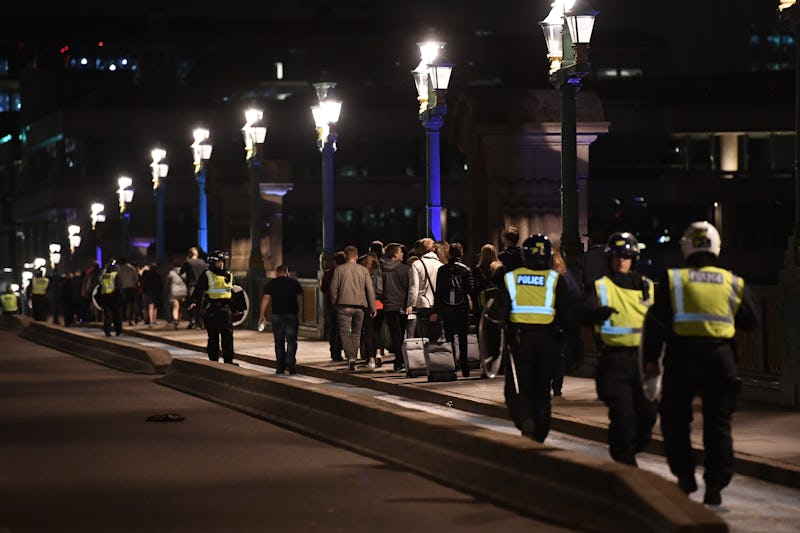 Carl Court/Getty Images News/Getty Images
Reports flooded social media and multiple news outlets on Saturday night as London police began responding to separate incidents in the London Bridge, Borough market, and Vauxhall areas of London. Coming after the recent bombings at an Ariana Grande concert in Manchester, people are already wondering among the chaos whether the London incidents are terrorism-related.
As in any breaking news situation, the information initially put out by non-law enforcement sources can often be inaccurate — so caution is always advised. Among the incidents confirmed by London Metro police are reports of a vehicle collision with pedestrians on the bridge with reported stabbings in Borough market where "armed officers responded and shots have been fired" (as well as a confirmed unrelated stabbing "incident in the Vauxhall area") per the Metropolitan Police Twitter account.
Police have been urging people to "remain calm, but be alert & vigilant" and avoid the areas as they respond. While confirming that the Vauxhall incident was not related, Police also tweeted around 7:50 PM EST that "the incidents at #LondonBridge & #BoroughMarket were declared as terrorist incidents." A statement tweeted by Sky News also reports that Prime Minister Theresa May said the incidents are being treated as a "potential act of terrorism.
Per the statement shared by Sky News' Beth Rigby prior to the tweet from London Metro Police, May said:
Following updates from Police and security officials, I can confirm that the terrible incident in London is being treated as a potential act of terrorism. This is a fast moving investigation. I want to express my huge gratitude to the police and emergency services who are on the scene.Our thoughts are with those who are caught up in these dreadful events.
Following reports from several news outlets alleging "multiple casualties," a statement from London Ambulance Services Assistant Director of Operations, Peter Rhodes, confirms a number of emergency responders on the scenes looking to "assess the level and nature of injuries" and "get people to safety."
Additionally, after reports that U.S. President Donald Trump had been briefed on the incident, he took to his private Twitter account to express solidarity, tweeting "Whatever the United States can do to help out in London and the U. K., we will be there - WE ARE WITH YOU. GOD BLESS!" However, he first tweeted support for his highly unpopular "travel ban."
News of these incidents, now declared as "terrorist incidents' by authorities, comes just one week after the UK reduced their terror threat level from "critical" to "severe." Undoubtedly, as the picture of the incidents and their aftermath become clearer, more information will emerge about specific motives behind the attacks.