Everything You Need To Know About The Two Competing Protests In D.C.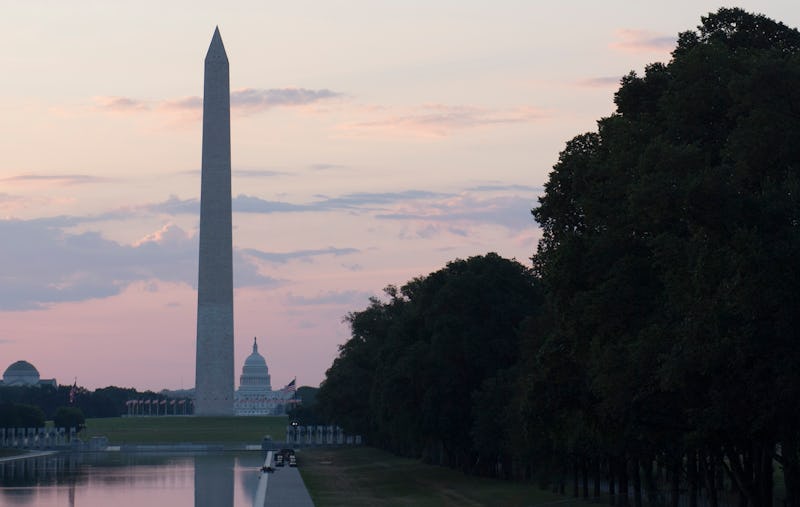 SAUL LOEB/AFP/Getty Images
On Saturday, a pair of rallies are scheduled to take place on the National Mall, and both are generating a lot of attention. First, there's the Million Juggalo March, where fans of the band Insane Clown Posse will arrive in the nation's capital. And second, there's the Mother of all Rallies, a vehemently pro-"America First" rally that figures to be attended by many supporters of President Donald Trump. As such, it's not surprising that some are confused, wondering if the Million Juggalo March and the Mother of all Rallies are connected somehow.
The answer, simply put, is no. The two rallies have been organized for entirely different reasons, with one relating to the FBI's 2011 classification of diehard, face-paint clad Isane Clown Posse fans ― often referred to as "juggalos" ― as a gang. The juggalos are protesting that FBI designation, in an at-once peculiar and potentially historic instance of fans of a particular band marching on Washington for an explicitly political purpose.
The so-called Mother of all Rallies, on the other hand, which also goes by the acronym MOAR, has been branded by its organizers as a patriotic rally for all Americans, although it's quite obviously intended for conservatives and Trump supporters, complete with speakers who appeal specifically to a right-wing audience. For example, the rally will host Hamody Jasim, author of The Terrorist Whisperer, as well as Latinos for Trump founder Marco Gutierrez, and California Republican congressional candidate Omar Navarro.
In short, in no ideological sense ― or really, any sense ― are the two events related. Except, of course, for the fact that they're taking place on the same day, and in the same general area. Both events are slated to happen at the National Mall, under the gaze of the Washington Monument.
It's entirely unclear whether there will be any confrontation or clashes between the two events. The Million Juggalo March is reportedly intended to be non-partisan and apolitical to some extent, while the Mother of all Rallies ― the name of which is very similar to the Mother of all Bombs, the U.S. military's most powerful non-nuclear explosive ordinance ― is quite clearly geared towards the political right.
On its official website, the organizers of the Juggalo March describe it as an effort to achieve justice for their fans and undo the FBI's gang designation.
This is the day that we are asking every single Juggalo to join us in our nation's capital, Washington, D.C., to make a collective statement from the Juggalo Family to the world about what we are and what we are not. Recently Psychopathic Records' court case in our lawsuit against the F.B.I. and Department of Justice for listing Juggalos as a "loosely organized hybrid gang" in their 2011 Gang Task Force report was once again dismissed, meaning we are back to square one from a legal standpoint. We have tried to use the American judicial system to achieve justice and we failed.
The Mother of all Rallies website, on the other hand, characterizes its event as "the Woodstock of American rallies," and insists that anyone who would protest it is defying the values of the founding fathers (the all-caps are as written).
ANYONE WHO WOULD PROTEST THIS RALLY IS PROTESTING AMERICA AND SHOWING THEMSELVES TO BE THE VERY DOMESTIC ENEMIES OUR FOUNDING FATHERS WARNED US ABOUT. ANYONE ATTEMPTING TO SILENCE US IS COMMITTING A DIRECT ASSAULT ON OUR CONSTITUTIONAL RIGHTS OF FREE ASSEMBLY.
Needless to say, those are very different messages for very different events. That won't stop them from occupying a very similar space on Saturday, but it does illustrate that they're not in any sense connected or sympathetic demonstrations.