Lady Gaga Lights Up The Super Bowl — Literally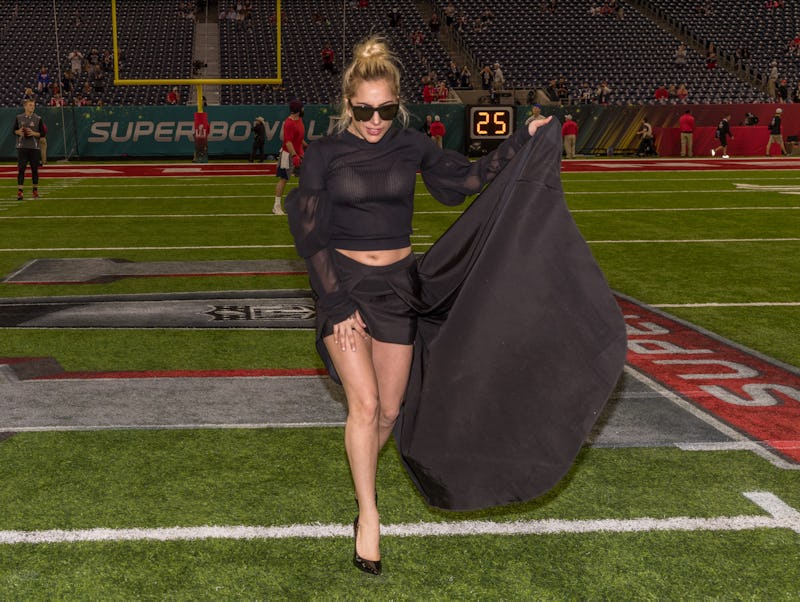 Christopher Polk/Getty Images
We already knew that Mother Monster was going to blow our mind during the Super Bowl LI Halftime Show and she certainly did not disappoint. But are the star lights in Lady Gaga's Super Bowl show real? That is the question. When she opened her performance by singing a medley of patriotic songs, behind her, red, white, and blue lights came together to form a lit up flag that disappeared as she jumped down to the actual stage. You know, because she started out on the stadium roof. It's Lady Gaga. Were you surprised? Quite honestly, I wouldn't blink if you told me that the cosmos rearranged itself in order to make that star show happen for her in real time.
Sadly, that's not what happened. Instead, that was a drone swam flag behind Mother Monster while she was crooning "This Land Is My Land" and the like. According to Variety,
"Lady Gaga's Super Bowl 51 halftime show Sunday will light up the sky with a coordinated swarm of several hundred aerial drones — forming different shapes as they hover above Houston's NRG Stadium."
The shape that they chose to open the show was, apparently, an American flag, likely as a nod to Lady Gaga's activism and strong political opinions. And a nod to the fact that this is, of course, the Super Bowl, and American football is called American football for a reason. You can see the whole performance below:
Sorry, Katy Perry, but it looks like Left Shark has already been forgotten, just in the wake of Lady Gaga's opening. I am so here for it.