This Is Why You Feel Like The Olympic Delegations Are Smaller This Year (When They're Not)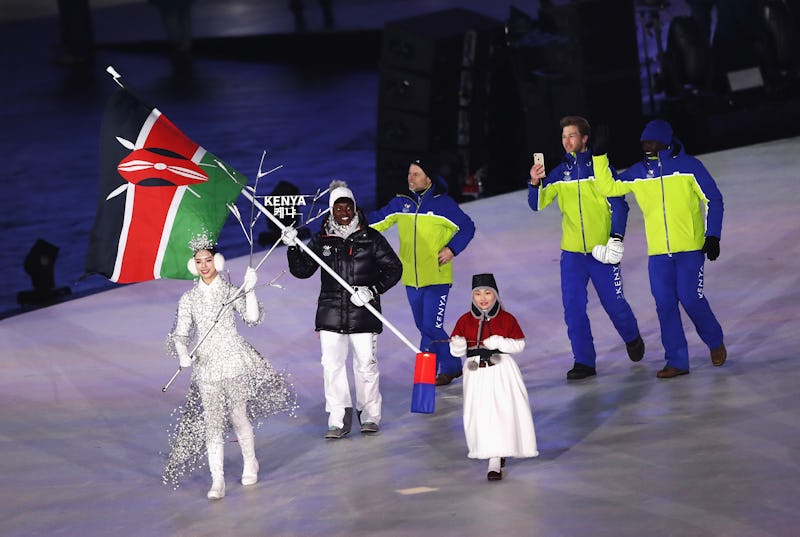 Ronald Martinez/Getty Images Sport/Getty Images
If you watched the Olympic opening ceremony, you might have gotten the sense that the athlete delegations looked smaller this year. In fact, though, the opening ceremony in PyeongChang had more delegations than ever before, and more delegations have increased in size since the 2014 Games than gotten smaller. So — why did that athletes parade look a bit sparse?
If you watched the 2016 Summer Games in Rio, there's probably an easy explanation. Many, many more athletes regularly compete in the summer Olympics than the Winter Games, simply because there are way more events. In Rio, there were 306 events in which 11,237 athletes participated. In PyeongChang, there are 102 events and 2,952 athletes are participating. That's 204 fewer events and 8,285 fewer athletes.
But even if you're thinking that the delegations looked smaller in comparison to the last Winter Games, which were held in Sochi, Russia in 2014, that's still an illusion (things seem grander in hindsight, probably). Of the countries or territories that sent delegations to both Sochi and PyeongChang, 33 increased in size and 28 got smaller. Seventeen sent the same number of athletes both years.
Altogether, there are 79 more athletes competing in PyeongChang than there were in Sochi. In fact, you were actually looking at a bigger number of athletes in that parade than had ever competed in any previous Winter Olympics.
There are several reasons for this increase: The Olympics tend to get bigger by the year as new countries join and teams add participants (bringing more athletes increases a country's chance of winning medals). Although no new sports have been added to the PyeongChang Games, there are four new events, so some countries have likely been able to add new athletes in those categories. There isn't a limit to the number of athletes who can participate; anyone who meets the tough international qualifications can compete, as long as their country lets them.
There's also the fact that 14 of this year's competing countries or territories weren't in the 2014 Games. Six of them — Eritrea, Nigeria, Kosovo, Singapore, Malaysia, and Ecuador — are making their Winter Olympic debut, but the rest — North Korea, Puerto Rico, Colombia, Kenya, Bolivia, Madagascar, South Africa, and Ghana — didn't make it to Sochi. Some, like North Korea, didn't have any athletes who qualified. South Africa had one athlete who qualified but refused to let him participate.
South Korea's delegation has increased the most in size since Sochia; an additional 51 athletes are competing. As the host country, it makes sense that South Korea would step up its game. The next biggest increase comes from China, who added 16 athletes to its roster.
A couple of countries have noticeably decreased in size — in particular, Austria (with 27 fewer athletes), Norway (25), Latvia (24), and especially Russia (64). The International Olympic Committee (IOC) banned 47 Russian athletes and coaches from participating in the games after a high-profile doping scandal. A recent report from the World Anti-Doping Agency found that over 1,000 Russian athletes had taken performance-enhancing drugs between 2011 and 2015 with the support of the government, including several who had previously won Olympic medals. The IOC is allowing 168 Russian athletes to compete, but only independently as the "Olympic Athletes from Russia."
The biggest delegation this year was from the United States, which sent 242 athletes to PyeongChang. The smallest were the 18 that sent just a single athlete: Ghana, South Africa, the Democratic Republic of Timor-Leste, Luxembourg, Madagascar, Malta, Bermuda, San Marino, Singapore, Azerbaijan, Eritrea, Ecuador, Kenya, Kosovo, Cyprus, Tonga, Puerto Rico, and Hong Kong. That's eight more than the 10 delegations that had just a single member in 2014, which could be another reason why the parade seemed thinner this year.
Small or not, the parade was a spectacle, and it's just the beginning. The rest of the Olympics takes place between Feb. 10 and Feb. 25 — don't miss it.